What does the Schools White Paper mean for you?
26 November 2010
Add to My Folder
This item has 5 stars
of a maximum 5
Rated 5/5 from 3 ratings (Write a review)
The Schools White Paper, The Importance of Teaching, was released on 24 November – but what does it mean for you?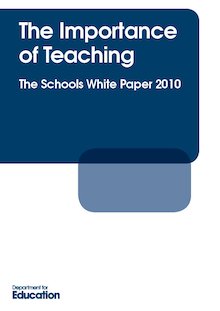 Schools will be freed from centralised bureaucracy and teachers will be allowed to do what they do best – teach, under plans set out in the Schools White Paper.
'We are putting teachers in the driving seat of school improvement', said Education Secretary, Michael Gove.
But primary schools will still be actively encouraged to teach reading in the way that the Government wants – using systematic synthetic phonics – and all schools will be expected to reach new higher standards.
The National Curriculum will be reviewed to reduce prescription and there will be an independent review of Key Stage 2 testing to guard against 'excessive rehearsal'.
The Schools White Paper, The Importance of Teaching, says that schools have become skilled at meeting government targets but have too often been constrained by directives or improvement initiatives.
'We envisage schools and teachers taking greater control over what is taught', says the paper. 'We want the National Curriculum to be a benchmark not a straitjacket'. The new curriculum will be 'slim, clear and authoritative'.
Get children reading early
All children should have the chance to follow an enriching curriculum by getting them reading early.
'As this is an area of such fundamental importance', says the Government, 'we will go further than in any other area in actively supporting best practice. We will provide the resources to support the teaching of systematic synthetic phonics in primary schools. We will support all schools with Key Stage 1 pupils to implement this approach by providing funding for high-quality training and classroom teaching resources.'
A simple reading test will be introduced for six-year-olds. This will be a screening exercise designed to check that children are on track.
Ofsted inspectors will be expected to know more about assessing the teaching of reading and initial teacher training will be reformed to make sure that trainee teachers have the confidence to teach phonics.
Key Stage 2 tests reformed
The Government is concerned about excessive test preparation, especially in Year 6.
'In a significant number of primary schools, preparation for Key Stage 2 tests goes well beyond what would be sensible familiarisation with the tests into excessive rehearsal and repeated practice of tests, eating into valuable teaching time and creating a very narrow curriculum for some children in Year 6', says the paper.
It has therefore asked Lord Bew to conduct an independent review of the effectiveness of the existing Key Stage 2 tests. 'He will consider how to deliver rigorous, valid and reliable assessments which promote attainment and progression and ensure schools are properly accountable to pupils, parents and the public for the achievement of every child.'
To make sure that assessment in Key Stage 1 is 'appropriate and proportionate', following the introduction of the age six reading test and the review of the Early Years Foundation Stage and the National Curriculum, the Government will also look closely at the assessment and reporting burdens in the early years and Key Stage 1.
New focus for inspections
In a shake-up of inspections, inspectors will spend more time in the classroom, observing lessons and focus on key issues of educational effectiveness.
Ofsted has been required to focus too much on inspecting schools against government policies at the expense of a proper focus on teaching and learning, says the paper.
There will be a new framework with a clear focus on just four things: pupil achievement; the quality of teaching; leadership and management; and the behaviour and safety of pupils. This new framework will come into force in autumn 2011.
Higher standards
The government plans to define a new minimum expectation for attainment or 'floor standard' that it will expect all schools to meet.
Primary schools will be below the floor if fewer than 60 per cent of pupils achieve level 4 in both English and mathematics and fewer pupils than average make the expected levels of progress between Key Stage 1 and 2.
The White Paper also sets out plans to:
Reform initial teacher training, focusing on core teaching skills especially in teaching reading and mathematics and in managing behaviour
Develop a national network of Teaching Schools to lead the training and professional development of teachers and headteachers
Target more resources on the most deprived pupils over the next four years through a new Pupil Premium
Give teachers more powers to improve discipline in the classroom
Develop a fairer and more transparent funding system.
To download a copy of the report, visit the DfE website.
How will the Government's plans affect you? Are you in favour of these proposed changes, or do you think that they will make school life more difficult? Have your say in our forum.