A school play gives the whole class the chance to work together to produce something that culminates in something of an occasion. When the curtain call takes place and everyone is bowing and beaming, everyone shares the praise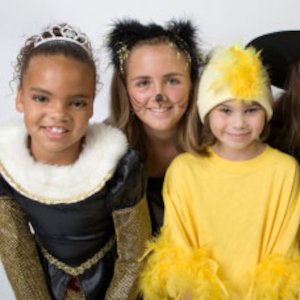 Even more satisfaction can result if the class creates the play together because children engage with the story more readily, and may even create the character they play. The process will involve key skills such as negotiation, working together, storytelling and creativity.
Warming up
Some warm-up exercises will get their creativity flowing. Ask children to think of a character that they would like to be. Ask: What do they look like, what is their voice like, how do they move? What is their favourite food and drink? Do they work or are they at school? Are they a human, an animal, or something else?
Then, ask them to think of something that has happened in their character's past. How has it affected them? What about the present and the future? Let them share their ideas.
Put them in groups and ask them to imagine that all of their characters are part of the same family. How will these past, present and future happenings affect the others? Some groups may want to act these out and it could be the start of a great storyline.
Continuing a story
Another exercise is similar to the story game where people take turns to continue a piece of a story. Begin by asking one child to describe a scenario that might be facing a group – or start by describing the first scenario yourself. Everyone must react to what the speaker is saying, using just facial expressions and body language. This stops the speaker being drowned out by over-enthusiastic responses. As the story progresses, the action is passed on by creating another character to pass it on to.
For example you might say: 'Fellow sheep. It has come to my attention that the human race thinks that we are dim and can do nothing but copy each other and bleat. We have decided to take action to change their opinion of us by appearing on TV shows like Mastermind, The X Factor and Strictly Come Dancing. Georgina is our cleverest, most talented sheep so she is going to show you her plan for getting onto her favourite show.' At this point the speaker chooses someone to play Georgina and they continue.
Freeze-frame tableaus
Ask each group of children to choose a popular rhyme or fairytale and tell the story in four-freeze frame tableaus. Each child should have a role in each scene and pose like statues. If someone has a key role, such as Goldilocks, they should stick to the same role, but other characters can change.
For example:
Scene 1 The three bears are walking out of their cottage – someone plays the cottage.
Scene 2 Goldilocks faces three bowls of porridge (played by the three bears in scene 1)
Scene 3 Goldilocks sits on a chair and breaks it. The three other children now each represent a bowl of porridge!
Scene 4 Goldilocks lies down as the three bears stand by, looking very fierce. Choose someone to give a signal such as somebody tapping their foot once on the ground. The group should practise moving into the next scene as fast as possible. Each signal should be at least ten seconds apart so everyone can appreciate the scene.
To develop this further, ask the group to think of a simple line or two of dialogue for each scene. For example, 'Who's been eating my porridge?' This is an effective, stylised way of showing a story.
Once they know the technique, children can create their own storyline based around a central theme and add more scenes. Costumes or props for changeable characters need to be minimal, such as masks held up when they are bears and removed when they are representing bowls of porridge. With a plain dark backdrop and the right music for each scene, you will have a simple, but effective performance.
Updating fairystories
Children can explore fairystories in a comical way by acting as well-known television or film stars in key roles. Ask them to think of as many famous people as possible that would be fun to act.
Divide the class into groups and give them a story – again, such as 'Goldilocks and The Three Bears'. This time they are going to act out the story, playing each role as a well known person of their choice. For example, what if Goldilocks was played by Amy Winehouse or the Queen? What would a Simon Cowell 'Daddy Bear' be like, or a Wayne Rooney 'Baby Bear'? Each group should enact the same story, with their particular characters, to the class. The aim is to find the funniest and use them to create a comic fairytale.
Alternatively, the class could change the tale. For example, ask a group to act out the story of 'Goldilocks and The Three Bears', but then at some point, one character should do something unexpected. Perhaps Goldilocks doesn't like porridge and uses the phone to get a takeaway, or maybe Daddy Bear and Baby Bear have bribed Goldilocks to eat their porridge because they are fed up with it.
As an extension, you could suggest that volunteers can freeze the story, take the place of an actor and continue differently while the other actors respond in character. For instance, if Goldilocks puts on loud music and invites her friends to a party, the three bears might return and join in, throw them all out, or do something completely different. The result of this exercise can often create a hilarious and unexpected play.
What if…
A 'what if' sentence is a good starting point for a drama. For example: What if wild animals were on the loose in the local supermarket? What if everyone in the world was unable to walk? What if it rained bubbles or bananas?
Ask children to create a short scene in which the 'What if' was fact, and use the best ideas. Ask children to write down their dialogue before they forget it, then act it out again and see if children can think of further ideas to add or develop the story or make a more dramatic or surprising ending.
Better or worse
'Better or Worse' is a good exercise to develop the ideas further. The aim is for the children to think of ways to make a story better or worse. Children should take turns in making up a line and others take up the 'chorus'.
An elephant was hungry and stole a banana
That's bad
He was allergic to bananas
That's bad
He broke out in huge red spots
That's bad
He was allergic to the spots
That's very bad
Alternatively, ask half the class to write down an everyday event such as shopping, meeting friends or watching television, while the other half write down a catastrophe or dramatic event such as a volcano or a bank robbery. Put these into a hat and let every group select three. The idea is to create a drama using these as the beginning, middle and end of a storyline. They could show their story by acting it out, or using the freeze-frame drama technique.
Image © Tammy Bryngelson/istockphoto.com