The last word… Rebecca Jones, school librarian
15 December 2010
Add to My Folder
School Librarian of the Year 2010 finalist, Rebecca Jones, answers our questions about the importance of school libraries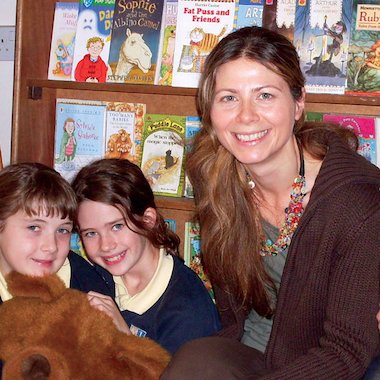 How do the children at your school treat the school library?

The girls at Malvern St James school know that the library is a special place to be. Some of them see it as a place to relax in, some use it as a place to get away from it all and others use it to drop in and look for a book.
The children enjoy browsing the shelves to choose something to read, but often they come in looking for a book that their friend has recommended.
What tips do you have for inspiring reluctant readers?
Encourage children to read anything and everything: if novels are not for them, they should try picking up some non-fiction. This could be reading a newspaper such as First News, The Guinness Book of Records, an autobiography or a book on street dance – whatever takes their interest.
Read aloud to children in a set story time, in registration or during the last few minutes of a lesson. Hearing a story may set one child's imagination alight.
Allow time for children to talk to each other. Start a book club or just a time for talking about what they are reading.
If possible, place books in communal spaces.
Set up competitions related to books and celebrate national reading days.
How do you use new technology with primary schoolchildren?
We catalogue all our stock onto an icon-based and user-friendly search facility. We are in the process of training our primary staff to use the search facility meaning that children are also introduced to searching the catalogue.
Year 6 children also have the opportunity to write their own reading blog using the school's VLE. I have also run a podcasting club that enables younger children of all abilities to gain experience with reading aloud and using sound editing software.
What kind of preparation do you do outside of school hours?
I am constantly reading as much children's fiction as I can and also browsing magazines that review children's literature.
I take a keen interest in continuing my professional development and attend conferences and day courses when possible. I recently attended the IASL Conference in Brisbane to give a paper on the Independent Learning Challenges that I have undertaken with Year 6 children. I also undertake work in the holidays to keep the library up to date.
Which series of books are proving most popular with children at the moment?
The younger children enjoy some of the classic storybooks including Eric Carle's The Hungry Caterpillar and Maurice Sendak's Where the Wild Things Are. They also enjoy seeing non-fiction books that are related to the topics that they are studying – for example, Diwali or minibeasts.
Older readers enjoy a range of books from Lemony Snicket and Jacqueline Wilson to JRR Tolkien and Eoin Colfer. Adventure and escapism is very popular at the moment.
If you could pick just one book that every child should read during primary school, what would it be?
I love Doreen Cronin's picture book Click Clack Moo (Simon & Schuster), as adults can enjoy the story just as much as children!
For older children I would wholeheartedly recommend Philip Reeve's Mortal Engines series (Scholastic), as it is such a fantastic, well-paced adventure that takes you away from reality while also including a sprinkling of the familiar.
Schools Minister, Nick Gibb, has said that he wishes that school libraries could become a compulsory feature of every school. How do you feel that schools without libraries can suffer?
If the library is respected and well used, it can become the heart of the school, but often for this to happen there needs to be a dynamic and forward thinking librarian in charge. All too often, school libraries seem to be discussed in a vacuum, as if the presence of some books will suddenly increase the learning outcomes of the pupils.
Only a qualified professional has the skills and expertise to develop the resource centre into a key factor of a schools success. A professional can bring a wealth of knowledge about literature and information skills into a school – but this is a role that is seriously undervalued and misunderstood by headteachers, parents and governors. The library of the 21st century is vibrant, technologically savvy and forward-thinking. A professional librarian can work collaboratively with teachers to ensure that learning skills are integrated into the delivery of curriculum topics and are also evaluated. Information literacy skills are vital for every citizen of the UK as they enable the person to effectively search, analyse and select the information that is relevant to them.
The Government's position needs to be readjusted to incorporate the added value that a professional librarian adds to each and every school. A love of reading has been shown to improve the results of young people later in life – what now needs to be recognised is how an ability to navigate through the overwhelming number of information sources that are available in today's technological society is a vital skill for the economy and business. If pupils can become independent learners then they can become active members of society who can select, analyse and shape their world.
Do you have any tips for making a library an inviting and interesting place for children?
Let the children use the space. Give them access to the library so they can come in when they want.
Use posters and displays to make it attractive. Adding plants creates a welcoming atmosphere.
Ask the children to recommend books to be included in the library.
Celebrate important dates as a way of involving the school.
Promote the reading of anything, be it printed or from a trusted website, at any pace and any time.
Have fun! Smile and become part of the school, not just the library.
What do you like most about your job?
I enjoy encouraging children to find things out for themselves – to ask questions and discover the answers and then want to find out more. I love feeding people bits of information and opening their eyes to a host of questions that they may want to know the answers to – or to ideas and concepts that they haven't thought about before or ever questioned.
Rebecca Jones is school librarian at Malvern St James, a girls' boarding and day school in Worcestershire.
Image © Rebecca Jones