Discover a new series of maths-themed story resources, available exclusively to Child Education PLUS subscribers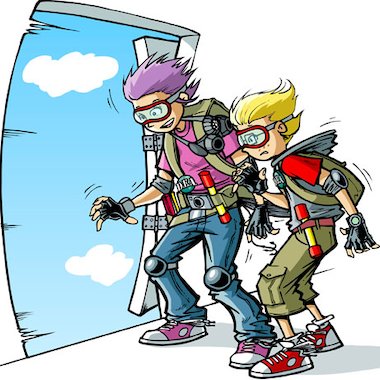 The first Maths Adventures Interactive resource, 'Pharaoh's Time Mystery' is a whole-class resource designed to get children involved in the outcome of the story.
Some screens contain story information – you can click the arrow in the bottom-right-hand corner to progress. However, other screens contain maths puzzles. In order to progress, you will need to click on the correct answer from the underlined choices. A correct answer will lead you to the next part of the story – but an incorrect answer will result in a sticky end for the Riddle children!
Note: Make sure to only click the arrows or multiple-choice answers. Clicking on other parts of the screen will take you to the next screen in the resource, regardless of your answer choice.
Engaging reluctant learners with maths is often a difficult task. However, whether it's adding two dice together or strategically considering where to move next, maths is at the heart of most games that children enjoy playing. Even the spelling game Scrabble® involves maths.
Many of these same reluctant learners can become absorbed in adventure stories. So, why not involve maths in gripping stories? As a child I loved 'choose your story' adventure books, that presented decisions after each section of the adventure – with different pages associated with each choice. My brother and I would spend hours trying to solve these adventures – they were fun because you had limited control of how the story moved forward, which was important to me, as it made me feel as though I had control of the story.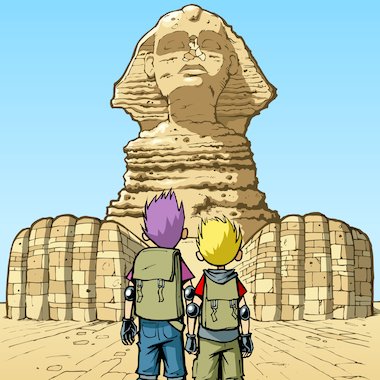 Introducing the Riddles
The new 'Maths Adventures' series are the 21st Century equivalent of these adventures – but I have combined the control of the plot with maths topics. The story follows the adventures of two children, Sam and Kitty Riddle, as they are dropped into a high-risk scenario with only their wits and a few gadgets to keep them safe.
Of course, as these are 'maths' adventures it must be expected that maths plays a big part in each one. In the first Interactive resource, 'Pharaoh's Time Mystery', the maths theme is 'time' and, as you may guess, the scenario is Ancient Egypt. The adventure features nine maths puzzles, involving learning about clock time, centuries, seasons and sequences – and the wrong answer can lead the player into any number of tight squeezes…
Making maths less scary
Maths is part of our everyday lives and we should be able to enjoy and embrace it with ease. Sometimes, not through our own faults, we can make maths feel as if it's an isolated subject that has little overlap with any other subjects. Equally, there are plenty of parents who feel a slight queasy feeling when the M word is mentioned. (I'm sure you've heard people saying quite loudly 'I can't do maths' – it's funny that you rarely hear people say 'I can't read' so loudly.)
'Maths Adventures' can be completed alone, but working with the whole class can involve discussion about the correct answers, as well as prompting suggestions about what may happen next in the story. Let the adventure begin!
Maths Adventures in the classroom
Ask one child to read the descriptions, and other children to play the parts of Sam, Kitty and Captain Sting.
After completing 'Pharaoh's Time Mystery', ask children to work in groups to imagine other situations that the Department for Extraordinary Agents might investigate. Encourage them to think about maths themes that would suit the scenario.
Challenge groups to invent maths puzzles with choices of answers. Are there particular choices that might trick a reader into giving the wrong answer?
Illustrations © Simon Walmesley