How do childminders plan their own professional development? Discover more about the various options available and how to manage your time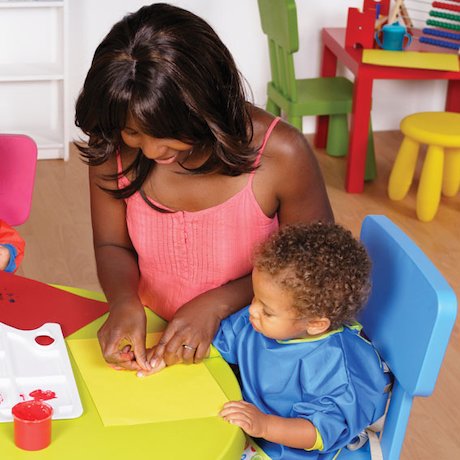 In this article:

Childminders today are more qualified than they have ever been. When Karen Fowler started her childminding business in Farnham, Surrey, 18 years ago, it wasn't even compulsory to have a first aid certificate.
'Training was done ad hoc – a little here and there,' she explains. 'Since Ofsted took over inspections in 2000, we've had to be much more proactive.' Karen studied for an NVQ 3 in Childcare about seven years ago, and now goes to three or four workshops a term to keep up to date. The most recent sessions were on recording observations, managing behaviour and signing.
'Surrey County Council runs a good training programme,' she says, 'and we have a childminding officer who will come out to chat to groups and individuals. I pay £15 a year and that covers all the training I want to do.'
Although the level of support that childminders receive from local authorities varies widely, they should always be your first point of contact. They will tell you what training they offer – and a lot is currently subsidised or even free. Most local authorities have a development officer who makes sure that childminders know about training opportunities. Some run a 'buddy' scheme, which pairs up new childminders with more experienced ones for their first year. Many children's centres offer training, as well as drop-in sessions, specifically for childminders.
Get some support
Peer support is valuable. Karen Fowler co-runs a local support group that meets twice a month in the church hall: 'It gives everyone a chance to share problems and ask each other for advice. We sometimes look through training bulletins to see if there's a course we can all go on together, too,' says Karen. Her advice to fellow childminders is to join their local childminding group. 'It stops you being isolated and you'll make some good friends as well.'
Jo Kerr, who runs a childminding business in Basingstoke with her husband, agrees. She set up a toddler group and joined a formal childminding network as a way of meeting other childminders. 'You need to make an effort to get out and go to organised groups, networking and training sessions. You'll learn something along the way,' she says. Childminding networks receive extra support from dedicated network co-ordinators. By joining a network, you can also become accredited to deliver Early Years education.
'It stops you being isolated and you'll make some good friends as well.'

Hampshire's Early Education and Childcare Unit publishes a brochure called Horizons, which lists all the courses they run, from child protection to food hygiene. 'It's a good starting point,' says Jo. 'I can do as many of the courses as I want for an annual subscription of £35.'
The courses are usually in the evenings and at weekends, which is important. A survey carried out by the National Childminding Association (NCMA) in 2007 found that timing was the biggest barrier to accessing training for childminders. It also highlighted lack of motivation.
Keep up to date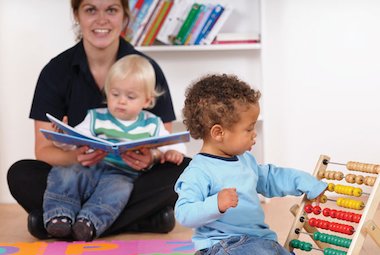 However, most new childminders realise the commitment they are making before they become registered. Jonathan Marlow, from Broughton Astley in Leicestershire, only registered as a childminder in September, but has already signed up for a course on mathematical development and is busy joining local groups. Jonathan did a lot of research before setting up his business so he knew what it entailed and is keen to improve his skills because he knows it's for the children's benefit.
'I was a chef before and had to keep up with new developments – it's no different. I enjoy that side of things. It makes the job more satisfying,' he says. He is eager to complete his Introduction to Childminding Practice (ICP). 'Once that's done, I will think about what else I can do,' he says.
Many experienced childminders are committed to continuing professional development. When Jo Kerr returned to childminding after a break in 2002, she redid her NVQ in childcare. She is now in the second year of an Open University Early Years degree course, funded by NCMA.
'Training helps raise your profile and your self-esteem,' she says. 'It makes you feel more professional – you're not just a mum earning a bit of extra pocket money, which is how it was when I first started childminding 20 years ago. It's part of the job.
'I like the challenge, and I put a lot of what I learn into practice, but it is hard to make time. You have to be really organised and disciplined. It helps that my husband works with me so we can share the workload.'
Check out the cost
However, childminders are still the least qualified workers in the childcare sector as a whole. The 2009 Childcare and Early Years Providers Survey (published by the then DCSF) showed that only 49 per cent of childminders held at least a Level 3 qualification compared with 73 per cent of staff in group-based settings. Cost is an important factor in this – childminders often have to pay for their own training, and although many local authorities do provide funding, the future is uncertain in the light of Government spending cuts.
'We're very worried about funding,' says Mandy Maguire, deputy director of Childminding Matters, which provides free support and training for childminders in Norfolk, thanks to funding from Norfolk County Council. 'Funds will be cut, but it's unclear as yet where. It will be a real shame if it hits qualifications for childminders because CPD is so important for them.'
It was the goal of the previous Government for all staff working in the Early Years to have a minimum Level 3 qualification by 2015. While the Coalition has not yet made its stance clear, this remains a widely held expectation.
Childminders often have to pay for their own training, and although many local authorities do provide funding, the future is uncertain in the light of Government spending cuts.

'We have seen real improvements in childminders' practice since they have been encouraged to undertake a Level 3 qualification,' says Mandy. 'They have more confidence, increased knowledge and better understanding. Ultimately, that impacts on the outcomes for children and the services they provide.'
The new Level 3 Diploma for the Children and Young People's Workforce, launched in September 2010, is now the industry standard qualification. It replaces NVQs, although existing Level 3 qualifications are still valid and current Level 3 practitioners will not have to take a brand new qualification. Costs vary, depending on your local authority – you may be asked to pay for some, all or none of the fee.
The first unit, 'Understand how to set up a home-based childcare service', was developed in conjunction with the NCMA. It is designed to be flexible and allows for home study, online study and traditional class tutoring – or a combination of all three. Most new childminders are being offered the unit as part of their introductory course, putting them on the first rung of the professional development ladder.
Find out more
There are organisations to help you with your own professional development. Discover more by contacting the following:
National Childminding Association: www.ncma.org.uk 0800 169 4486. Childminders can call NCMA for free advice even if they are not a member.
Children's Workforce Development Council: Visit their website for information about qualifications. The Early Years Workforce Qualifications Audit Tool can help you record and identify your training needs: www.cwdcouncil.org.uk/early-years
Images © www.istockphoto.com/jo unruh