Try these contrasting foods when children need to warm up – or cool down.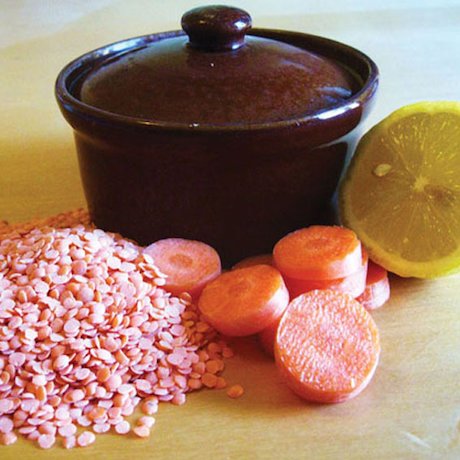 Recipes in this article:
Winter lentil soup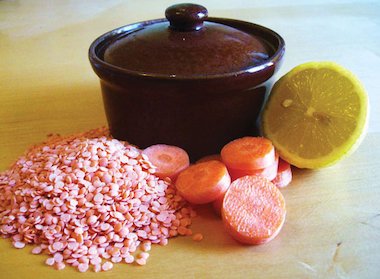 Serves: 4–6
Preparation time: 15 minutes
Cooking time: 35 minutes
Discuss how rinsing the lentils washes away dust – and point out how the water runs clear once they are clean. Watch the stock cubes dissolve as you stir them into the water, and compare the texture of the soup before and after liquidising.
Ingredients
1 onion, finely chopped
2 carrots, grated
2 tablespoons olive oil
125g red lentils (uncooked)
1 can chopped tomatoes
1 litre vegetable or chicken stock, made with stock cubes
Half a lemon
Equipment needed
Sieve
Heavy-bottomed saucepan
Blender
What to do
Put the lentils in a sieve and rinse them with cold water.
Warm the oil in the saucepan and soften the onions and carrots.
Stir lentils into the onions and carrots.
Add the tomatoes and vegetable stock and simmer gently for about 30 minutes until the lentils and vegetables are soft.
Liquidise the soup in a blender.
Add a squeeze of lemon juice for extra vitamin C.
Why not try… Putting the uncooked lentils into a jug – this makes them easier for the children to manage when it comes to weighing and rinsing. Extend the activity by stirring dry lentils into paint and PVA glue to create textured paint, and printing circles with carrot chunks.
Cheesy shapes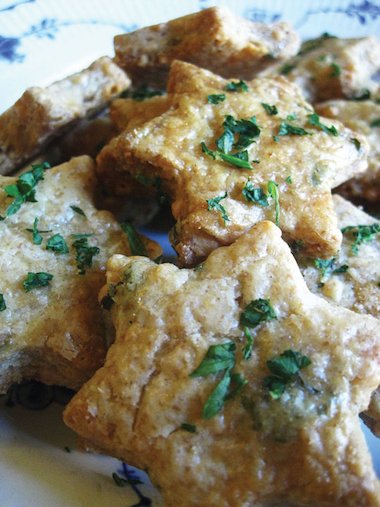 Makes: 20–30 shapes (depending on cutters)
Preparation time: 20 minutes
Cooking time: 10 minutes
These cheesy shapes make a good accompaniment to the soup. A mixture of wholemeal and white flour is more nutritious than white alone – and you can also add a tablespoon of chopped parsley.
Ingredients
150g unsalted butter
250g plain flour
150g grated Cheddar cheese
1 heaped tablespoon chopped parsley (optional)
1 egg
Equipment needed
Mixing bowl
Rolling pin
Biscuit cutters
Baking sheet
What to do
Pre-heat the oven to 200ºC/Gas mark 6.
Put the flour in a mixing bowl. Cut the butter into small chunks with a blunt knife and rub it into the flour until the mixture resembles breadcrumbs.
Stir in the grated cheese and the chopped parsley (if using).
Beat the egg in a small bowl with a fork, then knead it into the mixture to make a firm dough.
Sprinkle flour on a clean work surface and roll out the dough.
Cut into shapes with biscuit cutters, place on a greased baking sheet and bake for about 10 minutes, until golden.
Why not try… Making up half the mixture with parsley. This way, if some of your children are wary of 'green bits', you can encourage them to have a little taste once they are baked.
Fruity yogurt lollies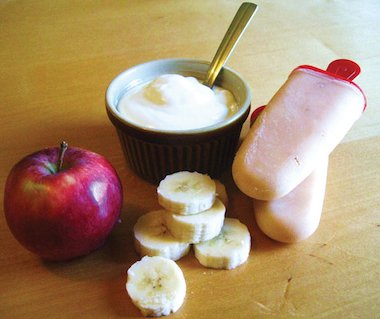 Makes: 6–8 lollies
Preparation time: 20 minutes
Freezing time: Overnight
Making your own lollies is a great way to explore what happens to watery substances when you freeze them. The natural sweetness of the bananas and apples also means that you can avoid adding sugar.
Ingredients
6 large eating apples, peeled, cored and chopped
juice of half a lemon
150ml water
2 large bananas
2 generous tablespoons thick plain yogurt
Equipment needed
Saucepan
Blender
Ice lolly moulds
Freezer
What to do
Put the apples, lemon juice and water in a pan.
Simmer gently until the apples are soft (this should take about five minutes).
Leave the apples to cool and liquidise to make a purée.
Put a small amount of apple purée to one side, mash the bananas and mix with the yogurt and remaining apple.
Pour the fruity yogurt mixture into lolly moulds and freeze.
Mix the reserved apple with some fresh mashed banana and yogurt and let children compare it before and after freezing: How has the fruity yogurt changed? Which is nicer to eat?
Safety note: If you are making these lollies in cold weather, don't let the children eat them just before or after playing outside.
Why not try… Experimenting with using other fruit, such as tinned raspberries in juice. You can also freeze different coloured fruits in layers to make stripy lollies.
More winter recipes…
Discover more 'Winter treats' with these delicious recipe ideas from our web resource bank.