Ian Whybrow, creator of Harry and the Bucketful of Dinosaurs, talks about how practitioners and parents can work together to encourage the enjoyment of books among babies and young children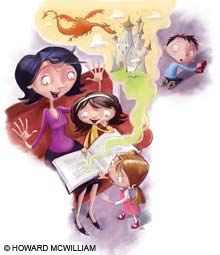 My mum loved books and read to me and my sisters all the time when we were children. We were lucky. Nowadays, millions of children, particularly boys, can't read or won't read.
Reading for life
So why does reading matter? It is not just because there is a clear relationship between reading and academic success. Reading matters because writing; forming ideas; developing creative and imaginative skills; clear expression; and understanding how other people think and feel matter.
The 'problem' of reading is not an easy one to resolve. Issues include the majority of children having their own television in their bedroom; boys often thinking of reading as a girlie activity; both parents having full-time jobs; lots of parents being embarrassed by the fact that they cannot read aloud very confidently and so on.
Moving forward
Practitioners can personally campaign for parents to reinstate a regular bedtime with a couple of stories for children to look forward to, as well as take every opportunity to encourage parents to help their children enjoy books by sharing and enjoying them together, ideally starting when children are under the age of one.
Remind self-conscious parents that young children do not care that Mum and Dad are not brilliant readers – they just love actively sharing a book together.
Not everyone stops to think about why reading matters, so as practitioners, you need to defend it loudly. It takes people who can read and write to create a television programme, but ironically, the programmes themselves cut out the need for the viewer to use their mind creatively. When we read a book, we have to create the setting, conjure up the characters and picture what is going on in our heads. At the same time, we are building our vocabulary and finding different ways of expressing things. Certainly, that is harder than watching television – but not 'that' hard. It just needs constant practice so that it is second nature and, steadily, it becomes a habit and a pleasure.
Books for babies and children
Learning to read is a gradual process, which is why we should share books with babies as well as children. I am a fairly recent convert to the idea that babies need books. When publishers first asked me to write for the under-twos, being a bloke – I resisted! I was thinking about my street cred, of course, but also, deep down, a voice was saying 'What's the point if they can't even speak?'. Anyway, they made me offers I couldn't refuse and off I went.
It was a revelation to me to try out one of my efforts on my baby granddaughter, before she could speak a word. I sat her on my knee. Her first interest was in savaging the pages, then… 'Ready steady off we go, round the farm to say "Hello". Say "Hello" to the sheep, Ella. Now, what does the sheep say?' I wasn't expecting an answer, but I got one – 'RAAAAH!' So, what was happening? Ella had picked up the questioning music of my voice and worked out that it needed a response. We had a wonderful time. She didn't know that chickens went 'cluck' or that cows went 'moo', but she did know that we were having fun playing an interactive game that required her to make a noise, resulting in the beginning of a conversation – and a wonderful relationship.
Very young children can't cope with sustained stories, of course, but they love colour and texture. They like to recognise objects and manipulate them. Even turning the pages involves delicate motor skills and careful hand-eye coordination. Baby books come in many shapes and forms. There are some that are suckproof and waterproof, and those that are peek-a-boo, lift-the-flap and have built-in sound effects. So all parents can be encouraged to read with their young children by pointing together; tickling; making noises; opening flaps; singing and chanting nursery rhymes; asking questions; prompting answers and generally having a good time.
As the baby turns into a toddler with a longer attention span, parent-readers will naturally fall into narrative. By now, they will be thoroughly bonded book sharers. Their child will be exploring and developing language; be exposed to new idioms, playful words, nonsense, repetition and sequence (beginning, middle, end) and before you can say 'syllabus', parents will have established the basic rules for structured thought and writing.
The benefit of books
Practitioners and parents need to make sure there are plenty of books lying around in the setting and at home. When there is more than one book available, a child can have a choice in what is read at story time and bedtime. Soon, you will be able to slip in books that boost self-esteem or bring up matters of concern, for example, fear of the dark, 'sibling rivalry', bed wetting and so on. In this way you will be introducing something invaluable – emotional literacy.
Children who lift their fists and swear all the time often have limited, poor language, but they may have disturbing feelings of anger, sadness or fear that reading together will allow practitioners, as well as parents, to identify and confront. Sometimes children can be led towards empathy and compassion through a story. It can be hugely beneficial to anxious children to discover in books that they are not alone in feeling the way that they do.
Further information
'Ready steady off we go, round the farm to say "Hello"' is taken from the book Say Hello to the Animals by Ian Whybrow and Tim Warnes (Macmillan Children's Books).
'Miss Lollypop was lonely… ' is taken from the book Jump In! by Ian Whybrow and David Melling (Hodder Children's Books).
6 top tips for encouraging the enjoyment of books
1 Suggest to parents that they visit their local library, where their child can borrow lots of books for free. Also, librarians are a hugely-valuable resource for advice on which books to read.
2 Encourage parents to start sharing a variety of interesting and colourful baby books with their child before they are one year old.
3 Have a regular story time in the setting, perhaps in a 'story corner', and encourage parents to establish a regular bedtime story at home.
4 Suggest to parents that they let the child choose the story-book to be read at bedtime, then make it a rule that it is time to go to sleep after that. Allow the chiildren to take turns choosing the book for story time in the setting.
5 Try to ensure that boys do not always read stories about machines and football, and that girls are steered away from too much pink and glitter.
6 Use plenty of rhyming texts in the setting and encourage parents to do the same at home. They are good fun and help to establish word play, patterns and allow the children to guess what comes next, for example,
Miss Lollypop was lonely,
So she bought a little truck.
She drove down to the river and in jumped a…
However, if the parent tells you, for example, that Alfie said 'elephant', explain that saying the wrong word is just as much fun as getting the correct answer. Enjoying books together is the key.