Michael Rosen — the Children's Laureate
With synthetic phonics recently hitting the headlines again, Ruth Miskin, Creator of Read Write Inc (OUP) and the Children's Laureate Michael Rosen go head to head on the topical issue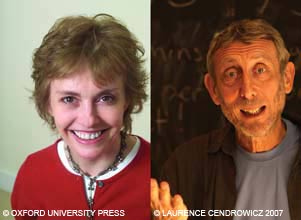 Ruth Miskin
The longer I teach children to read, the more I don't understand the debate about reading. There still seems to be confusion about whether we immerse children in books or teach children, step by step, to read for themselves. You do both. There is no conflict.
Immerse children in great books – read to them at least twice a day and talk with them about how the characters feel and why, and what they would do if they were them. Memorise and chant poems. Inspire children with a love of books.
Importantly, alongside this, teach children to read the 44 'sounds' (sound-letter correspondences), blend them into words and show children how to read these same words in books. Make this activity lively, fun and interactive.
"... we can't escape the fact that English is the most complex alphabetic code in the world, and therefore we must teach it thoroughly and systematically" Ruth Miskin
Children will soon be able to read the stories you have read to them on their own at home, as often as they like. Once the mechanics of reading are effortless, and you have inspired them to want to read, they start to teach themselves and their journey takes on its own momentum.
However, we can't escape the fact that English is the most complex alphabetic code in the world, and therefore we must teach it thoroughly and systematically. Simplifying the code for a little while by teaching one or two ways to read each of the 44 speech sounds helps children to crack the code more easily and speedily. They will then be able to take oddball words, such as 'rough', 'through' and 'though', in their stride. Some children crack the code quickly, while others take longer. However, we have to do everything we can to get them all there.
Good readers counter the effects of too much television; too many computer games; dyslexia; Attention Deficit Hyperactivity Disorder (ADHD); parents who can't read to them; and being new to English. Poor readers can't.
Good readers read anywhere, at any time. They don't need to search out an adult to read to them (though this is great too – if one is around). By eight years old, children will be reading books such as Kensuke's Kingdom by Michael Morpurgo. They will read new words – cacophony, diminutive, ecstatically, invigorated, brackish, impenetrable, surreptitious and baleful – and will ask, 'What does cacophony mean?'. You will tell them what it means in the story, as well as the noise in the playground. They will read the book again and when they get to 'cacophony' they will stop and say the word out loud. Good readers get hold of words.
Eight-year-old readers who cannot read miss out on books that drive their vocabulary growth. They cannot ask 'What does cacophony mean?' because they wouldn't be reading the book.
Children who can't read, don't read. Who would choose to do the same difficult activity day-in, day-out?
The best readers choose to read, at home in two days, what the poorest readers read in a year. So, given that we want every child to make the most of their education, we need them all to read well. So keep it simple – just at the start.
Further information
Visit www.readwriteinc.com or www.ruthmiskinliteracy.com for information on Ruth Miskin's synthetic phonics literacy programme as seen on Channel 4's Lost for Words series.
Michael Rosen
Synthetic phonics is very systematic and thorough in the way in which it has broken the English language down into its sounds (phonemes) and the letter combinations (digraphs) that we say 'make those sounds'.
However – and it is a big 'however' – the way in which we write English is very irregular. There is only a small percentage of words that completely correspond to one regular way of pronouncing the letters and letter combinations. For example, if you take the series of words that end with 'ough' – 'cough', 'tough', 'though', 'thorough' and 'bough', we can see that the five words do not rhyme. In other words, the letters 'ough' represent a different sound. This means for readers like you, who have just read those five words, you must have used a way of learning how to read those words that was NOT phonic.
What all this means is very simple – synthetic phonics is not enough. Children take home lists of words to learn and some of these will be 'tricky' words such as 'were' and 'there', and others might be word 'families' that need learning separately, such as the 'igh' words – 'night', 'fight', 'right' and 'sight', as we do not pronounce the 'gh' as a 'ger'. This method of learning how to read is actually another method altogether, usually called 'look and say'. So, in actual fact, the synthetic phonics package includes at least one other method, without admitting it.
"I think that exactly the same effort that is going into synthetic phonics needs to go into 'book work', so that children get the message – books are fun" Michael Rosen
I think that exactly the same effort that is going into synthetic phonics needs to go into 'book work', so that children get the message – books are fun. What's more, when children hear adults reading to them, they start to hear how the written language sounds, for example, when we speak to each other, we don't speak in sentences. We interrupt each other; we don't finish what we are saying; we fill it with 'ums' and 'ers'; we repeat ourselves; and we use our hands and face to make things clear. When we write, we can't do this. We have to make everything clear. It is what is known as another 'code'.
One of the major problems for children reading is that they have to learn that the way they speak is different from the way things are written. Whatever happens, this written code has to be learned. One of the best ways to learn it is not by going over and over the letters, but by hearing what the written code sounds like. And the way you do that best, is to hear what books sound like. When you hear that, and get fun and enjoyment from the meaning of what you hear, then the magic of reading and books starts to happen.
On the recent Channel 4 series Lost for Words, the school featured was acclaimed for using synthetic phonics. I went to visit that school to find out what else they do apart from synthetic phonics, and of course they use other methods. The headteacher is a dynamic woman, there is a terrific team of teachers, including a four-day week school librarian. A lot more is going on to help children to read than was seen on camera. In other words, synthetic phonics is not enough. What I suggest we need is just as much commitment to 'literature' as there is to 'literacy', and just as much commitment to books as there is to synthetic phonics. n
Further information
Visit www.childrenslaureate.org to find out more about author Michael Rosen.