Allison Lee advises on the procedure for reviewing contracts; explains the difference between deposits and retainers; and provides some activities to enjoy at home
Expert advice
Reviewing contracts
At the time of signing the contract, inform parents of your review policy, and make them aware of the date when you will be reviewing the terms and conditions set out in the contract. These reviews should take place every six to 12 months – never leave it longer than 12 months.
Always remind parents when the review date is approaching and give them plenty of warning of any changes you are intending to impose.
Contract reviews are essential for everyone, as they enable you and the parents to look again at the arrangement and decide what, if any, changes may need to be made.
Major changes to the contract should be made immediately, and you should not wait for the review date in order to update important information. Contract reviews are also seen by many childminders as a good opportunity to revise the fees they charge, and often annual price increases take place at this time.
Q&A
When should I charge deposits or retainers?
A deposit is a one-off payment made by the parent to secure a place with a childminder. The parent and childminder should decide together when the place will be available, and a deposit is then paid to 'hold' the place until then.
If the place is unavailable at the specified time, or the terms that have been agreed are altered, then the childminder must refund the deposit to the parent. However, if the parent decides not to take up the place then the deposit should be retained by the childminder. Deposits are usually refunded when the child takes up the place by deducting the amount from the agreed childminding fees.
If a childminder has an immediate vacancy, but a parent does not wish to take up the place for several weeks, then a retainer fee may be charged. Unlike deposits, retainers are not credits to be deducted from the childminding fees once the placement has started. However, if circumstances change and you are no longer able to offer a place on the agreed date, then all retainers paid must be refunded. Retainer fees must not be charged for a baby until after it is born.
Activities: light and dark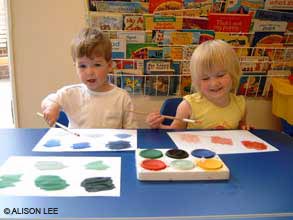 Shades of colour
Paint light and dark pictures
Creative Development
What you need
Coloured paint; white paper; paintbrushes.
What to do
Invite the children to choose a coloured paint and to paint a shape on a sheet of white paper. Encourage them to add a little black paint to darken the colour, and a little white to lighten it. Keep adding black and white paint so that the children can see how the colours change.
Day and night skies
Make sky scenes
Knowledge and Understanding of the World
What you need
Pale-blue paper; paint; black paper; silver foil.
What to do
Give each child a piece of pale-blue paper and encourage them to create a 'light' sky for day by adding a sun and clouds. Then give each child a piece of black paper and invite them to create a 'dark' sky for night by cutting out a moon and stars from silver foil. Extend the activity by describing sunrise and sunset.