Read the biographies of the eight climbers, then decide who you think deserves the title 'the greatest climber of all time'.
This interactive resource provides information about eight climbers who have shown amazing skill, courage and determination in their field. In choosing the greatest climber, children have to discuss challenges and successes, justify opinions, listen to alternative views and arrive at a consensus with others.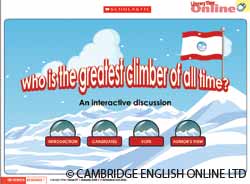 Key learning outcomes:
To agree or disagree in class discussion, justifying views;
To respond to others in discussion, considering alternative viewpoints;
To identify main points and compare arguments.
Further reading
Famous Britons of the 20th Century Literacy Time Ages 9 to 11 Issue 52 (January 2008) Contains an interactive resource in which children have to place 10 famous people on a timeline. Ideal for debating who was the most famous, or who most deserved the title of 'Great Briton'.
Useful websites
www.everestnews.com
www.explorersweb.com
www.rockclimbing.com
Please note: The content on these websites is regularly updated and some material is submitted by members of the public. Please check for suitability before using these sites in class.
This interactive resource provides children with information about eight climbers who have demonstrated amazing skill, courage and determination in their field. Each climber's achievements are explored separately, allowing children to discuss and compare and without leading them to any foregone conclusion. In arriving at a judgement about the greatest climber, children have to weigh up accounts, discuss relative challenges and successes, justify opinions, listen to alternative views and arrive at a consensus with others. The resource offers strong links to geography, and could be used for map work; and also to PSHE.
Previous learning
It would be helpful if the children have previously defined and practised good listening behaviour, and have a clear understanding of the skills required for group discussion.
Shared learning and teaching
Before reading
Look at one of the mountain pictures in the on-screen resource. Generate a list of qualities and skills needed to climb mountains like this. What would make one climber better than another on the same mountain? Speed? Difficulty of route? Time of year? Weather conditions?
What makes one mountain harder to climb than another? List mountains the children have heard of.
Compile an initial set of criteria for judging who is the greatest climber.
Read the introduction to the class. Explore the suggested criteria. Explain that the whole class is going to arrive at the winning candidate by voting.
Shared reading
Choose who you want to read about first. After reading, summarise in pairs this climber's main skills and achievements. Allow feedback time, and note statements about the climber.
Repeat for a second climber. Ask pairs to establish the main differences between the two, and list skills and achievements. Now move into small groups to discuss which of the two climbers is greater and why.
After a few minutes, ask the children to stand on a voting line with one climber at each end. Choose volunteers to explain why they have chosen their position – use children standing anywhere between the two climbers to highlight the difficulties in comparing different skills. As they hear one another's arguments, allow the children to move if they change their opinions, but they must explain why they have done so.
Finally, ask the children to make a clear decision and count the votes. This climber goes through to a second round. Record on a flip chart the class reasons for this choice.
Repeat for each climber, choosing between two each time. Vary the process by sometimes working as a whole class, sometimes asking groups to arrive at a consensus then collecting group votes. Each time, record the reasons, including phrases such as, 'Although climber A did…, climber B had to…, and therefore….'.
Take a final vote, recapping all eight climbers. Justify choices. How unanimous is the decision?
Now read the Author's view. What criteria has the author used?
Compose a class declaration of the winner, using formal language to explain and justify the choice.
Group and independent activities
If there could be winners in a number of different categories, what could those categories be and who would win each one? Use the activity sheet to nominate a winner in each category and justify the choice.
Research candidates in another field of achievement (eg, linked to history topic work). Prepare short accounts for each to create a similar resource for discussion, either on-screen or as a wall display.
Plenary
Return to your initial criteria for judging greatness. Make changes and additions. Identify the difficulties that arose in reaching decisions: both content-based (judging skills and achievements) and process-based (listening to other views, disagreeing, justifying opinions).
For background information on author David Clayton, check out our Author profiles