This Welsh poem describes the view from a mountain top, comparing the hills to the body of God sleeping. Its rich imagery can be used in work on similes
This Welsh poem is rich in imagery, including an initial simile. It complements Poster 2 in Literacy Time Ages 7 to 9 January 2008, How to… write similes, and ties in with the issue's Mountain theme.The poem describes the view from a mountain top, comparing the hills to the body of God sleeping.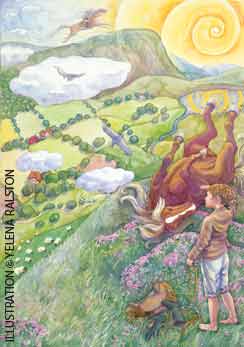 Preparation
Provide images (photos and/or film) of different views over mountains and hills (including some Welsh hills, if possible), different weather conditions and seasons. Have ready images of other landscapes to provide a stimulus for the children's own poems – eg, cliffs, coastlines, Giant's Causeway, field of flowers, sand dunes.
Previous learning
Children should have experience of reading aloud with expression, and referring to words or phrases in a poem to explain why they like or dislike it.
Key learning outcomes:
To prepare poems for performance, using expression, tone, volume, voices and other sounds;
To comment on performances;
To explain views and choices;
To use the language of possibility;
To interrogate texts and explore how writers use figurative and expressive language;
To use imaginative, descriptive vocabulary.
Shared learning and teaching
Shared reading
Ask the children to close their eyes while you read the poem aloud. As they listen, ask them to try to visualise the scene.
Read the poem aloud again and ask the children to refine their visualisation. Prompt them, if necessary, to think about colour, size, the narrator and the horse. Point out place names.
Responding
In pairs or small groups, share and discuss the different interpretations. These could also be sketched or painted later. Make freeze frames to interpret and depict the descriptions.
Look at the pictures of mountains and compare these to the children's ideas about the poem.
Analyse the poem. Identify the organisation – opening action of the narrator, descriptions and repetition of 'perhaps', sentence starters, action of the horse; narrator's closing action.
Identify and discuss the impact of: the simile; powerful and precise language (eg, galloped, crumpled , turf); imagery ('his changing breath over the land').
Discuss views about the poem, using evidence from text to support ideas eg, if you liked the horse, why? Pick out descriptions of the horse's actions.
Shared writing
Share read Poster 2 and model how to compose similes.
Model how to use a photo of a landscape to plan ideas for a new poem. This could link to a geography field trip or your local environment. Discuss what features of the landscape might represent – eg, draw analogies to sleeping animals, parts of the human body or mythical creatures.
Look at the sentences 'Perhaps it was his leg…' and Perhaps his head…' and explore how the poet has used these to imagine and create powerful images. Orally compose sentences beginning with 'perhaps' to describe the chosen landscape. Model writing these.
In a shared session ask children to compose their own 'perhaps' sentences
Use your ideas to write a new class poem similar to 'Mountain Peak', with a simile and 'perhaps' sentences.
Group and independent activities
Select one photograph and write sentences beginning with 'perhaps'. Display these with the photo.
Find other poems that use similes or powerful imagery. Try using some of the examples in your own poems. Encourage the children to use a thesaurus to enhance descriptions.
Give the children the activity sheet as a prompt sheet when writing poems in the same style independently.
Speaking and listening
In pairs or groups, prepare 'Mountain Peak' for performance, using drama techniques, dance and music. Consider expression, pace and pausing when reading aloud. Repeat with children's own poems. Perform the poems or set up a mini poetry festival – perhaps as part of your World Book Day activities.
Plenary
Examine any similes composed. How effective are they?
Review powerful descriptions from other poems and discuss their impact.
Listen to the children's poems. Identify effective use of language. Edit and improve less effective descriptions.