This latest instruction text in our How to… series explains what a reading journal is, what to write, offers tips to make your writing interesting and suggests pitfalls to avoid.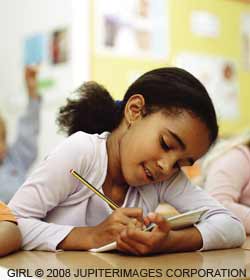 Previous learning
Children should have had some experience of writing book reviews and recording their reading in a journal. They should be able to express an opinion and justify responses to their reading, backing this up with evidence from the text.
Key learning outcomes:
To reflect on reading habits/preferences and plan personal reading goals;
To read extensively and discuss personal reading with others;
To set own challenges to extend achievement and experience in writing;
To select words/language, drawing on knowledge of literacy features.
Shared learning and teaching
Before reading
Discuss reading habits. What do you like to read most? Is it always a book? How often and to whom do you read at home? What is your favourite book? Do you ever discuss your reading with other members of your family or your friends?
How do you currently use reading journals? Are they just logs of when you have read and how much? What is the point of them? How can they be made more effective and interesting? Introduce the poster as a piece of instructional writing which could be used to help improve the quality of reading journals.
Shared reading
Discuss the poster's layout, print styles, sub-headings, boxes, etc. What devices invite the reader to find out more (eg, the author talks directly to the reader, using you and your).
Point out the use of the imperative verb – eg, Draw, Write, Change.
Invite individuals to read each section. The bullet points provide an opportunity for a wide range of children to read, keeping everyone engaged. Acknowledge things you already do and note any new ideas to be encouraged.
Compare the two responses to Goodnight Mister Tom. Why is version B so much more informative? Provide evidence to back up your decision.
Point out the impact of the structure of the instruction to 'never write that something is: interesting, funny, your favourite part, boring …. Without saying

WHY

or

HOW

'. Would this be as powerful and interesting if the author said: 'It is fine to say … boring as long as you give evidence to support your reasons.' Why not?
Responding to the text
Ask the children to set their own targets for using their reading journals. Include a timetable (eg, every Monday evening) and a checklist of items to write (eg, character study, prediction, feelings bubbles). Write these targets neatly in the front of the journals, as a reminder.
Try out some of the ideas on the reading journal poster in class using their current reading book.
Stress the importance of looking after reading journals, using neat handwriting and a similar pen or pencil for each entry; dating entries and avoiding crossing out or spelling mistakes. This is a book they should be proud of and enjoy returning to again in the future.
Group and independent activities
Challenge individuals to find all the imperative verbs in the text.
Ask the children to note the main points to use as a reminder when keeping their own writing journal.
Drama
Invite a group to role play a television review programme, discussing a book they have all read. A presenter could outline the story, panellists give their opinion and the audience could ask questions or add their own observations about the book.
Plenary
Ask individuals to explain the targets they have set themselves. How achievable are they?
Suggest that writing a little and often in their journals is a good habit to get into.
Play a 20 Questions game where children have to guess a book title (yes/no answers only).
Links with writing
Write a response to a familiar book or character which could be read out to the rest of the class, who have to guess which book or character is being discussed. Alternatively, complete the activity sheet (ideally copied onto light card), cut it into sections and mix them up. Ask a partner to piece together the jigsaw and guess which book has been reviewed.