Children's author, Jeremy Strong, talks to us about his favourite books, pet cat Jeeves and the key to a great comedy story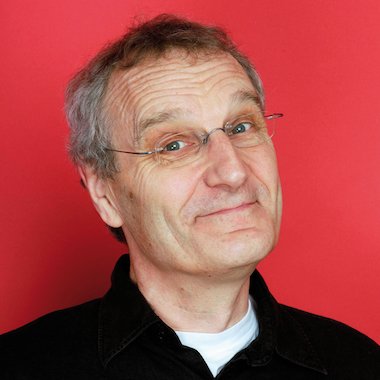 What was one of your favourite books as a child?
My mother lived on a farm in Zambia, then Northern Rhodesia. She met my father at the end of World War II. They were married and he brought her back to bombed-out London in 1946. My maternal grandmother thereafter often stayed with us for long periods. She brought with her a South African classic – Jock of the Bushveld by Sir James Percy FitzPatrick (Puffin). (It's one of David Attenborough's favourite books.) This became our bedtime story for several months. My brother and I loved the tales of the brave dog, Jock, saving his master from lions, snakes, and all sorts of dangers. One of the first stories I wrote, aged six and a bit, was a re-telling of one of Jock's adventures.
What was the last book that you read?
Fair Play by Tove Jansson (Sort of Books). I read, when they came out, both The Summer Book and A Winter Book. They remind me of Raymond Carver's short stories, if only because of their spareness and what they say between the lines, so to speak. I love the space she creates. Her writing is the antithesis of those big, over-worded books by certain authors, and all the more powerful for it. The last children's book I read was David Almond's brilliant My Name Is Mina (Hodder).
What do you think the key to a great comedy story is?
Laughter, obviously. But seriously, this is difficult because what makes us laugh is personal to all of us. One could also ask – what is meant by 'great' comedy? Are we talking about comedy that makes us cry tears of laughter, or comedy that seeks the high ground and manages to wring laughter from the great tragedies of our lives – illness, poverty, cruelty, separation, death, and so on?
At present I am reading The Finkler Question by Howard Jacobson (Bloomsbury). It is funny and serious. A children's book that achieves a similar height might be Morris Gleitzman's Two Weeks With The Queen (Puffin). Personally, I rarely think about how to make a story funny because I think funny. Only this morning I found myself wondering if lions and tigers, when they're eating raw meat, think to themselves – 'I wish I knew how to make gravy'. These thoughts occur naturally. So I guess I would have to say that maybe the key to good, if not great comedy, is that it can't be forced. It's something that comes naturally.
Do you get inspiration from other comedy books, TV programmes or films?
Oh yes, but not in large amounts or even noticeable ways; but I sometimes note ways of speaking, or ways of thinking that are used in programmes, and I might 'borrow' an attitude or expression and fit it on to a particular character.
Which of your characters are you most fond of?
I loved Krazy Kow in the eponymous book and his creator, Jamie. Streaker (The Hundred-Mile-An-Hour Dog) remains a favourite and currently I am very happy spending time with Casper and Pete, the two main characters in the new series, Cartoon Kid. Doctor Bonkers is another favourite, and all the Indoor Pirates. Good characters are very helpful when you are writing. Their voice enters the brain and this often makes writing easier, especially if it's first person narration. I loved writing Fizz's sections in my young teen book, Weird, even though she was a 14-year-old girl! (Jeremy's books are published by Puffin. Visit Jeremy's website for more information on these, and his other, titles.)
Do you include people you know in your books or are your characters entirely imaginary?
Most writers do this. Many characters are imagined. But, some carry a fraction of personality or appearance that has been stolen from a real person. Some mix qualities or physical attributes from more than one person. Very few are an almost complete portrait. I often change the sex of a character when I do this; one has to keep within the law, and occasionally I let the person know that they are going to be in a story.
You've mentioned that your cat Jeeves likes to write stories. Are they any good?
No. But he's good company and he makes the tea.
Jeremy's Campaign for Fun!
Jeremy Strong's latest series, Cartoon Kid (Puffin, £5.99 PB) follows the hilarious antics of Casper (the Cartoon Kid) and his best friend Pete. Suitable for Key Stage 2, it kicks off Jeremy's 2011 Campaign for Fun! Visit www.jeremystrong.co.uk to find out how you could win a Silly Ceremony at your school with Jeremy, a trophy and £200 worth of books.