Explore ways to investigate word order within sentences and help Key Stage 1 children to discover that changing places can affect meaning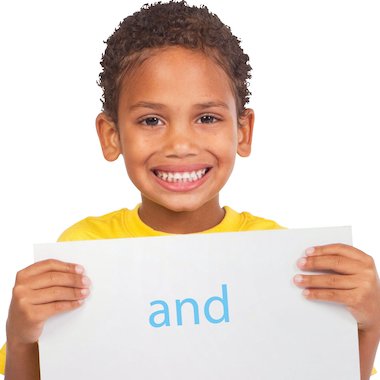 Animal antics
Don't forget to download the Interactive resource, 'Animal antics: Word order'. This fun resource invites children to experiment with the order of words in simple sentences.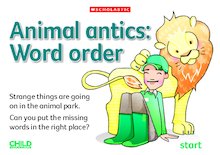 Activities
1. Receiving messages
Begin with a listening and acting game. Ask the children, in pairs, to create freeze frames (silent, stationary tableaux) of their understanding of the following quick oral messages: The little boy rode a big bike. The happy dog frightened the frowning cat. Flapping penguins eat fish. Skinny cats chase fat mice. The big boy rode a little bike. Skinny mice chase fat cats. The happy cat frightened the frowning dog. Flapping fish eat penguins. Did the children notice repeated sentences, but changed word order? Discuss how the order of words in a sentence is important to ensure that the meaning is correct. Which sentences do they think were in the correct order?
2. Jigsaw sentences
Display one enlarged word set from Activity sheet, 'Jigsaw sentences'. Put the children into fives, each copying a jigsaw piece onto their individual whiteboard. Ask the groups to arrange themselves into a sentence. Continue with the other jigsaws – group members should take turns to be the full stop. Invite the class to read one group's sentence aloud. Ask: What type of sentence is it? (statement) Remind children that the beginning word would need a capital letter.
3. Changing places
Put the children into fives. Give only one group a set of words from Activity sheet, 'Jigsaw sentences'. Ask the group to stand as a statement sentence. Then, change the full stop to a question mark. Invite class members to reorder the group accordingly. Do this for every jigsaw set, always choosing a different group to stand as a statement, and different children to reorder them into a question. Ask: Which words changed places? How does this sentence sound when read aloud? (Voices rise at the end because of the question mark.)
4. Word order
Emphasise the relevance of word order in statements and questions by using Activity sheet, 'Word order'. Put the children into pairs and invite partners to read the sentences to each other before writing. Encourage the children to notice how differences in intonation help confirm what are statements and what are questions.
5. Choosing places
Hang all the words from a simple sentence on a washing line, minus one word. Allow children to observe the words before holding up the missing one. Invite children to work with a talk partner to decide where the word should go and to write the position on their individual whiteboards. Invite pairs to demonstrate their selection by hanging the word on the washing line. Each time, ask: Has the meaning of the sentence changed? On the whiteboard, write the completed sentences, underlining the moving word. Experiment with the other sentences on Activity sheet, 'Choosing places'.
Top tips
Comment on sentences around the classroom and school. Discuss the order of words and how the meaning could be changed by swapping certain words around.
When reading, pick out an interesting adjective or adverb. Ask: Is it beside the word it describes? If moved, will meaning be emphasised or changed?
Make 'Jigsaw sentences' a fun early-morning activity. These sentence anagrams can be ready on the board when the children arrive.
Improve writing with this tip: Remember that time connectives link what has happened to what is coming. Place one at a joining point. (For example: The boy was fast asleep when his mum called him to come down for breakfast.)
Image © 2011 photos.com/Getty Images