Running a healthy tuck shop can be a fantastic way to raise money, while also giving children experience of how a business works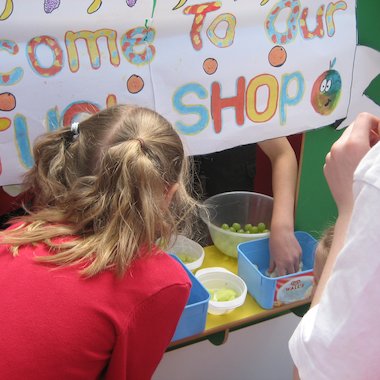 Healthy tuck shop
My first endeavours into running such a tuck shop took place years ago when I was looking for a way to teach money to my mixed Year 3/4 class. In particular, many of the children struggled with the concept of giving change, so the idea of organising some kind of stall seemed logical.
Children were already encouraged to bring fruit to eat at playtime(this was in the days before the government provided fruit for KS1 children) so we decided to offer the whole school the chance to buy their fruit at school instead, for reasonable prices. By the end of the week, the benefits had become clear. My prime objective of developing the class's confidence and competence with handling money had been achieved, but the project had also proved extremely popular with the rest of the school, with many younger pupils trying some fruits for the first time. The popularity of the project resulted in us making a small profit, which we subsequently donated to charity.
Fast forward a few years. As a Year 6 teacher, I wanted to inject a bit of fun, interest and relevance into an ICT unit on spreadsheets. Knowing that food and money can often prove great motivators in Year 6, I realised that the 'healthy tuck shop' might just come into its own again.
The first thing I did was to explain the concept to my Year 6 class: they were going to organise a healthy tuck shop each playtime for one week, where the rest of the school could purchase fruit. I then divided the children into teams to carry out preliminary work.
Market research team
This team had responsibility for finding out which fruits the other children would like to buy. They produced questionnaires to be completed by other classes. Having set up a spreadsheet to input their results (see the Activity sheet, 'Healthy tuck shop'), they shared their findings with the other teams. This team also interviewed a number of parents; this also proved useful in gaining their support.
A whole class discussion followed, in which we explored some of the questions this exercise had highlighted, including:
Could we provide fruit 'bars' and 'strings'? (No – most contain added sugars and were too expensive to buy and sell at a profit)
Would we be able to make fruit smoothies? (A nice idea, but no – it would be too hard to produce in enough quantity and a short space of time)
Could we prepare some fruit in advance, such as melons and pineapple, to widen the range we could offer? (Yes – this would also allow us to develop some food technology skills at the preparation stage)
We eventually agreed to offer:
individual fruits such as apples, bananas and oranges;
prepared fruits such as melon slices and pineapple segments;
a daily 'special' consisting of various 'pick-and-mix' items (for example, melon chunks, grapes and strawberries), served as a fruit kebab or fruit salad.
Pricing and purchasing team
This team researched prices of fruit using supermarket websites and put them in a spreadsheet (see the Activity sheet, 'Healthy tuck shop'). The PTA were running a fundraising campaign at the time: each class was given £1 per pupil to generate further funds. Using this money meant that we had a maximum budget of £30 for the first day's worth of fruit. After the first day we would be able to buy more food with any takings.
The team used the market research to estimate the best sellers and decide on how much to purchase. From this they could calculate the total initial cost and work out a suitable price to charge their customers – balancing the need to cover costs and generate profit with the need to provide fruit at affordable prices. We agreed on a maximum price of 50p with many items cheaper than this. I undertook shopping duties as this was the only practical way of purchasing the fruit, but the team had produced a shopping list for me!
Advertising team
In addition to producing colourful posters and flyers to promote the tuck shop around the school, this team took responsibility for writing directly to parents, informing them of how and when it would run and utilising their persuasive-writing techniques in a formal context. This involved not only literacy skills, but also science when researching the reasoning behind a healthy tuck shop. Their spreadsheet was used to show comparative nutritional values of a range of foods to illustrate this. They also produced a sign for the stall itself, plus price lists.
On the day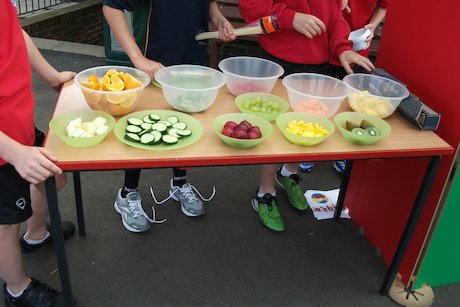 The logistics of organising the tuck shop on the day were quite full-on, I must admit, and the support of a TA was invaluable in setting up the stall and preparing the fruit. As we were running the tuck shop every day for a week, the class were again divided into teams with different roles each day: fruit prep, setting up the stall, selling, clearing up, and counting money.
Fruit was prepared whilst the rest of the class carried out related work in class (for example, posters showing the benefits of eating fruit; instructions for cutting up fruit and so on). The small 'pick and mix' items were placed in bowls ready for the 'special'. Once the stall was set up, we discovered that it worked best when each class had an allotted time, to avoid long queues. Key Stage 1 children were keen to be involved, so we allocated Year 6 helpers to accompany the youngest children.
At the end of playtime, we did a quick 'stock take' and made a shopping list of items needed for the following day. We discussed what had sold well ('specials' sold out quickly, along with seasonal items such as strawberries) and shared any problems that had occurred.
Follow-up activities
Once the week was over we carried out a 'debrief' (see the Activity sheet, 'Tuck shop debrief') and discussed what the children had learned. As well as the cross-curricular learning covered throughout the week, they also felt that they had learned about how businesses operated, what it meant to make a profit and the fact that it wasn't always easy to estimate profit!
The children also loved the teamwork aspect. Their enthusiasm was evident throughout the week and the task featured in many children's end of year reviews as a highlight of Year 6. We also had great feedback from parents and made a profit of almost £100. And yes – it did mean I spent quite a bit of time shopping that week, but for all those benefits, I didn't mind!