Take a look at our selection of exciting new books and resources available to buy. Plus, don't forget to visit our 'Giveaways' section for a chance to win them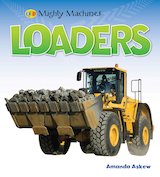 Mighty Machines: Loaders
This wonderful non-fiction title for younger children features full-colour images of mighty loaders that young boys in particular will love to learn about. Loaders by Amanda Askew (QED, £4.99 PB) features simple facts on every page and a glossary at the back. Further titles in the series include Bikes, Cranes, and Fire Trucks. We have ten copies to give away!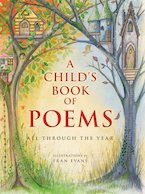 Poetry through the year
A Child's Book of Poems illustrated by Fran Evans (Pont, £9.99 HB) is a delightful collection by a range of poets. The book features a selection of poems for each month of the year – from 'Sun in January', 'July, the End of School' to December's 'Barn Owl in Winter'. It would make a great stimulus for creative work on the seasons or for independent reading. It is most suited to Key Stage 2, although KS1 children would enjoy the simpler poems. We have five copies to give away!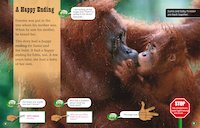 Into Connectors
The Into Connectors series from Scholastic for Years 2 and 3 solves the problem of 'what to do with the others' in guided reading sessions. These easy-to-follow, topical non-fiction titles are great for honing speaking and listening and comprehension skills. The fascinating texts hook children in and empower them to use thinking skills in small, collaborative groups. A set of six books costs £28.50. Visit the Into Connectors website to find out more.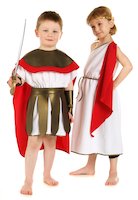 Ancient Rome Dressing-Up Costumes
Help bring your Roman topic alive with these dressing-up costumes, suitable for ages seven to nine, from Pretend to Bee (£29.90). Pretend to Bee can help make learning fun with their authentic historical costumes. Their range includes Roman, Egyptian, Elizabethan, Tudor and Victorian. All costumes comply with EN71 Toy Safety Standards, and schools receive a ten per cent discount when they register online. We have a pair of Ancient Rome Dressing-Up Costumes to give away!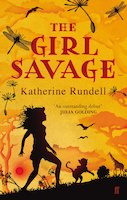 The Girl Savage
The Girl Savage (Faber, £6.99 PB) is an exciting debut novel by Katherine Rundell. Wilhelmina Silver lives half-wild with her horse and monkey on an African farm. But, the life she loves disappears when the farm is sold and she is sent away to an English boarding school. This heart-warming story follows Will as she struggles to cope with her new life. We have five copies to give away!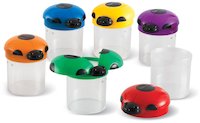 Big View Bug Jars
Even children who normally shy away from insects will be excited to capture and observe them in these engaging observation jars. The 'wings' open to reveal a 3.5x magnifying lens. A screw-on cap and air vents keep specimens secure. Suitable for ages three and above, the jars are available from Learning Resources. A set of six jars costs £29.95 (excl VAT). We have one set to give away!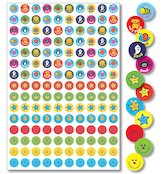 Mini stickers
These colourful mini stickers from The Sticker Factory cost less than £6 for 750 stickers (see the A5 10mm Mixed Compilation Stickers pack. As well as using the mini stickers for immediate rewards, they are perfect for classroom or individual wallcharts, bookmarks and chart badges – also available from the Sticker Factory in a coordinated range. We have ten packs to give away!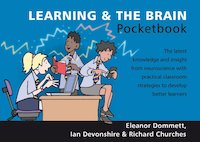 Learning & The Brain
This little book, written in conjunction with two neuroscientists, aims to help teachers understand how the brain works and how this knowledge can improve teaching and learning. Its size and layout – which involve short, snappy text and many illustrations – make it an easy and inspiring read. Learning & The Brain by Eleanor Dommett, Ian Devonshire and Richard Churches is priced at £7.99 and available from Teachers' Pocketbooks. We have ten copies to give away!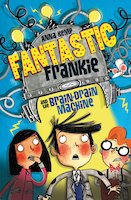 Fantastic Frankie and the Brain-Drain Machine
With wonderful illustrations by Alex T Smith, Fantastic Frankie and the Brain-Drain Machine by Anna Kemp (Simon & Schuster, £5.99 PB) is a fun read for children aged seven and above. After bringing home another 'F', Frankie is sent away to a boarding school where the headmaster has rather alarming plans for his students! Can Frankie and his friends save the day? We have five copies to give away!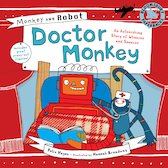 Doctor Monkey
Monkey and Robot by Felix Hayes, illustrated by Hannah Broadway (Bloomsbury, £5.99 PB) is a new picture book series about two best friends. In this story, Robot falls ill with a cold, but fear not, Monkey is around to nurse him back to health. The simple story and vibrant, lively illustrations make this book very appealing to young children. There are even press-out character figures at the back of the book. We have ten copies to give away!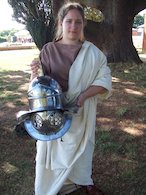 A Roman experience
Arriere-ban, who specialise in historical experiences, are offering one lucky school the chance to win an all-day Roman experience for up to 60 children (value £240). Their living history interpreters will visit the winning school and present an all-day Roman experience, giving a hands-on, up close and interactive day, using authentic costumes, artefacts and props. We have one visit to give away!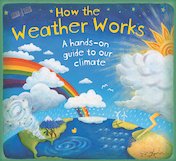 How the Weather Works
How the Weather Works by Christiane Dorion (Templar, £12.99 HB) is a wonderful book brought to life with fantastic pop-ups and other interactive features such as pulleys and flaps. Ideal for Key Stage 2, each fact-packed page opens with a question, such as: 'How can we predict the weather?' and 'Are we changing the climate?'. We have five copies to give away!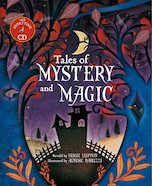 Tales of Mystery and Magic
Tales of Mystery and Magic retold by Hugh Lupton, illustrated by Agnese Baruzzi (Barefoot, £14.99 HB) features sumptuously illustrated stories from around the world. The theme of the collection is mystery and the magical stories are indeed unusual. Discover a brave blackbird who takes on a cruel king when his wife is kidnapped and two mischievous elves who give away their own feet! We have six copies to give away!
Fimo Classpacks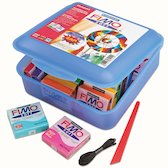 New from Staedtler are these colourful Classpacks of Fimo polymer clay. Each airtight container includes sufficient clay for an average size class to use. The packs also contain instructions for a separate Key Stage 1 and 2 project – from a name plaque to a pharaoh's mask! Prices start at £10.95; the Fimo® soft Classpack (see image) costs £22. The Classpacks are available from YPO now and other educational suppliers from March.