Celebrate Ireland's Patron Saint – Saint Patrick – on 17 March with this selection of activities and resources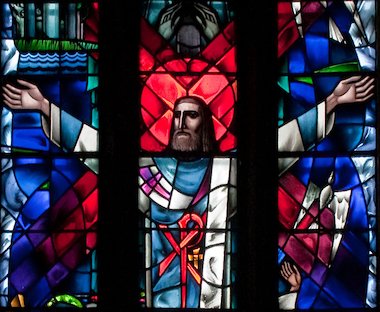 Activities
1. Gift of the gab
Tell the children about the various symbols that are associated with Saint Patrick's Day. One is the Blarney Stone – a stone set into the wall of Blarney Castle in Ireland. Legend tells that a spell was cast on the stone meaning that anyone who kissed it would be able to speak eloquently. Share this verse of a poem about the Blarney Stone with the children:
There is a stone there,
That whoever kisses,
Oh, he never misses
To grow eloquent.
Help the children to understand the meaning of the word 'eloquent'. Then, thought shower the difference between talking in a clear and unclear way.
Key Stage 1
In partners, invite the children to practise speaking a single sentence in a clear and then an unclear way. They should first speak their sentence in an unclear way, then role play kissing the Blarney Stone and speak it in a clear way. Volunteers could share their role play with the class.
Key Stage 2
Allocate small groups of children a topic (weather, animals, books, and so on). They should practise talking about their subject in a clear and unclear way. Each group could then deliver the unclear version of their speech before role playing kissing the Blarney Stone and continuing in a clear way.
2. Shamrock investigations
Tell your children about the association of shamrock with Saint Patrick's Day. Next, cut out and laminate the shamrocks on the Activity sheet, 'Shamrock investigations'. You could then challenge them to the following investigations. Prompts to cut out and give to the children are also available on the Activity sheet, 'Shamrock investigations'.
Key Stage 1
Estimation
Arrange the shamrocks on the table. Invite the children to think of as many ways to estimate how many shamrocks there are, without counting them all. Encourage them to discuss and test out their ideas. More able children could be invited to estimate the number of leaves.
Sorting
Divide the children into small groups. Provide them with a good number of shamrocks (perhaps two sheets worth). Challenge them to see how quickly they can you sort the shamrocks into their different sizes. They should time each other and discuss how well their strategies worked.
Counting Challenge the children to some counting and calculations practice. Each shamrock has three leaves. How many shamrocks would you need if you wanted to have 9 leaves. How about 30 leaves? How about 300 leaves?
Key Stage 2
Fractions Invite the children to identify the different fractions in a shamrock leaf. Provide a few cut up leaves to demonstrate this. Each one has three leaves (thirds). Each leaf is divided into two (sixths). Then challenge them to lay out the right number of leaves/sections to represent: 1 whole shamrock, half a shamrock, 2/3 of a shamrock, 5/6 of a shamrock and so on.
Graphs How many ways can you represent the different sizes of shamrock in graph form? Encourage the children to first create a block graph using the actual shamrocks. What are the pros and cons of this method? Next, they should transfer the data in various graph types, perhaps using ICT.
Probability Give the children a selection of shamrocks that contains three sizes only. Then, invite them to work out the probability of picking out a small, medium or large shamrock.
3. Saint Patrick's plight
Share the story of Saint Patrick with the children. Some facts can be found on the Activity sheet, 'Saint Patrick'. Define different stages in his life and invite the children to think about how he would have felt at each one.
Stages of Saint Patrick's life
Living at home with his wealthy parents.
Being kidnapped by Irish raiders.
Life as a slave working.
Escaping from his captors.
Walking 200 miles to the Irish coast.
Arriving back in Britain.
Key Stage 1
Ask the children to work with a talk partner to thought shower words that help describe Patrick's feelings at each stage of his life. The children could add their favourite words to the shamrocks on the Activity sheet, 'Shamrock templates', cut them out and combine them to create a class display.
Key Stage 2
Invite the children to thought shower words and phrases that represent each stage of Patrick's life. Then, they should combine their ideas to create diary extracts, as if written by Patrick, to illustrate his feelings and experiences.
4. Seeing green
Talk about how green is associated with Saint Patrick's Day. Gather together lots of green objects or hand out copies of the Activity sheet, 'Seeing green'. Encourage the children to recognise just how many different shades of green are represented. Next, challenge them to try and recreate the types of green with paint. Bring the class back together at various intervals to think about what effect adding different colours has on the shade created. They could then be asked to create a painting using just different greens.
5. Making use of metaphor
Key Stage 2
Legend has it that Saint Patrick once gave a sermon that drove all the snakes from Ireland. It is believed that this might be a metaphor for his conversion of the pagans to Christianity. Ensure the children understand what a metaphor is. Then, challenge them to find examples in fiction and non-fiction books. They should note down their favourite ones and share them with the class. Finally, invite the children to write a short story or poem, perhaps based on a Saint Patrick's Day parade, that makes good use of metaphor.
Image from Wikimedia Commons