An evaluation of science education in England, published by Ofsted in early January 2011, highlighted a lack of confidence and expertise among primary school teachers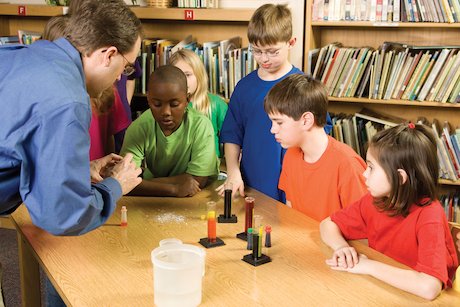 Ofsted: 'More science training needed'
Primary school teachers need more training in science for standards to improve, says Ofsted. But given that inspectors also see lack of local authority support as an issue, where can schools go for help?
Ofsted's report, Successful science, highlighted the valuable role of Science Learning Centres (SLCs) in providing high-quality professional development. It also praised the success of the Primary Science Quality Mark (PSQM), a scheme that aims to raise the profile of science and promote a commitment to excellence.
Science Learning Centres
Jane Turner is Associate Director at the Science Learning Centre East of England and joint Project Leader of the PSQM. She wants primary schools to know that there are places they can go to locally for support that is both relevant and up to date.
All SLCs have a core programme of primary courses covering everything from leadership through to early years and assessment. Their mission is to improve subject knowledge, encourage inspirational and innovative teaching, and bring contemporary science into the classroom. Sessions currently on offer include 'Astronomy and Space CPD' and 'Forensic Science in the Primary School'.
'There is a perception that we are secondary based, but 40 per cent of our courses are for primary schools,' explains Jane.
There are nine regional centres throughout England and a national centre in York but it doesn't matter if your school is not near to one of these centres. They all have satellite venues where courses are run and more and more training is bespoke and based in schools.
'We have a core programme,' says Jane, 'but we adapt it to meet the needs of individual schools or groups of schools.'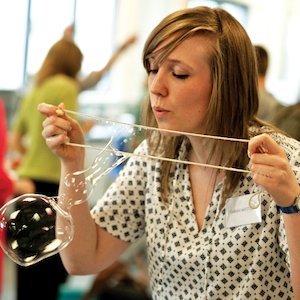 Taking a creative approach to science
Some of the most popular courses are about taking a more creative approach to science or linking science to other subjects. The Ryde School in Hatfield, Hertfordshire, for example, opted for 'Science and Stories'.
'It was very child orientated,' says science coordinator, Sarah Hudson. She has since used the book Peace at Last by Jill Murphy (Macmillan) with her class and found that the children's love of the characters meant that they became really involved in the investigations.
'The course helped to refresh science in our school,' says Sarah. 'Having a whole-school training day devoted to science presented a tremendous opportunity and was fun! The planning time meant that staff could reflect and ponder. The action plan led to the course having an impact on teaching and learning very quickly.'
All the SLC courses build in action planning and are not seen as one-off experiences. 'Teachers are encouraged to think about what they want to get out of the course beforehand and let us know so that we can make sure those needs are addressed,' says Jane.
Primary Science Quality Mark
The Primary Science Quality Mark (PSQM) is similar in that its focus is on helping schools to make a difference. It is a year-long programme supported by high-quality training. More than 200 schools are taking part this year and numbers are expected to double in 2011-12.
'We encourage schools to be systematic,' says Jane. 'Groups of five or six local schools – called hubs – are brought together for an initial professional development day when they learn how to audit science provision in their school and put together an action plan. They are allocated a hub leader who acts as their mentor over the year and gives them support.'
During that time they have to make submissions online to show evidence of their progress. This might be a calendar of science events, for example. 'We're not interested in policies,' insists Jane. 'Schools have to find out what works for them – we don't provide a tick list of things they have to do.'
At the end of the year the schools come together to reflect on what they have all achieved. The feedback has been positive so far with all schools saying that it has given them a long-term vision.
Kelly Hamilton, science subject leader at Corringham Primary School in Thurrock, Essex thoroughly enjoyed being part of the PSQM project. 'I wish there had been a project like this when I first became a science leader!' she says.
'The scheme gives subject leaders and their colleagues a real sense of direction in the leadership and development of science teaching and learning,' she says. 'PSQM has made a difference in every classroom.'
What it costs
Primary Science Quality Mark
Registration costs £500 but some schools are subsidised by their local authorities. Schools receive at least two days of professional development, plus ongoing support from their hub leader and access to web resources. Everyone is invited to an event at the end of the year to celebrate and receive their award.
The scheme is run on an annual basis and schools interested in signing up for next year need to register by 31 March 2011. There will 500 places available. See the PSQM website for full details.
Science Learning Centre courses
Courses cost about £130 per day for individual teachers. A typical bespoke event for 20 participants costs in the region of £700 + VAT. See the Science Learning Centres website for more information.
Grants and awards
Teachers working in state-maintained primary schools in England can claim an Impact Award for some of the courses run by the Science Learning Centres. The bursaries are worth £200 a day but are only available until the end of March 2011. To find out more, visit the Science Learning Centres website.

ENTHUSE

Awards can be used to cover course fees, supply cover, travel, accommodation or to fund your ideas for improving the teaching of science. The award is paid directly to the school on completion of the course and submission of an action plan. For more information, visit the Science Learning Centres website.
The Royal Society's Partnership Grants scheme offers up to £3000 to support teachers, scientists and engineers in working together to inspire young people. For more details, visit the Royal Society website.
Main image © 2011 photos.com/Getty Images; inset image © Science Learning Centres