Try making these tempting treats with your children ready for snacktime, or enjoy them at a spring event in your setting!
Recipes supplied by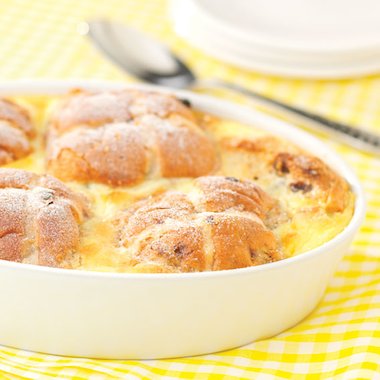 Recipes in this article:
1. Lemon drizzle cake
This delicious cake will be a lovely treat at snacktime – or an impressive centrepiece at a spring fair!
Makes: 1 large cake
Preparation time: 15 minutes plus 35 minutes cooking time
Ingredients:
175g unsalted butter
175g caster sugar
Grated zest and juice of two lemons
120g Rachel's Low Fat Natural Bio Live Yogurt
2 large eggs, beaten
175g self-raising flour
3 tbsp caster sugar
150g icing sugar, sifted
½ tbsp water
Equipment needed:
Mixing bowl; spatula; small saucepan; cake tin; skewer; wire cooling rack
Method
Preheat the oven to 180°C/Gas 4.
Grease and line a round 15cm/6" loose-bottom cake tin.
Cream together the butter and sugar in a bowl until light and fluffy.
Add the grated zest of the lemons and yogurt, then add the eggs.
Add the flour, mix well and spoon the mixture into the prepared tin, smooth the top to ensure it has a level surface.
Bake in the oven for 35 minutes or until golden brown and check that a skewer comes out clean. Transfer to a wire cooling rack.
In a small saucepan add the juice of the lemons with the three tablespoons of caster sugar and allow to reduce on a high heat. Leave to cool slightly.
Using a skewer or cocktail stick prick holes all over the cake and then pour the lemon sugar syrup over the top, allow it to soak in.
Leave to cool completely before icing.
Mix the icing sugar with the water until a runny paste consistency is achieved, add more water or icing sugar if necessary. Using a spoon drizzle icing liberally backwards and forwards over the cake.
Top tip:
Invite children to help with pouring the cooled syrup over the cake and then drizzling the icing over it, too. Prompt them to think of appropriate words to describe the actions, such as drip, soak, trickle, sticky, flow, and so on.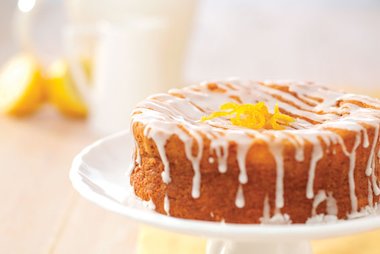 2. Hot cross bun pudding
A fantastic seasonal recipe that is a great way to celebrate Easter and explain the significance of hot cross buns at this time of year
Serves: 6–8 children
Preparation time: 15 minutes plus 30 minutes cooking time
Ingredients:
4 hot cross buns
15g unsalted butter
320ml double cream
100ml whole milk
2 eggs and 1 egg yolk
100g Rachel's Greek Style Natural Bio Live Yogurt
1 tsp demerara sugar
Equipment needed:
Ovenproof dish; knife; small pan; whisk
Method
Preheat the oven to 160°C/Gas 3 and grease a 1 litre ovenproof dish.
Cut the hot cross buns in half and spread with butter on both sides. Arrange the buns in the ovenproof dish, layering the cross sides face up on top.
In a small pan add the cream and milk and heat until just warm.
Place the eggs and egg yolk in a small bowl, pour over the heated cream and milk and whisk thoroughly. Add the yogurt, whisk again.
Pour the mixture over the buns a little at a time, ensuring it has time to soak in.
Sprinkle the pudding with demerara sugar and place on a baking sheet.
Bake for approximately 30 minutes. The pudding is ready when it is puffed up, set and golden brown.
Great idea:
This is a lovely treat to offer parents and carers at a spring fair in your setting – especially if their children have helped to prepare it!