Learn about number sorting and codes with the Maths Superstar, Lewis Carroll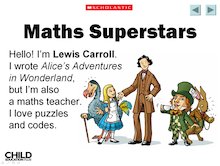 Download the Slideshow presented by the Maths Superstar, Blaise Pascal. The slideshow features puzzles related to number sorting and codes.
These teacher notes are also available as a PDF to download and print for handy reference.
Introducing Lewis Carroll
Lewis Carroll's real name was Charles Lutwidge Dodgson. He is best known as the author of the children's stories Alice's Adventures in Wonderland and Through the Looking Glass. He spent much of his adult life as an Oxford University academic writing many books about mathematics and logic.
Lewis Carroll became a student at Christ Church, Oxford after leaving school in 1851. He was later appointed a mathematics lecturer at the college.
His interest in mathematical logic, games and puzzles started when, as a young child, he invented activities to amuse his older brothers and sisters. Later, he studied codes and invented word games known as 'word ladders'. His puzzles were published in magazines like Vanity Fair, named 'Pillow Puzzles' because Carroll used them to pass the time when he couldn't sleep.
1. Carroll diagrams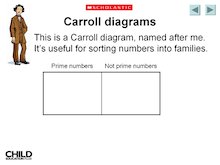 Carroll diagrams are a special box system named after Lewis Carroll. It's useful for sorting numbers into families. The two-box diagram puzzle challenges children to sort the digits 2 to 10 into categories: prime numbers and not prime numbers. The four-box activity asks children to sort into four categories: even, not even, square and not square numbers. Some revision of the terms prime numbers and square numbers may be needed first.
Emphasise that in the second activity the boxes are arranged so that they can show up to four different kinds of information at the same time. Boxes in Carroll diagrams should always be labelled carefully, according to column and row. Other topics that work well with this type of sorting diagram are the properties of either 2D or 3D shapes.
Answers – 2-box diagram
2, 3, 5 and 7 are prime numbers
4, 6, 8, 9 and 10 are not prime numbers
Answers – 4-box diagram
4 and 16 are even, square numbers
1 and 9 are not even, square numbers
2, 6, 8, 10, 12, 14, 18, 20 are even, not square numbers
3, 5, 7, 11, 13, 15, 17, 19 are not even, not square numbers
2. Venn diagrams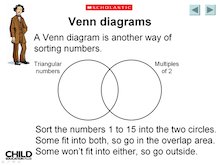 This method of sorting numbers into families uses a diagram based on circles instead of boxes. It is called a Venn diagram, named after another Victorian mathematician called John Venn. He was a mathematician who taught at Cambridge University, and used the diagrams to help simplify relationships between groups of numbers.
Key terms like multiple, triangular number and intersection will need to be revised. Remind children that if a number meets two criteria then it must be shown in the intersection between two rings and, if it meets all three, in the region that is common to the three rings. The answer to the last question is that the numbers outside the circles are prime numbers.
Answers – 2-circle diagram
1, 3 and 15 are triangular numbers but not multiples of 2
2, 4, 8, 12 and 14 are not triangular numbers but are multiples of 2
6 and 10 are triangular numbers and are also multiples of 2
5, 7, 9, 11 and 13 are not triangular numbers or multiples of 2
Answers – 3-circle diagram
2, 10, 14 and 22 are multiples of 2 but not multiples of 3 or 4
3, 9, 15 and 21 are multiples of 3 but not multiples of 2 or 4
6 and 18 are multiples of 2 and 3 but not multiples of 4
4, 8, 16 and 20 are multiples of 2 and 4 but not multiples of 3
12 and 24 are multiples of 2, 3 and 4 *1, 5, 7, 11, 13, 17, 19 and 23 are not multiples of 2, 3 or 4
3. Code breaker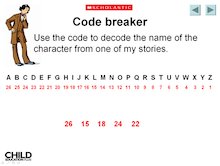 Lewis Carroll was very interested in making and reading codes. The first code gives each letter a numerical value, in reverse order from 26 to 1 (so A = 26, and Z = 1). In the second code, the letters have been moved on three places, so that A becomes D, B becomes E and so on.
Answers – number code
ALICE

MAD HATTER

MARCH HARE
Answers – letter code
GRYPHON

MOCK TURTLE

WHITE RABBIT
There is plenty of scope for children to devise all kinds of codes of their own. Remind them that, in modern contexts, codes made out of numbers are used to prevent crime – for example, Personal Identification Numbers (PIN) are used to access a bank account. One famous code that is heard and not usually seen is Morse Code. It is used to send messages by wire or radio using a series of short dots and long dashes to represent letters.