Taking inspiration from Victorian art and architecture, explore line, tone, texture, colour and composition, through the traditional genres of still life, landscape and portraiture
Key Stage 2 activities are also available.
Activities
1. Portraits
The earliest photographs were made by Louis Daguerre in 1837, the year Victoria ascended to the throne, and by the 1860s photography was widespread. Inspired by those early, atmospheric images, this activity uses coffee stains to create 'sepia-toned' portraits.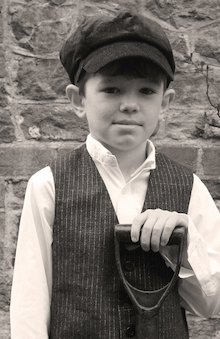 Begin by providing children with cameras to take portraits of each other – if you're having a Victorian-themed day then this would be the ideal opportunity for photography.
Load the images on to the computer and encourage children to select the shots they like the most.
Print the images using a black-and-white printer and on a 'light' setting – there needn't be dark tones on the image. Ideally, print directly onto cartridge paper, or photocopy onto it.
Place a spoonful of coffee into a cup, add a little hot water and allow it to cool.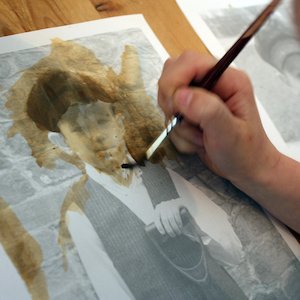 Demonstrate to children how to use the coffee 'paint' to add lighter and darker tones to the images. Remember that as you add more water, the tone grows lighter, as you add more 'paint' it grows darker.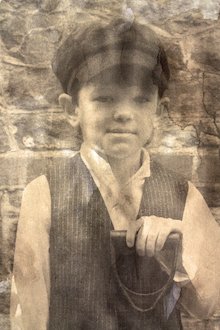 If you prefer to keep the coffee in the staff room, provide children with red, yellow and blue watercolour blocks and encourage them to mix their own tones of brown to tint the photographs.
Consider extending the activity by designing Victorian-style frames for the images.
2. Still-life paintings
Still-life painting was part of the tradition of art in Victorian times, before becoming less fashionable in the 20th century. Making still-life collages offers valuable opportunities for children to experiment with composition. By placing and re-placing shapes on the paper, children can begin to make decisions about the arrangement of objects on the page, and by overlapping shapes they can begin to understand the concept of occlusion – where one object partially obscures another.
Gather a selection of 'traditional' still-life objects such as fruit, bowls, bottles, and so on, together with sheets of coloured paper and pencils.
Provide each child with one object and explain that they will be making a drawing of the outline of the object – they need not worry about specific details.
Children should then carefully cut around each part of their outline drawing.
Provide a large sheet of paper, ask children to bring their drawings to the paper and to arrange their drawings in a way that they like. The still-life objects should also be arranged together at this point.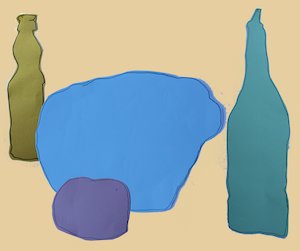 Without sticking the pieces down, photograph the resulting collage – you'll probably need to stand on a chair!
Take note of whether children have considered overlapping their images. If they haven't, ask them to look closely at the arrangement of the real objects and to describe what they can see. Can they see all of each object? Or are some objects partially obscured by others?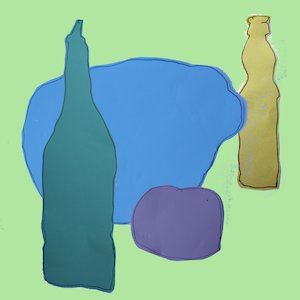 This experience should prompt children to rearrange the pieces of their collage in such a way that some objects occlude others.
Extend the activity by asking children to make drawings of the whole still-life arrangement, reminding them to think about the ways objects overlap.
3. Landscapes
Working together on a large-scale drawing is a great way of encouraging children to experiment with different approaches to using drawing materials. Furthermore, using a projected image as a starting-point helps children to concentrate on the marks they are making rather than on the content of their drawing.
Gather a selection of photographs of Victorian life and use an overhead projector to display it for the class (if you have a touch-sensitive whiteboard then switch off this function or, if possible, project the image onto a blank wall).
Tape a large sheet of drawing or lining paper across the screen – you should see the image projected clearly onto it.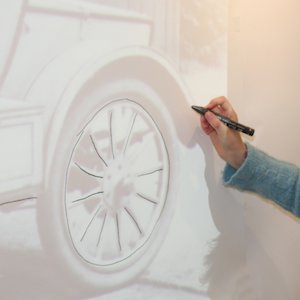 Provide children with a selection of drawing materials – oil pastels work particularly well – and ask them to work in groups of three or four and make sure that they can reach most of the board.
Demonstrate to children how to trace the lines of the photograph onto the paper. Talk to them about the detail of the image (architectural images work particularly well) and the details, tones and textures they can see.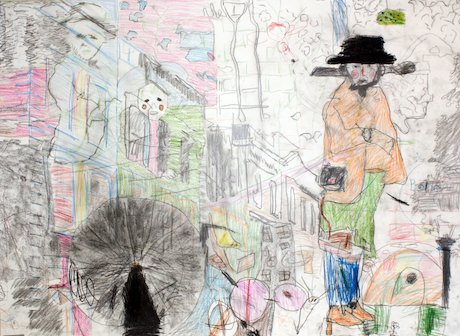 Encourage children to review their progress after a while by removing the projected image from the screen. You might find at this point that it is easier for the children to carry on working at their tables, allowing a second group to work from another projected image.
Extend the activity by getting children to work individually, on a smaller scale, by placing sheets of A4 paper over PC screens and displaying images of Victorian life that can easily be traced on to the paper.