Potatoes are packed with nutrients, incredibly versatile and, best of all, extremely yummy! Children won't be able to resist these spudilicious treats…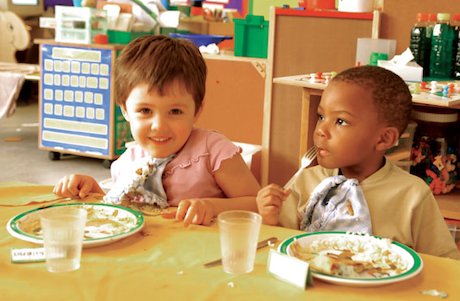 Recipes in this article:
1. Vegetarian shepherd's pie
Even the most meat-mad kids will love this dish; it's packed with goodness – lentils are a great source of iron – and the potatoes are deliciously creamy! This should feed eight hungry children…
Ingredients:
4 large potatoes
250g of washed red split lentils
500ml low-salt vegetable stock
1 can chopped tomatoes
2 onions
3 carrots
50g of butter
3 tablespoons of whole milk
2 cloves of garlic
Pepper to taste and salt if you wish
Preparation Peel and dice the potatoes. Chop the onion, carrot and garlic.
How to cook
Boil the diced potatoes in water for around 15 minutes until they are soft.
In the meantime boil up the lentils in the vegetable stock. The length of time may depend on the lentils you use, so check cooking times on the packet.
Fry/sweat the carrots and onion together in a frying pan with the garlic and butter. Cook until soft then add the chopped tomatoes.
Add in the cooked lentils and turn down to simmer whilst you mash up the potatoes with butter, milk, pepper and salt (if using).
Place the lentil mixture into a glass baking dish, top with the mashed potatoes and cook in the oven for about 35 minutes at 200°C/Gas mark 6. When it's browned it's ready!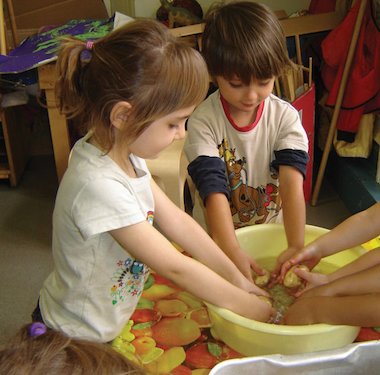 What's good about potatoes?
They contain Vitamin C. They're high in potassium. They're high in fibre, particularly their skins. They are fat and cholesterol free.
Also they have trace amounts of thiamine, riboflavin, magnesium, iron and zinc.
2. Leek and potato soup
Potatoes work wonderfully in soups as they add flavour and texture. Use up any veggies you have; boil them up, blend and you're ready to go! Get the children to help with the chopping and serve with chunky bread to dip. If you are in a setting with weaning babies, it's perfect for them, too. This leek and potato soup is a real crowd pleaser. This recipe should serve about eight children.
Ingredients:
2 medium potatoes
4 leeks
1 onion
1 litre of vegetable stock
Half a pint of milk
2 tablespoons of butter
Preparation
Remove any tough outer layers of the leeks and chop them finely. Wash them thoroughly.
Chop the onion.
Peel and chop the potatoes into small cubes.
How to cook
Melt the butter in a pan.
Add the potatoes, onion and leek, and cook on a low heat for around ten minutes.
Add the stock and milk to the pan and cook for a further 20 minutes.
Your soup is now cooked and ready to serve if you like a chunky texture; if not…
Pour the mixture over the buns a little at a time, ensuring it has time to soak in.
Blend the soup and serve. The children may like to blob some natural yoghurt or crème fraiche on the top and could even shower on some chives with scissors. (This recipe was adapted from www.leekpotatosoup.com)
More online!
Find lots more recipes to try with your children on our website!
Images © All rights reserved by London Early Years Foundation