Reading newspapers can result in children becoming interested and engaged in the world around them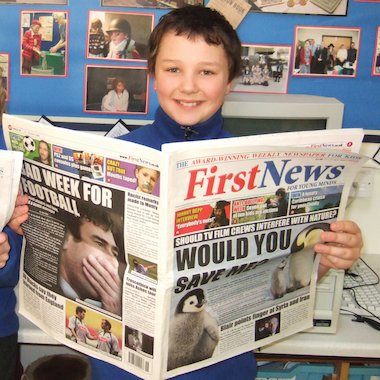 I'm often asked how we persuade children to read newspapers. They need no persuasion. Why would they? Like adults, they want to know what's going on around them.
We're not afraid to tackle difficult stories in First News. We have to give context to the national and international events behind the often scary headlines that are coming at children from every angle – from 24-hour TV news channels, the radio, internet, front pages of newspapers in newsagents and from conversations with other children in the playground.
The way in which our young readers engage with First News is often impressive. For instance, 235,000 readers signed a First News letter to the Government, calling for a change in policy on child soldiers.
1. Writing headlines
How do headlines entice you into reading a story? What can you work out about a story just from the headline? Show an example of any newspaper and ask the children to try to identify the language tricks used to write the main headlines. As a whole class, collect examples of alliteration, assonance, rhymes, puns and clichés.
When the children are confident with the techniques journalists use, cover up headlines in a newspaper and invite the children to write as many headlines as they can for different articles. Then, reveal the actual headline the journalist used. Did the children come up with similar ideas? Are any of the children's suggestions better than the actual headlines?
2. Reworking features
As a newspaper is being put together, there may be 'breaking news' – important news stories that need to be put on the front page. This means that stories that have already been written may need to be moved to a different section of the paper. Find longer articles containing interesting numbers or data and challenge children to rewrite these stories for a 'News in Numbers' column. In this section of the newspaper, the story must begin with a number and the fact must be explained in full in no more than two sentences. For example: '11.8 – the number of metres that Spaniard Georges Christen ran to complete a recent world record. He was holding a 12kg table with a 50kg person sitting upon it, using only his teeth.'
Can children include all the vital information? Remind them to include details so that the very short story is still interesting to read.
3. Non-fiction reading
A simple comprehension activity can be used for a focused reading activity where children can practise scanning skills and retrieving information quickly. The 'First News weekly challenge', available to schools subscribing to six or more weekly copies of the newspaper, quizzes children on aspects of the week's news.
To focus on individual articles in more depth, invite children to find what they think is the most interesting article in a particular section of the newspaper. Then, ask them to tell the story to the rest of the class in their own words and explain why they thought it was interesting.
Finally, clip a selection of images from a copy of any newspaper. Can the children think what kind of story the image might accompany? Can they find the images in the paper as they read it and summarise the story to the rest of the class?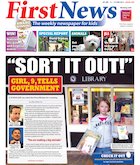 First News is currently read in one in three UK schools. To set up a school subscription, visit www.firstnews.co.uk/teachers or call 0844 8560634. Prices start from £45.60 per year.
Image © First News