Take a look at these activity suggestions to nudge children towards using context and presentation for reading accuracy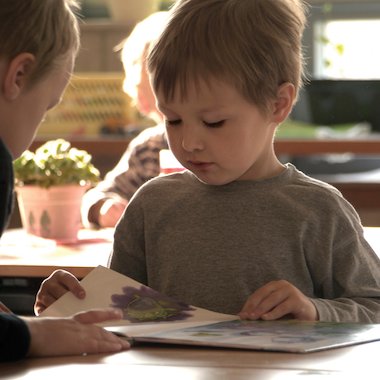 Activities
1. First impressions
Emphasise the appearance of a book with a game of 'Funny or Serious?'. Prepare six assorted books, each numbered. Ask everyone to draw two columns: 'funny' and 'serious'. Show the books in quick succession and ask the children to record numbers under 'funny' or 'serious'.
Repeat the process, so that children may change their minds. Confirm correct choices, inviting children to explain their decisions. Did illustrations, style and words help them to decide?
2. Cover inspection
Give each group of three a different fiction book. Invite each group to tell the class three pieces of information that they found by reading only information on the cover of their book.
List categories of information on the whiteboard. For example: title, author, publisher, publishing house logo, character identity. Was some of the information easier/harder to find?
3. Reading signposts
Enlarge and display the Activity sheet, 'Readers' views'. Ask: If this was a page in a book, where in the book would it be placed? Point out presentational devices.
Hand out copies for paired investigation and discussion. Where on the page do the children think that they should start reading? In what order would they continue? Which part seems important?
Invite the children to test their reading accuracy by completing the Activity sheet, 'Reading signposts'.
4. In sequence
Put the children into fours with individual pieces of paper. Write, in a muddled order, these story parts on the whiteboard: opening; something happens; events to sort it out; ending. Ask the group members to each copy one and arrange themselves in order.
Give each group a copy of the Activity sheet, 'Making a move' to cut up and order the story parts. Can children quote a text clue that identified where each part should be placed?
5. Story detectives
Appoint the children as 'story detectives'. Ask partners to make two signs: 'beginning' and 'ending'. Display and read aloud one section at a time of the Activity sheet, 'Beginnings and endings'. Let partners confer before holding signs up. Ask them to justify their decision, identifying traditional words and phrases and any text that introduces or concludes events.
Divide the classroom into two areas: 'beginning' and 'ending'. Give each child a text card from the Activity sheet, 'Beginnings and endings'. Can detectives remember the text clues to lead them to the area in which their card belongs?
6. Picture captions
Show the children a cartoon story book, emphasising that illustration and text can work together: a small amount of text (a caption) sums up a picture.
Give the children, individually or in pairs, the Activity sheet, 'Lost!' to order captions and create accompanying pictures.
The second part of 'Lost! requires children to complete the unfinished cartoon story with pictures and captions.
Context tips
When reading together, locate a section (opening, ending) within a whole text. Children will become familiar with a book's sequence.
Identify presentational devices on classroom posters. Advise that devices are more effective when not overused.
Write a text for display and invite comments. Are important words highlighted? Is the text placed and presented well?
Display pictures and hold a caption competition. Choose captions that complement the pictures.
Improve reading accuracy by asking the children to read text on the whiteboard before explaining its message to a partner.
Image © mammamaart/istockphoto.com