Celebrate the Royal Wedding with an eyewitness account of Queen Elizabeth's Coronation in 1953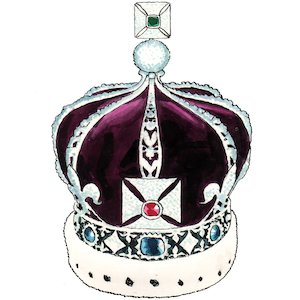 Historical investigation and police work has much in common. One similarity is the way in which detectives follow clues to search out evidence and another is the process of studying the accounts of eyewitnesses to find out what happened in the past.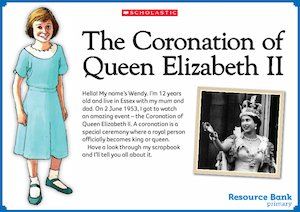 Transport your class back in time to Queen Elizabeth II's Coronation in 1953 with our evocative interactive resource. Wendy, a young girl from Essex, recounts the events of the Coronation and shares her scrapbook with us, which includes original photographs and illustrations.
Plus, take a look at the Great Fire of London and Viking raid on Lindisfarne interactive resources.
The best way to introduce children to eyewitness accounts is through the use of oral witnesses – the questioning of parents, grandparents and other adults. They can be invited into school to talk about their experiences, particular events they have lived through or the physical environment in which these took place.
The use of recording devices and video cameras with these witnesses will make the information gathered accessible to a larger audience. Colourful extracts from interviews can be written up in illustrated book form and reminiscences can be used as a script for plays, complete with songs, music and clothes from the period.
I was there
Eyewitness accounts, in a variety of forms, are also a valid source of information for historical events. Until his death recently, Harry Patch was the only surviving 'Tommy' from the trenches of WWI. Books have been written about his experiences and interviews recorded during the latter stages of his life provide graphic eyewitness descriptions of the horror and carnage of modern war.
Earlier still, we know about the final moments of Charles I on the scaffold (1649) from written accounts of observers in the large crowd that had gathered to watch the event. And, documents penned by Jehan de Wavrin, the son of a Flemish knight, provide vivid descriptions of the medieval fighting employed at the Battle of Agincourt (1415).
Interpreting history
These are just examples and the list of available eyewitness accounts is endless. Children, however, like all historians, need to approach such sources with caution. No eyewitness version of events is written in a vacuum. Is the writer providing just a narrative, arguing a case, pressing a point of view or deliberately provoking a response? How biased is the author in the reporting? Were they in the right place at the right time to obtain the facts? Was their version written at the time or some while later? Are the statements made improbable? Are there contradictions in the document that weaken its veracity?
Any study of eyewitness evidence will, therefore, require investigation, deduction, analysis and interpretation, skills that are at the very essence of history itself.
Image © Gay Galsworthy/GCI Illustration