After reading through all of the wonderful entries to our Best Books competition (featured in our Autumn 2010 Read me supplement), the winner has finally been decided!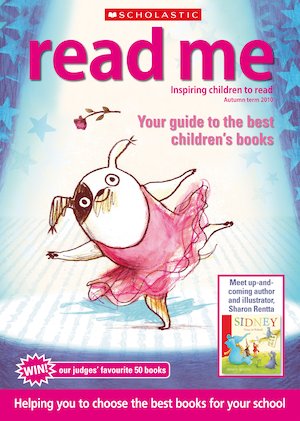 Entrants were challenged to write a 100-word review of their favourite book. Eight-year-old Red Marshall-Stevens from St Winnow VA School in Cornwall won over the judges with a review of Lutey and the Mermaid by Will Coleman. Red wins 50 children's books! The judges also picked three runners up: Daniel Lindley – age five, four when entering (St Winnow VA School, Cornwall), Olly Ashley-Jones – age six (Wingham Primary School, Kent) and Charlie Mitchison – age ten (Radwinter School, Essex).
Overall winner
Red Marshall-Stevens' review of Lutey and the Mermaid by Will Coleman
Have you ever seen a mythical creature? Well, Lutey has.
Lutey was a fisherman who lived in a white cottage. He was a grumpy man because he couldn't go fishing because it was stormy. Lutey had a wife Betheny and a dog called Jack. Lutey walked down to the beach and it revealed a grey rock.
My favourite part is when Lutey takes a step forward because it's mysterious and what happens next? It makes you so excited. I would give this book a 5 star rating. I think this book should be for 5 to 9 year olds. This book has adventure in it.
Runners up
Early Years

Daniel Lindley's review of Terrific Trains by Tony Mitton
I like the bridge, and I like the orange train because it's so bright and new, and I like the green train too, and this red one 'cause its got a light. This bit at the back tells you about the trains, and there's one about a fire engine too.
I know all about this book (he did) and I read it every day.
Key Stage 1

Olly Ashley-Jones review of Beaver Towers by Nigel Hinton
I loved this book being read to me by Daddy. It was so exciting!
It is about a boy called Philip whose kite takes him away to an island with a castle called Beaver Towers. The main characters are Philip, a funny little beaver called Baby B who says words wrong. Also Mr Edgar, Mrs Beaver and a nasty witch called Oyin. She has nasty growlers to protect her which have glowing, green eyes in the darkness. They are a bit like wolves.
Philip has lots of adventures trying to protect Beaver Towers from evil Oyin. It's my favourite book.
Key Stage 2

Charlie Mitchison's review of Crocodile Tears by Anthony Horowitz
Crocodile Tears by Anthony Horowitz is a gripping story you just cannot put down.
It is one of the best adventure books I've read for a long, long time. The main storyline is about a popular young teenager forcibly recruited by secret services – Mi6. this is a touching and epic story of one boy's determination to save the world from destruction.
I would recommend this to anyone who likes a bit of adventure and comedy mixed together. Anthony Horowitz has a bit of everything into this…
5/5