Full of jokes and giggles, take a look at comedy books suitable for Key Stage 1 and 2.
Reviews for…
Key Stage 1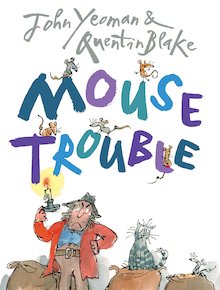 Mouse Trouble by John Yeoman and illustrated by Quentin Blake (Andersen, £5.99 PB)
The grumpy miller is fed up with the noisy mice messing with his flour so he gets a cat. The mice start having lots of fun when they realise that the cat is seriously unfit and rubbish at catching mice. That is, until they hear that the miller wants to throw the poor old moggy into the river!
Mouse Trouble is a delightful story perfectly complemented by Quentin Blake's wonderful drawings. On every page the text is set interestingly within the illustrations. The mouse endpapers are particularly gorgeous.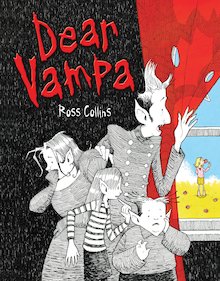 Dear Vampa by Ross Collins (Hodder, £10.99 HB)
This story is written from the point of view of Bram Pire who is sending his Vampa a letter all about his troublesome new neighbours – the Wolfsons. The Wolfsons have a lot of very odd habits – like staying up all day long and enjoying the sunshine. (Mum thinks this is disgusting!)
The wonderful illustrations cleverly use colour and black and white to distinguish between the vampires and the Wolfsons. There are some nice twists and turns that show the reader to never assume anything about your neighbours…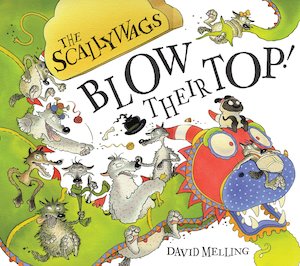 The Scallywags Blow Their Top! by David Melling (Hodder, £10.99 HB)
The animals are getting ready to put on a show when the Scallywags, a band of unruly wolves, turn up in their dragon costume and create chaos! Teeth flash, bottoms are bitten and everyone blames Grub for losing his temper. When Grub spots a tiny sheep who looks like grass wouldn't melt in her mouth, everything changes. The drawings are packed full of humour, expression and energy along with well-observed details that make this a joy to read.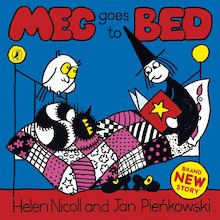 Meg goes to Bed by Helen Nicoll and Jan Pienkowski (Puffin, £5.99, PB)
When Meg's supper spell goes wrong, Mog and Owl are still hungry and decide to catch something else to eat instead. I absolutely love Meg and Mog's bright colour palette and deceptively simple stories. There are plenty of sound effects in the text and lot's of opportunities to make extra noises when reading this story aloud, which young children especially will enjoy.
Key Stage 2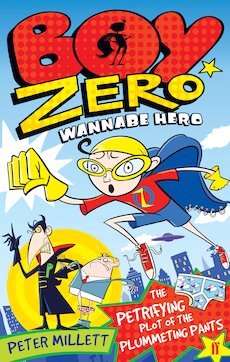 Boy Zero Wannabe Hero: The Attack of the Brain-Dead Breakdancing Zombies by Peter Millett, (Faber & Faber, £4.99 PB)
General Pandemonium has a plan to conquer the world! He enters The World's Greatest Singer competition, but his rotten singing and weird music has a very strange effect on everyone. Thank goodness for Boy Zero! The stylish drawings match this super-speedy story perfectly. The characters have excellent names like Damon Scowl, Lieutenant Kurse and my favourite, Miffy Wiffy the dog.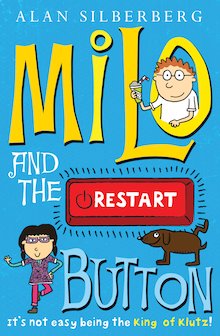 Milo and the Restart Button by Alan Silberberg (Simon & Schuster, £5.99 PB)
Twelve-year-old Milo is dealing with an awful lot of things in his life right now. He's moved house, started a new school and needs to make new friends. And, if that's not enough, he's learning to cope without his mum, too. The book follows Milo's highs, lows and loves that include the elusive Summer Goodman.
Even though the subject matter is quite serious, it's all written and illustrated in a really positive and funny way. This is a very poignant and enjoyable story.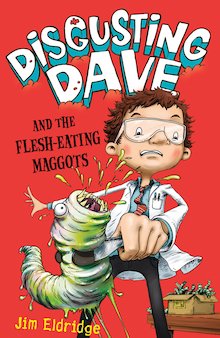 Disgusting Dave and the Flesh-Eating Maggots by Jim Eldridge (Hodder, £4.99 PB)
I didn't think Dave was that disgusting, it's more what he's interested in that's not particularly nice. Like creepy crawlies and the flesh-eating maggots that arrive in the post for him. When the maggots go missing, Dave finds himself in all kinds of trouble. This story is action packed from start to finish. Children will especially enjoy the extra bits of interesting information, or factoids as they are called, that are dotted throughout the story.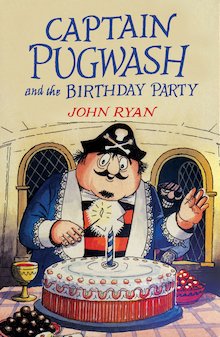 Captain Pugwash and the Birthday Party by John Ryan (Frances Lincoln, PB, £4.99)
'Cut Throat Jake' gives Captain Pugwash a birthday cake that will blow him up into tiny little pieces of eight. It's only Cabin Boy Tom's quick thinking that saves the party from becoming an exploding disaster.
I used to watch Captain Pugwash on telly when I was little, so the TV theme tune was clearly in my head as I read this. I'm sure children will enjoy the drawings and stories just as much today as I did…all those many, many years ago.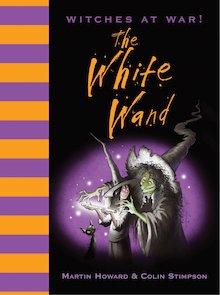 The White Wand by Martin Howard and Colin Stimpson (Pavilion Children's Books, £7.99, PB)
Evil Witch Diabolica Nightshade has stolen the Black Wand from the Superior High Witch Cakula von Drakula and sets about gathering an army of witches to take over the world. Only Esmelia Sniff and Sam her super smart apprentice witch are on the trail to stop her. The White Wand is a cackling good read. Full of sparky dialogue and witchy adventures. Colin Stimpson's beautiful illustrations printed on the slightly ancient looking paper really bring all the characters in the book to life and add an extra sense of atmosphere to the story.
Our top read!
The Incredible Luck of Alfie Pluck by Jamie Rix, (Orion, £5.99 PB)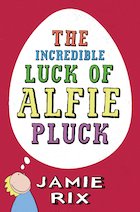 Alfie Pluck is short, jug-eared, coconut-haired and very unlucky. Abandoned by his mother, he's taken in by two hideous aunts. Life's not great for Alfie, but things change when he eats a chicken that contains the sought-after 'lucky gene'. From that moment on, Alfie gets a tiny bit luckier. This book is completely bonkers in a good way and I absolutely loved its crazy humour and wonky characters. Suitable for Key Stage 2.