Discover more about the key role of hands-on sensory learning play in the early years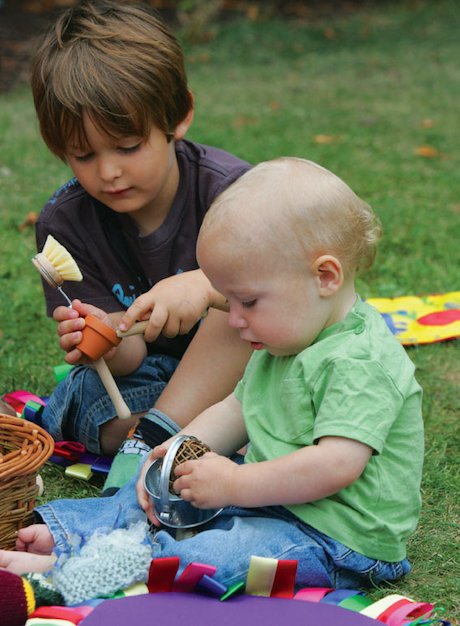 In this article:
Introduction
According to the Sensory Play Research project launched in May 2009, 82 per cent of adults feel that children's play has changed. Children are playing less outside and more with plastic and manufactured toys. Yet, this is at odds with the fact that 68 per cent of adults' most vivid childhood memories involved sensory play outdoors. Making mud pies, rose petal perfume, building dens and jumping in puddles were just some of the sensory-rich recollections to emerge.
If you are lucky enough to share some of these memories, then you can probably understand why children get so much from being engaged in sensory-rich play. From birth, children use their senses to gain an understanding of the world all around them. Sensory play utilises these natural instincts to create and reinforce vital connections in the brain. It embeds learning throughout play, offering children the opportunity to experience, explore and experiment with open-ended resources.
Working with Anglia Ruskin University, the Sensory Play Research project observed how children play, and asked parents and people working with young children about how they used to play as children. Those surveyed felt that more often than not play took place indoors, and regularly on-screen and with plastic branded toys.
The three stage sensory play continuum supporting the research provides an indicative guide to stages of the fluid play process. For young children, the first stage is about exploration; What is the object? What is it like? The feeling of discovery as each sense is employed to explore the properties of the object in question is enough to keep a child entertained for hours.
As children get older, they tend to play in a more complex way, combining objects and other resources to ask, What can I do with it? What can it become? This most creative stage of play inspires the imagination and kick-starts key areas of development as noted in the Early Years Foundation Stage (EYFS) guidance. In the third stage of the continuum, adult facilitation can be employed to alter and adapt the realms of play. Resources can be easily re-staged via input from adults to completely change the outcomes and impact of play.
"From birth, children use their senses to gain an understanding of the world"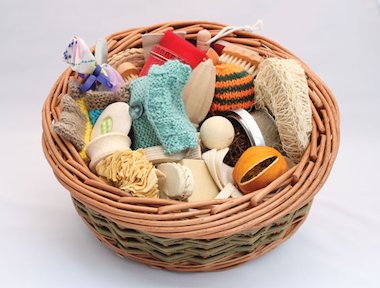 The role of sensory play
Sensory play during children's early years forms the connections in the brain that are essential for their development; each time we have a sensory experience, a new 'pathway' is formed. The more times these connections are made, the thicker the pathway becomes and the more accurately and swiftly it functions. Multi-sensory emphasis therefore enhances thinking and learning capabilities.
The most important thing to remember is that sensory play should ideally use open-ended resources with no agenda as to how they 'should' be played with, and if possible be outdoors. This enables the child to explore and discover more about the world – just watch a child's concentration, determination, and problem solving as they play with sand and water, for example. Sensory play can develop all four commitments of the EYFS and all areas of learning and development. Children's imagination, creativity and learning are stimulated by playing with everyday objects that offer plenty to keep all the senses occupied. Learning about the properties of materials, such as hot and cold, heavy and light, big and small can develop problem solving, reasoning, fine motor skills and hand-eye co-ordination. This also introduces surprisingly sophisticated concepts that unlock how the world works for children, improving their knowledge and understanding.
"Child-led play is not curriculum driven, but this does not mean that the EYFS is forgotten"
Putting sensory play into practice
Practitioners can utilise sensory play to nurture early childhood development, and have a crucial role in maximising the quality of sensory play opportunities. Child-led play is not curriculum driven, but this does not mean that the EYFS is forgotten; far from it since meaningful curriculum outputs are commonplace.
It is important to make time for uninterrupted sensory play, since practitioners can gain valuable insights into a child's interests, developmental level and personality, enabling them to most effectively plan for curriculum-based development. The sensory play continuum can be used by practitioners as a tool to increase sensory-rich play opportunities, while helping them remain detached.
As children grow, play becomes increasingly elaborate with their age, developmental level or familiarity with the resources. Children frequently move from single object play to more complex play with multiple objects.
As practitioners, this means taking a different approach to unstructured play opportunities, altering the assortment of resources, and varying their levels of interaction and involvement in guiding the play or suggesting activities.
One example that applies perfectly across all stages of the continuum is the treasure basket, an assortment of open-ended, sensory rich items. A treasure basket is a sturdy basket containing objects picked for their sensory appeal including materials such as metal, stone, cardboard, wood, rubber, and a mix of colours, fabrics and shapes. These objects will all move in different ways, have different weights, textures and properties.
So how does a collection of what some adults may see as ordinary objects become a basket of awe and wonder with limitless possibilities? It's the very fact that each 'treasure' is packed with open-play potential and can become anything the child desires. They act as tools for increasing sensory stimulation, intrigue, exploration and problem-solving opportunities. The open-endedness of these items means they can be tailored to be both age and developmentally appropriate as children progress. Children can investigate these different objects, experiment with combinations that do not have to be right or wrong, or be guided with activities to provide challenges and engagement.
Sensory play therefore has a fundamental role in the early learning process; helping to capture the imagination, inspire discovery and open new doors to rich sensory experiences for children that tap into the key areas of the EYFS. Practitioners have an important part to play, whether directly involved in leading the play sessions, or rather simply observing the natural wonder of a child's enthusiasm at the most simple of objects.
About Play to Z
Founded in 2006, Play to Z provides the Playscope range of quality playful learning resources, award winning training and research. Play to Z has at its heart recognition of the value of free exploratory play with open-ended resources and games. For more information please visit www.playtoz.co.uk