Last November, Clifton Upon Dunsmore Primary School in Rugby, Warwickshire was rated 'outstanding' by Osted for its teaching and learning. The school believes that a significant part of that success was due to its work with the Looking for Learning Toolkit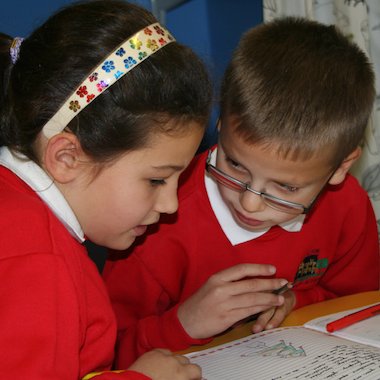 We became aware of the Looking for Learning Toolkit through a Warwickshire schools pilot. David (David Briggs, Headteacher) and I already felt very passionate about wanting to develop our focus on learning, but weren't sure how to go about it and when Sheila Dentith (Inspector for the Primary Team and Primary Strategy Manager for Warwickshire County Council in England) started talking about Looking or Learning we felt it was what we needed. So we began with the Toolkit in Spring 2010.
Looking at the learning
What Looking for Learning did was give us a shift to looking at what the children are learning rather than how we are teaching. Prior to working with the Looking for Learning Toolkit, we knew the importance of the link between teaching and learning but we were more focused on teaching and what was being delivered rather than looking at the learning outcomes. We were assessing the outcomes at the end of a half-term or unit of work, but certainly not each day. Now we're realising how crucial this is in order to constantly amend the way we're delivering the learning to ensure every child is learning.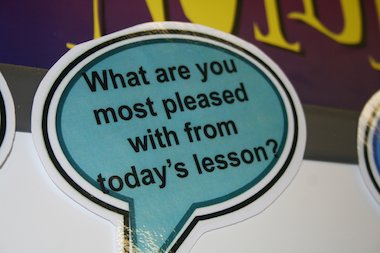 To achieve this, part of the Looking for Learning process involves lesson observations, but using a specific approach to do this. Over the years that I've observed teachers, so much of what I was observing was what the teacher was doing. I would sit at the back of the classroom looking at the teacher, only seeing the backs of most children's heads. The way the Looking for Learning Toolkit has changed our approach to observing has been a subtle but significant shift. Now, when we're observing we're right in with the children, finding out how their learning is progressing. The questions that Looking for Learning suggests to ask children during observation really help us to focus our attention on what learning is going on. This has made us realise that you can observe good teaching practice, where children are really enjoying a lesson, but they may not actually be learning anything new.
We've taken a team approach with our learning observations. Everyone is working together on this and that's really made a difference. This has taken the focus off the one-observing-one scenario and so the teacher being observed doesn't feel like they're being judged as a teacher; they feel they're part of a learning development process to improve the whole school. In the feedback sessions we look at the positive examples of how good learning happens, as well as any key development points; identifying what works well to help children learn and what could be done differently to move the learning on more effectively. Everyone benefits from this discussion.
A whole-school focus on learning
We're building Looking for Learning into a whole school approach. We're rebranded our Friday assemblies. They used to be our 'Celebrate' assembly, now they are our 'Celebrate learning' assembly. Here we talk about some of the great learning that's gone on throughout the school during the week and we celebrate some of the children who have learnt particularly well during the week. We add their names to our Learning Wall which identifies what exceptional or notable learning a particular child has done.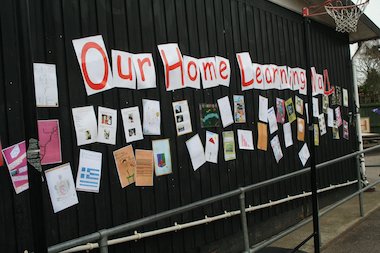 We have also rebranded our homework as 'Home Learning' and have changed the approach to home learning to make it a more holistic continuation of the children's learning in school. The children have their own Home Learning folders for the theme they are learning in class. We paste into the folder a mind map of the theme with three home learning tasks as well as a wide range of home learning suggestions that they can pick from if they want; for example, for our rivers theme, there are ideas such as write your own river song and record it, make a model of part of your chosen world river, find out about the wildlife in or by your chosen world river, and research industry on your chosen world river. We have a Home Learning wall out in the playground where we display laminated copies of the children's home learning activities and we also have a home learning exhibition where the children can look at each other's folders.
Also our children write and produce our weekly newsletter, 'The Learning Gossip'. This is a weekly newsletter for parents which focuses on the learning the children are doing in class and the learning they'll be doing next week, also any specific home learning tasks they need to focus on. Each week two different children write and produce the Gossip.
Maintaining the momentum
One year after introduction, we are becoming more and more embedded with the Looking for Learning approach. We know it's an ongoing thing for the whole school. We constantly dip into the toolkit manuals for sections to share with the staff and for inset and staff meetings, and we've also listened to what other Looking for Learning schools are doing. What it has definitely done is help us to put a focus on learning throughout the whole school.
In November 2010, we achieved 'outstanding' for our Teaching and Learning from Ofsted. Much of this was down to the way the children were talking about their learning. The inspector was impressed with what and how the children learnt, the lesson observations, and the active learning methods involving the children in the reflecting of their learning.
Image © Anne Keeling