World Book Day is the ideal time to develop children's love of reading. Start them off by appreciating the picture book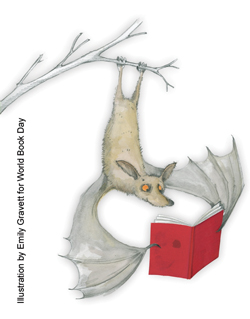 Get your class batty about books
World Book Day is the perfect opportunity to appreciate the richness and diversity of British writers and illustrators for children. We can also celebrate the fact that 'reading for enjoyment' is back on the educational agenda. And that it has been recognised that this enjoyment is critical to ensuring that the generation of tomorrow is literate, articulate and creative. For those of us lucky enough to work in the world of children's literature, we know that an enjoyment of reading is the best motivator. We also know that the journey starts with the picture book.
The picture book
The picture book is, more often than not, a child's first experience in art appreciation. Picture books provide a wonderful (and essential) starting point for young children on their journey to becoming readers. Here are just a few reasons why:
They encourage visual literacy skills – the ability to tell a story by looking at pictures.
They develop fine observation skills, where details and storylines that tell a different story to the text are spotted. Rosie's Walk by Pat Hutchins (Red Fox,

ISBN 9780099413998

) is a popular example of this.
Reading for enjoyment… is critical to ensuring that the generation of tomorrow is literate, articulate and creative
They raise awareness of the richness of language – and its playfulness. Julia Donaldson's books do this brilliantly.
They contribute to a child's emotional development and ability to see the world from other points of view. Whadayamean and Aldo by John Burningham (Red Fox,

ISBN 9780099266686

and

ISBN 9780099185017

respectively) are both good examples.
Sparking inquisitiveness
At Seven Stories, the Centre for Children's Books in Newcastle upon Tyne, we celebrate children's literature through our exhibitions and accompanying programmes of activities and events. The exhibitions feature the original artwork and manuscripts of children's writers and illustrators. The roughs, drafts, mock-ups and crossings out, as well as the finished artwork, all fascinate children. These reveal the creative process and spark inquisitiveness and delight in the exploration of books. Children can step into the world of the story – to touch, hold, feel and play in it. Afterwards, they can choose a favourite book and curl up to enjoy it with a strong sense of having been in the story themselves. Many of our activities can be reproduced on a smaller scale in the classroom. Here are a couple of ideas that we use to share picture books and develop visual literacy skills.
Take a look at the official World Book Day website to visit the official World Book Day website for more great suggestions to help your children develop a love of reading.
And don't forget to check out our fantastic children's short story competition by visiting the About books section of our website!
Stepping into the picture
Ask the children to close their eyes and think about what they can hear, smell and feel. Using a picture from a picture book that's new to the children, discuss what they would be able to see, hear, smell, taste and feel if they stepped into the picture. What sort of story will it be and what do they expect might happen? Cuddle up to share the book.
Character bags
Find an old bag, and gather objects that feature in some of your children's favourite books. Once you've finished, lay out the objects and the books, and try matching the books with the objects.
Seven Stories is home to a nationally important collection of original manuscripts from some of the countries best loved authors and illustrators. The Visitors Centre is open seven days a week and admission charges apply.
For older children, collect a random selection of ordinary and quirky objects. Then challenge them to invent a person that the objects might belong to. What clues does each object give us about the person? Where did they get it from? What is special or important or magical about it? When you have been through all the objects, see if you can make a story about the person.