A good display will inform, educate, engage and brighten up the classroom walls. Follow our top tips to ensure yours work every time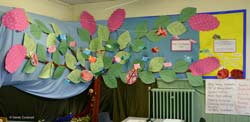 Why put up a classroom display? Because you can exhibit exemplary work to establish standards. You can celebrate the success of individuals by displaying what they have done. You can introduce and stimulate interest in a new topic. You can simply display information: a list of adverbs or the wives of Henry VIII. You can use a display to initiate action, to issue a challenge or to involve children in a particular learning process. A display can also be the outcome of collective effort over time, the climax and focus of a significant piece of classwork. And I would not dismiss as invalid the notion of using a display to make the room look attractive; for an attractive classroom, one into which children want to come. Displays set the tone. When a visitor surveys your classroom they will learn just as much about you as they do when they first use your bathroom at home. If that thought worries you, then it is probably time that you did a Llewelyn-Bowen and got down to changing your room.
When a visitor surveys your classroom they will learn just as much about you as they do when they first use your bathroom at home
A sense of order
I have never been driven to take a warm iron to the News of the Wirral. When it comes to classroom displays, however, I do prefer them to be organised and tasteful rather than random and slipshod. This is my approach, but you will encounter sharply differing views about the value and nature of classroom displays. Here, I have stuck to what I feel confident with – as should you. There are plenty of books bursting with amazing ideas for eye-catching displays so I limited myself to a few simple tips that have stood me in good stead.
Backgrounds and mounts
Establish a decent background on whatever display boards you have at your disposal and, on the whole, avoid over-bright backgrounds because the subject should stand out, not the wallpaper. There is plenty of choice; paper, card, material, wallpaper and of course, Hessian. Available in many attractive colours, it makes a good base because it has texture and the advantage of being long-lasting; on the other hand it has the disadvantage of being long-lasting and may still be there a decade later. Which leads me neatly into the question of how often you should change a display. Major displays – say a topic display on rivers – can take a great deal of time and effort to create, so it is a practical necessity that these survive for half a term; children's work probably needs a week or two on the wall; some types of display, such as lists of timetables, can be more or less permanent.
All children's work should be mounted; it will look better and shows that it is valued. Never break this rule. Double mount a decent painting and it will look like a masterpiece, but single mounting will suffice for most work. Don't ignore cheap, commercially-produced framing that is available from most educational suppliers, because it is great for prized pieces of artwork.
Attach with care
Whatever you put up on the wall, attach it with care. I have seen thousands of pounds worth of damage done to newly-painted classrooms by unthinking teachers who have attached things directly to walls using sticky tape (masking tape is really not much better). Personally, I'm a Velcro man: those strips of detachable circular fixings are very versatile and are especially useful for displays where you want children to move things around. Walls plastered with shiny drawing pins are to be avoided. Staple guns are so quick in operation that you are bound to use them, but don't staple paintings.
Adding interest
Displays do not have to be two-dimensional. You can mount items on boxes to create depth, use a concertina arrangement to add interest, or link a vertical board to objects on a horizontal table placed against it. Although I am focusing on wall displays, every classroom needs table displays and you should certainly have a maths table and a surface that I like to call a 'tinkering table' where objects, puzzles and artefacts can be handled and explored by the children. Above all, there must be selective displays of books to entice, tease and inform: a display is not just about pictures.
Wall displays don't always need to be set out like a grid plan of New York City, so try variations such as shapely patterns or overlapping fans or crescents. But to guarantee an orderly appearance you must make sure that horizontal lines are horizontal; some people have excellent eyes for this but otherwise use a spirit level. When display items vary in size, imagine that the board has a border and work inwards from this. You will find that the internal spaces take care of themselves.
A bad display is almost as bad as no display, so practise the skills required and improve your aim with the staple gun. But don't overdo it – less can sometimes be more.