Inspire children's interest in preparing and cooking fruit with these fun recipes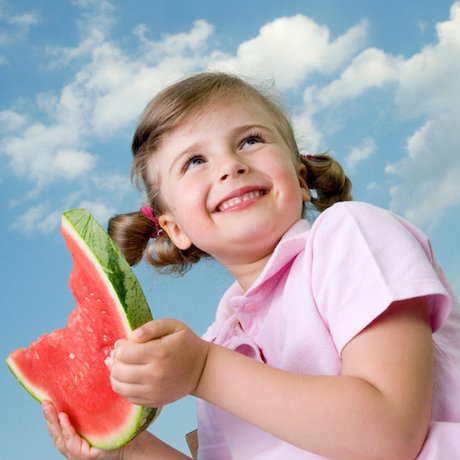 In this article:
Fruit café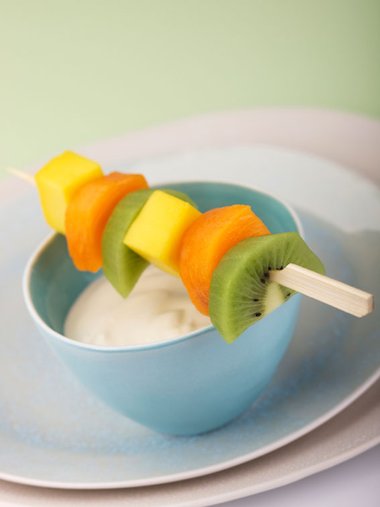 Set up a role-play 'fruit café' serving fruity snacks
Problem Solving, Reasoning and Numeracy
Shape, Space and Measures
Development matters: Show an interest in shape and space by playing with shapes or making arrangements with objects (30-50 months); Describe solutions to practical problems, drawing on experience, talking about own ideas, methods and choices (40-60+ months).
Early learning goal: Use developing mathematical ideas and methods to solve practical problems.
What you need
A selection of fruit; fruit juice; natural yogurt; blunt-ended kebab sticks; aprons; chopping boards; child-friendly knives; resources for a role-play café.
What to do
Initially set up a role play 'fruit café' ready to provide a choice of fruit kebabs, dips or cocktail snacks that the children can prepare. Talk about the various roles within a café – waiter/waitress, customer, cashier and chef. Model some speech for exchanges within the role play.
Tell the children that they are going to begin by being chefs and invite them to prepare bite-sized chunks of fruit. (Remove hard outer skin or peel and chop large fruits into smaller pieces beforehand.)
Discuss with the children how to divide the fruit into three equal portions to make the three snacks. Demonstrate how to create a fruit kebab, slotting chunks of different fruits along a stick. Emphasise safe handling of equipment.
Use one portion of the fruit to make kebabs, creating patterns by the way they arrange their fruit on the stick. Play our game 'Fruit kebabs' to make a variety of different fruit kebabs, too.
Use another portion of fruit and some fruit juice to make fruit cocktails.
Set aside the remaining fruit for café customers to dip into small bowls of yoghurt using the sticks.
Role play serving café customers with these fruity snacks.
Observation and assessment
Look, listen and note
Note whether children create definite fruit sequences on their sticks. Can they explain why and how they divided the fruit into three portions?
Effective practice
Provide further 'fruity' opportunities to create regular arrangements, for example, using plastic fruit or printing halved fruit patterns.
Clever curry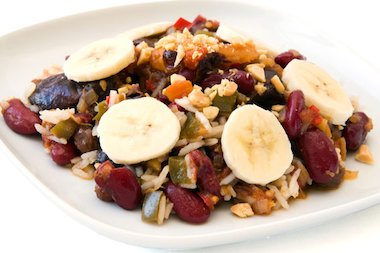 Follow a simple vegetable curry recipe and then design your own 'clever curry' by adding fruit
Creative Development
Being Creative – Responding to Experiences, Expressing and Communicating Ideas
Development matters: Respond to what they see, hear, smell, touch and feel (8-20 months); Make comparisons and create new connections (40-60+ months).
Early learning goal: Respond in a variety of ways to what they see, hear, smell, touch and feel.
What you need
Mild child-friendly vegetable curry recipe (www.goodtoknow.co.uk/recipes has an ideal example); utensils; large pan; fruit such as apples, mangoes, bananas, raisins; serving dishes; plastic cups; teaspoons.
What to do
Talk with the children about different types of food. What meals are they familiar with? What do they like to eat? Discuss the process of making a meal – buying/growing ingredients, preparing and cooking food. Introduce different sources for finding recipes – on the internet, in books, magazines and recipe cards.
Read your chosen curry recipe to the children and discuss their experiences of eating spicy foods. Do they have a favourite? Do they like spicy tastes?
Invite the children to follow the recipe with you, checking for allergies first and taking care with safety issues.
While you are making the curry talk about the different shapes of food items and the changes that take place as they are cooked. Put small samples of the finished curry into plastic cups to taste and encourage further comments about smell, taste and appearance.
Explain that fruit is often added to curries and ask children what they think will happen if they add chopped fruit to theirs. Experiment with cooked fruit, for example, stirring stewed apple or mango chunks into the curry. Discuss changes in flavour. Is the curry improved or was it better without the fruit?
Slice raw banana on top of the curry, or sprinkle it with raisins. What happens to the texture and flavour? Decide on the favourite combination for your 'clever curry'.
Observation and assessment
Look, listen and note
Observe children as they make and share their curry. Do they comment on how it looks, smells and tastes, using appropriate vocabulary?
Effective practice
Encourage children to make choices, and be ready to try out their suggestions for alternative flavours.
Useful resources

There are lots of additional resources for you to download to extend your children's learning on the theme of fruit. Try these 'Handa's fruit' circle-time cards, 'Fruit kebabs' game, number cards, flashcards, dominoes and more!
Cross-curricular activities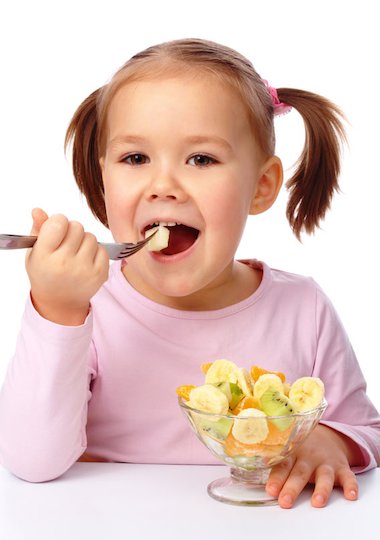 Knowledge and Understanding of the World
Experiment with making ice cold milkshakes. Liquidise some chopped fruit, such as bananas, and compare this mixture with slices of the whole fruit. Mix the blended fruit with milk to create the milkshake. Compare this with a commercially produced milkshake of the same flavour.
Physical Development
Talk about the need for a healthy and balanced diet. Encourage children to identify different foods that they eat, including fruit. Introduce, in simple terms, some of the functions of the foods we eat – to give us energy, help our bodies grow, keep our bodies 'fit' on the inside. Explain that this is why we need a range of different foods. Talk about the need for washing our hands and certain items of fruit too, to remove dirt and any harmful germs.
Communication, Language and Literacy
Read and follow a recipe to make a basic apple crumble and then try inventing a new version by combining different fruits, for example, make an 'appleberry crumble' by mixing blackberry and apple, or by adding extra ingredients to the crumble topping, for example, make a 'flapjack crumble' by adding oats to the topping.
Personal, Social and Emotional Development
Make fruit fools with a choice of soft fruit blended with plain yoghurt. Pour the fool mixtures into shallow bowls and decorate the top with fruit, such as cherries, raisins and orange segments, to make people or animal faces.
More ideas from our web resource bank

There are lots of fruit-themed resources, activities and ideas in our web resource bank – find out about them now.
At home
Make a fruity dip for a party or special treat. Invite your children to wash soft fruit, cutting it into chunks if necessary so that they can slot the fruit onto kebab sticks and dip it into a bowl of melted chocolate.
Involve your children in shopping for ingredients and then preparing fruity desserts for family meals. Encourage them to try new and unusual fruits and talk about their likes and dislikes.
Be adventurous with fruit when your children help you in the kitchen, for example, by adding different fruits to casseroles and curries, jellies and whips, lollies and drinks.
Images © www.istockphoto.com: Wojciech Gajda/Eva Gruendemann/Johanna Doorenbosch/Serhiy Kobyakov