Beginner's guide to classroom observations
21 January 2008
Add to My Folder
This item has 5 stars
of a maximum 5
Rated 5/5 from 1 rating (Write a review)
A clipboard, a knowing smile, eyes that follow you around the room – yes, the observers are here and they're watching you! Tick the right boxes with this handy guide…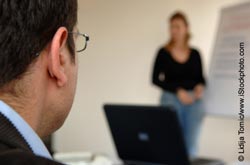 Being observed is like being the star of a show – no matter how prepared you feel, there is always the danger that the critics are going to eat you for lunch. It is the nature of any 'assessment' that your strengths will be highlighted immediate (and then brushed aside), and the negative bits are dwelt on (which you then spend days and months pondering over). Don't worry. Observations don't always have to be a nightmare.
Throughout your career, you will be observed. As an NQT, I advise you get used to it. You will have more people in your class than a Next store during the January sales. These will usually be your mentor coordinators, link inspectors and Ofsted. Even beyond your first few years, regular monitoring will continue – by senior management and/or coordinators. Again, the link inspector may decide to wander around as well as Ofsted. If you'are a Y2 teacher then you can expect more scrutiny than other year groups.
The facts about mentors
Most mentors will have already compled a course of one sort or another. These are run by teacher training establishments or by local businesses. LEAs also run courses to improve the mentoring of new teachers. There are, however, rare occasions when someone who really should not be doing the job might be assigned to observe you delivering a lesson. They might be overly critical, a little negative and make you feel completely useless. This is not a good observer.
Generally speaking, you will be assessed on your knowledge and understanding in a subject, your professional qualities and your classroom management. There will be variations of course, but in all cases you should be aiming to present a good, balanced, organised lesson. Ideally we should be performing like this at all times, but we wouldn't be human if we didn't have the occasional bad day (as in 'Morning after the Christmas party'). The key is to make sure that these are not the days on which you are getting observed.
Preparing the classroom
As most class teachers will agree, the planning you do beforehand can make or break a lesson. Here then is a general checklist to ensure your classroom is prepared for observation. It will help to make you 'look' organised.
Write the date and title clearly on the board.
Display any relevant vocabulary on the board and on handouts.
Have spare copies of everything.
Have any charts/questions sheets already stuck in books.
Ensure your books are marked up to date.
Check you have all your resources – and then check again. There is nothing worse than forgetting something vital at the wrong time.
During the lesson
It can be a difficult decision – do you tell the children there will be a visitor in the room? I always do. I explain that they are coming to watch me and to see how clever they are. This is often enough to make the children behave like angels. On the other hand, to some it could be a red rag to a bull. It's really your call – but letting the children know what is happening is a good way of stopping them staring at the observer like they are a visitor from another planet.
What should I know beforehand ?
When being observed, make sure you know the following:
1 What type of lesson the observer wants to see. If the observer wants to see a music lesson and you have prepared a lesson on Victorian factories, this might be the wrong way to go.
2 What the observer's focus is. If it's behaviour, then make behaviour the most important focus. If it's the plenary, then… well, you get the picture. A good observer will tell you what they will be looking for. Too general an observation may highlight too many weaknesses and leave the teacher deflated.
3 When the observation is taking place. You should be given plenty of notice to get things ready. While you should not be putting on a 'show', you do need to make sure everything is neat, tidy, planned and organised. You want to be seen in the best possible light, after all.
4 What the observer is well known for. They might be a maths specialist and have no idea about a semi-quaver, so this all counts when you lie on the sofa that night cursing them.
Once the lesson is under way, these guidelines may help to steer you along the right track:
If you have an interactive whiteboard, use it.
Refer to your learning objectives and outcomes throughout the lesson.
Ensure that the children are always taking an involved, active role in the lesson.
Differentiate the activity, and ask differentiated questions.
Target children who need support, and show this in your planning.
Combine a mixture of whole-class, group and individual work.
Strike a balance between teacher talk and child talk.
Ask the children to restate the instructions.
Always have an extension activity, just in case.
Feedback
You should get feedback promptly. If not, chase it up. Before you meet with the observer, try to have some ideas about what you thought went well and what didn't. If they see that you have noticed a wobbly moment, they will be impressed with your self-evaluation.
Keep it simple
When you're starting out as a teacher, don't try to be too ambitious. Keep it simple and then less things can go wrong. This is more likely to win over and gain the respect of your observer. It will also boost your confidence for the next time.
Remember that in all jobs we are appraised, so there is no escape. See it as useful professional development. We are all learners, after all.