If you suspect a child in your school may be suffering abuse, our guide will help you to support them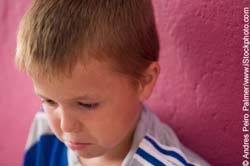 Child protection
What you need to know
Everyone who comes into contact with children on a regular basis has a duty to safeguard and promote their welfare.
Each school should have a copy of the local procedures set jointly by the

LEA

, health service and social services department. They are statutory and must be adhered to.
Each school should have arranged staff training in child protection.
It is up to each individual to make sure that they are aware of the child protection procedures in that school and the local education authority.
Social services involvement has increased since the Children Act 1989 and you might have to work with a social worker, providing information about a child during a child protection enquiry or taking part in a multi-agency assessment.
Social services can also provide you with general advice.
If you are concerned that a child is being abused, you must refer these concerns to social services or police, usually through the head teacher,

SENCO

or the designated contact for child protection.
Child abuse can take different forms: physical (as in marks, bruises and injuries), sexual (the child may have disclosed some information to you), emotional or neglect (perhaps the child is noticeably failing to thrive.
Initial concerns might be what the child has said, unexplained bruises or marks which you notice during PE, inappropriate sexualised behaviour, or sexually- or violently-graphic artwork.
How you can help
Always keep records of incidents, what was said, what you did.
Always be ready to listen to the child. Repeat back what the child has said to check you have understood correctly.
Do not promise confidentiality – you cannot keep information confidential if a child is at risk or if there are criminal implications. Instead, explain that you have a duty to make sure that the child is safe, though you will not do anything without first telling the child and explaining what will happen next.
Do not use leading questions, which might later distort evidence.
Make sure that you are not putting yourself in a vulnerable position, which might lead to allegations against your own behaviour.
The protection of the child is absolutely paramount. If you are not sure whether you should be taking action, contact your school's education social worker for advice.
If you make a telephone referral, confirm it in writing within 48 hours.