With Valentine's Day just around the corner, encourage children to celebrate those closest to them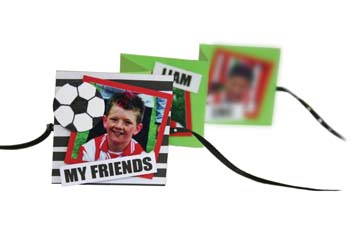 'My friends' mini album
This concertina album is a lovely way for children to celebrate their friends, family or even their pets or hobbies. A cross-curricular link can be made with ICT, with the use of digital cameras and printers.
You will need: white, red and green thin card; white thick card; photos; patterned paper; ribbon; ruler; scissors; pencil; coloured pencils and glue.
Skills: cutting, measuring, drawing, glueing
Cut a strip of green card 5cm wide and 30cm long. Mark every 5cm along the length, and fold to make a concertina.
Trim seven photos into 3cm squares. Mount some on to slightly larger squares of red card.
Tip: To make them 3D, the motifs can be added with self- adhesive foam pads
Glue the photos to the inside squares of one side of the concertina, retaining the subject's photo for the front cover. Decorate with motifs, such as footballs or flowers, drawn onto card and cut out.
Cut two 5cm squares of thick card. Cover one side of each with patterned paper. Glue the subject's mounted photo on to one. Add printed or handwritten name tags to all of the photos.
Cut two 30cm long pieces of ribbon. Glue them centrally and horizontally across the backs of the thick card squares so that an even amount of ribbon overhangs each side.
Glue one card piece to one end of the concertina folded section, and the other to the other end. Tie the ribbons to close the album.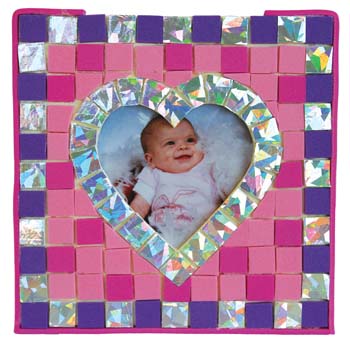 Mosaic frame
This professional-looking frame is made from cardboard and fun foam. The central hole can be any shape – just ensure to leave enough space around to create a large mosaic area.
Skills: glueing, cutting, drawing
You will need: thick card; coloured fun foam; sticky-backed plastic; glue; scissors and a pencil.
Cut three 12cm squares of card. Leave one whole and cut a heart shape from the centre of another.
Cut a U shape from the third square – cutting a section 7cm x 10cm from the middle. This piece will be used for the stand.
Take care: An adult will need to cut the heart- shaped hole in the centre of one of the card pieces
Cover a sheet of fun foam with iridescent sticky-backed plastic. Cut 40-50 1cm squares from this. Cut 80-100 1cm squares from purple and dark and light pink foam.
Stick the mosaic pieces to the heart-aperture square, trimming some to fit neatly. Start by edging the heart and square board, then finish by filling in between.
Stick the U-shaped-aperture square behind with the open side facing up, and then stick the whole card square on the back.
Cut a strip of fun foam 6mm wide and glue around the edge to neaten. Bend the stand and glue on the back.

Subscribers can download Activity sheet, 'Printed Valentine's Day card' for step-by-step instructions for making this elegant card, which is created using hand-made stamps.