Why every school should have a library
21 January 2008
Add to My Folder
This item has 3 stars
of a maximum 5
Rated 3/5 from 6 ratings (Write a review)
... and a librarian! 'What is the use of a book without pictures?' Alice thought, and equally, what's the use of a library without someone to help you use it?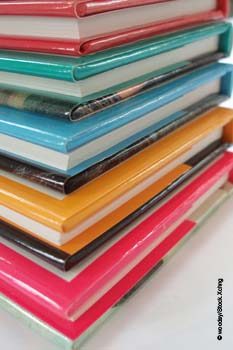 A good library will always have a good librarian
A well-stocked library, run by someone who is enthusiastic and knowledgeable about books, can have a positive impact on promoting reading for enjoyment, teaching and learning. This has been recognised by Ofsted, in their 2006 report Good school libraries: making a difference to learning. Inspectors visited around 30 schools, both primary and secondary, around the country, looking at their library provision. In all cases, they reported that it was the presence of a librarian which contributed most to the success of the library – making it a key factor in raising achievement. A copy of the report can be found on Ofsted's website.
A library needs a librarian
A library is an important resource for primary schools, benefiting children, staff and parents. Where else would you find an abundance of information, stories to lose yourself in and a gateway to independent learning? A library can be a quiet place to escape to when you need to unwind or a stimulating, interesting environment for research. But it needs someone to help everyone access it. Having a great collection of books in a wonderful area is not enough. Libraries and librarians can't be separated and some schools and local authorities have already recognised this.
The person running the library could be a keen parent volunteer, TA, or teacher, a peripatetic librarian from the Schools Library Service, or, as in my case, someone employed solely to work as the librarian.
Libraries big and small
All schools are different and each will have its own unique situation. Your library may be large or small, in a corridor, a classroom, or its own dedicated space, with the books on shelves or in boxes, depending on the size of your school and space available. Wherever it is and however the books and other resources are stored, it needs to be accessible and clearly labelled to enable users to find what they are looking for easily. Ideally your library will have a quiet, comfortable reading area and space for children to work.
Creating a reading haven
The school library has a wide-ranging role in teaching and learning, the most important of which is, in my opinion, to promote reading for enjoyment by creating a stimulating reading environment. Reading is a vital skill, as well as a source of pleasure, and like so many other things, the earlier a child is introduced to books the better. Learning to listen and look, how to turn the pages, knowledge of nursery rhymes and traditional tales, will all benefit a child as they start school. There will be children who have had little or no experience of books before coming to school. What better place to start a lifetime love of reading than the school library? A familiar environment, bright and welcoming with exciting stories will tempt even the most reluctant of reader! Likewise, regular story sessions, introducing a range of books, tempered with gentle reminders on looking after books are a good way to introduce the youngest children to the school library. Older children meanwhile, will find a wealth of stories and poetry to entertain or make them think.
The right book for the right child
Library staff who know the stock and the children can ensure that the right book is given to the right child at the right time. A wide-ranging collection allows children to look outside the curriculum, read about and develop hobbies and interests. Being involved in helping in the library gives children a sense of responsibility – their ownership of the library can be reinforced by asking them to make suggestions for stock, reviewing books, making posters, and so on. If taught to use it effectively, children carry these skills to secondary school and public libraries, and develop into lifelong learners. The non-fiction collection will provide an age-specific resource bank providing an alternative to the internet. We all know children, and older students, who, in researching topics, have downloaded huge chunks of inaccessible and irrelevant information.
Further information
I hope that I have convinced you that you need a library, and a librarian, in your school, but just in case you need further evidence, I recommend that you visit the School Libraries: Making a Difference website.
A treasured resource
The library will provide a range of resources for teachers, and support multiculturalism, diversity and other languages. And a librarian can find that poem about fireworks, a story about friendship, or information about rainforest animals at a moment's notice. Collaboration with the librarian also means that study skills and information can be taught in a supportive environment, helping children to access the most appropriate resources. The library can also help with aspects of the Literacy Framework, for example, by introducing children to a range of genres and providing information for author studies.
A place for everyone
The library can provide a way of involving parents in the life of the school, whereby volunteers can help with the running of the library. Parents and carers can also be encouraged to visit the library with their children to choose books together. This can be a daunting process with so many titles published, so the librarian has a role in helping parents. There could be displays and booklists of recommended reads, discussion with someone who knows their child and can give advice, informal sessions on choosing books for different ages and finding out about books.