Follow this mini manifesto to help promote positive reading experiences in your school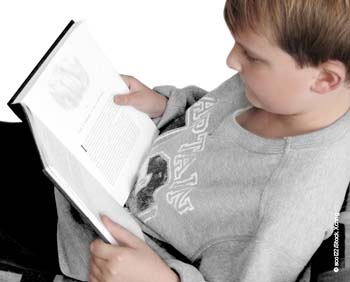 Reasons to read? The list is endless
Back in the 80s, a document called Extending Beginning Reading (Extending Beginning Reading by V Southgate, H Arnold and S Johnson, 1981, Heinemann Educational Books for the Schools Council) explored children's reading experiences. Researchers asked children why they were learning to read. Probably the most heartbreaking response came from a child who responded: 'So I can stop'.
If we're not careful, we will end up with children reaching Key Stage 2 possessing all the skills to read, but no desire to – all revved up and no where to go. The National Year of Reading offers a genuine opportunity for those of us who work with young children to promote reading. So what should we do? My mini-manifesto includes eight simple suggestions.
1 Lead by example
Every teacher should have a children's novel on the go. If I had my way I would make it an occupational requirement. A teacher's enthusiasm for literature becomes infectious. If you want a starting point, get your hands on a copy of The Thing with Finn by Tom Kelly. Read the opening chapters and you'll be gripped – laughing and wanting to reach the breathtaking twist at the end of the tale.
'Every teacher should have a children's novel on the go. If I had my way I'd make it an occupational requirement'
2 Read aloud
Yes, yes, yes – I know it's a crowded curriculum. I know we need to fit all these maths and science lessons in, along with those hours of PE and history. So let me spell it out with this one small proposal: stimulating children's imaginations through literature is more important than maths. If it's a choice between IT, geography and all those other subjects – and reading them a good novel – the novel wins. Prioritise 15 minutes of reading every day.
Further information
Don't forget our new literacy series which will be running from Jan '08 – Dec '08. Huw Thomas will focus on contemporary fiction and include activity ideas on how to use it in the classroom.
In our January issue, Huw focused on the weird and wonderful Mr Gum (Egmont, £4.99 PB) series by Andy Stanton, and in February he looked at the exciting tale The Thief Lord by Cornelia Funke (Chicken House, £6.99 PB). Huw also interviewed both Andy and Cornelia.
3 Watch for trends
There are a few current trends worth watching out for in children's fiction:
The series title: Many current titles are one link in a chain. The downside is that there may be one too many novels that end with loose ends requiring the sequel. The plus side is that if you love Paul Stewart's Beyond the Deepwoods, there's a lot more of the Edge Chronicles to enjoy.
Fantasy: Following The Golden Compass, an array of recent fantasy novels are to be made into films – including Cornelia Funke's beautiful Inkheart. (Check out Junior Ed

PLUS

Oct '07 for classroom activities based on The Golden Compass.)
Historical fiction: Although a constant trend, historical fiction continues to provide some vital reading matter. Julia Golding's The Diamond of Drury Lane (of the Cat Royal series) is a great example of the way that writers are successfully taking children back into the past.
4 Story starters
There's a limit to how many books you can read to a class over the course of a year – but how many opening chapters, or gripping scenes, can you read? Find the bits of books that will grip young readers and give them an airing. Every time I've read such a scene aloud and held the book out asking: Anyone hooked? I've had takers. Check out the Junior Ed PLUS Interactive resource, 'Story starters' (subscribers only) which includes three original, enticing illustrated story starters, (The Wild Wood of Windyrook, No Ordinary Girl and The Secret of Ata Chalcha) which will encourage exciting story writing.
5 Character exploration
Personal opinion – Harry's bland, Ron's got spark and Snape's a stunner. Spend time getting to know the characters in your books and make sure that children 'meet them'. Read some of those seminal moments when those characters are at their most interesting or exciting, like the various creeps that haunt Uncle Montague's Tales of Terror – an eirie collection from Chris Priestley.
Favourite reads
The Thing with Finn by Tom Kelly (Macmillan, £5.99 PB)
Beyond the Deepwoods by Paul Stewart and Chris Riddell (Corgi, £5.99 PB)
Inkheart by Cornelia Funke (Chicken House, £6.99 PB)
The Diamond of Drury Lane by Julia Golding (Egmont, £5.99 PB)
Uncle Montague's Tales of Terror by Chris Priestley (Bloomsbury, £9.99 HB – 12+ for able readers)
The Mr Gum series by Andy Stanton (Egmont, £5.99 PB)
Rights of the Reader by Daniel Pennac (Walker, £6.99 PB)
6 Short and sweet
Novels are long and they can take a bit of getting into. Consequently, children will often give up after reading a fifth. The simple answer is to provide loads of shorter novels so that children can quickly reach the halfway mark, and read to the end. It provides them with that significant moment of completing a book. The Mr Gum stories are current favourites in this vein. (See Junior Ed PLUS 'Jan 08 for more Mr Gum literacy ideas and an interview with Andy Stanton.)
7 Getting books to children
There's a shelf of dodgy, aged paperbacks in the corner of many a classroom. During strange practices like 'silent reading' children will take one from the shelf and hold them open in front of them. If we're lucky, they hold them the right way round. This is the year to get books to children, so your school sponsored events should have one focus – buy new books for those tired class collections. It's also vital to support parents in the task of getting the best books to their children. Why not run a book fair or publish a list of the best books being enjoyed in the classrooms, so that parents can select a couple for birthday presents over the course of the year?
8 Remember the reader
Finally, it's vital that during the National Year of Reading, we remember the reader. Check out Daniel Pennac's Rights of the Reader – such as the right to read anything and to skip boring bits, the right not to have to talk about a book you enjoyed and the right not to finish those you don't. (See Junior Ed Feb '06 for more information on this inspiring read.) This year mustn't be about attaining Level 4, or ticking assessment boxes. It's about enjoying reading.
Wouldn't it be great to turn around that quote and see children answering the question, 'Why do you learn to read?' with the words 'So I can read some more.'