Join Heathfield Primary School for their Science Week that includes a 'Hot seat a scientist' session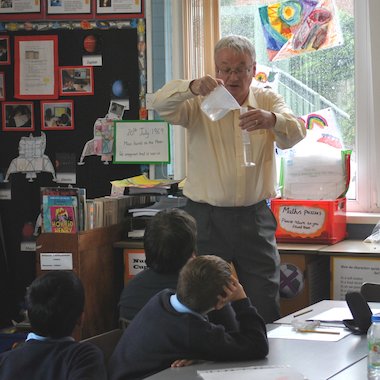 When the new Scholastic Primary Science series of books and CD-ROMs was launched at the BETT show at the beginning of the year, Heathfield School Bolton was one of the first schools to begin using it straight away.
By May, when the whole series was published, their new course was running so well that they devised a Science Week of activities that included setting up a planetarium in the hall. Peter Riley, author of six Scholastic Primary Science books, attended the school for a 'Hot seat a scientist' session with all seven classes.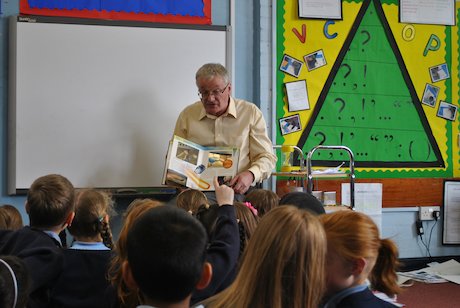 Children studying Conserve and Preserve in the series were keen to ask questions about nuclear fuel. This led to a discussion about atoms, in which Peter introduced the idea of the Ancient Greek, Democritus, of cutting things in half until they could be cut no more. The children tried out the idea by tearing paper until only lots of tiny pieces were left. This paper later had to be swept up before the children studied how a nuclear reactor worked!
Children studying Out of This World were intrigued by the prospect of life on other planets. Several of them helped Peter to demonstrate the 'Goldilocks effect', where some planets received either too much or too little light and heat for living things to survive – but the amount of light and heat received by planets in the habitable zone around a star was 'just right' for living things. The children then learned about the trips of the NASA Viking explorers to Mars, where the space probes tested the soil for signs of life. The children simulated this investigation with a fair test involving sand, yeast, sugar and water and saw what would have happened if the probes had detected living things.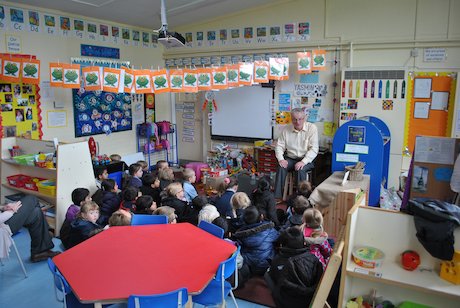 In many classes, the children wanted to know what had made Peter study science and become a science teacher, then a science writer. They learned that it was through many childhood visits to the countryside and the keeping of a nature diary that helped him to decide to follow this career. They were interested to know what kinds of investigations had particularly made an impression on Peter, who has a degree in zoology. He told them about dissecting owl pellets (produced by the birds regurgitating the indigestible remains of their food) to find the bones of frogs, shrews, mice and voles plus wings and legs of beetles!
Peter has written more than 150 science books and he brought some of them to show the children the different writing and presentation styles that they might like to try in their work. These included the use of pop-out fact 'windows' to reveal information, pop-up books, quiz books and information books where answers are found by turning the page. In return, at the end of one session of questions about space, Peter received a Moon Rock Bun specially baked that morning!