Tapas are perfect for when friends come visit and you just want some delicious finger foods to nibble while you catch up…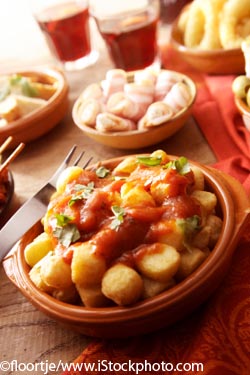 Share some tasty tapas
1 Chorizo al jerez
Cut up as many slices of chorizo as you think you will need. Put olive oil (about one tablespoon) in a pan. Chop half a fresh chilli, half an onion and a handful of parsley. Fry the ingredients and when the onion is soft, add the slices of chorizo, along with an average wine glass full of sherry. Cook for five minutes before adding an extra half a glass of sherry. Once the sherry has reduced, dish up into a serving bowl and place a few cocktail sticks into the pieces of chorizo. The sauce with this dish is delicious – so some nice crusty bread to dip into it is essential!
2 Patatas a la brava
Wash two large white potatoes and boil them in their skins. Once they're cooked, let them cool down. In the meantime, make the sauce. Put about one tablespoon of olive oil in a small frying pan. Chop three or four large tomatoes and fry them. Once they go mushy, pass the paste through a sieve and add one to two teaspoons of Tabasco sauce and some salt to taste. Once the potatoes are cool, cut them into chunks. Put some olive oil in a pan – enough to deep fry the potatoes – and fry them quickly. Once cooked, drain any extra oil using kitchen paper and place the potatoes in a bowl with the tomato-Tabasco sauce drizzled over them.
3 Ensaladilla
Boil two large white potatoes whole in their skins. Allow to cool. Take their skins off and dice into small pieces, along with cooked carrots. Mix the potatoes, carrots and some peas with mayonnaise, add salt and pepper to season, then pile the mixture onto a suitable plate. Decorate with black Spanish olives and sprinkle ground paprika on top.
4 Huevos rellenos con almendra
Hard boil two eggs. Allow them to cool and then peel. Cut them in half and scoop out the yolks. Put the yolks in a bowl and add enough ground almonds and mayonnaise to make a thick paste. Stir well. Cut some fresh tomato into slices and place four slices on a plate. Stuff the eggs with the almond mixture and place them upside down on each of the tomato slices. Use the remaining tomato to decorate the plate, along with some parsley for garnish.
5 Rollitos de salmon ahumado
Buy a packet of ready-to-eat smoked salmon. Chop some fresh prawns into a bowl, add diced cucumber, a chopped up hard boiled egg and a good spoonful of mayonnaise. Mix well. Separate the sheets of salmon and put about two teaspoons of mixture on each slice. Roll up the salmon and place on a small piece of toasted bread.
6 Calamares a la romana
If you're feeling super adventurous, homemade calamaris are delicious. However, many supermarkets now stock fresh or frozen calamaris, which are equally delicious and simply take a few minutes in an oven to cook. Don't forget to garnish with a few good chunks of fresh lemon.