Inspire your children's understanding of growth and nature with these gardening-themed activity sheets and resources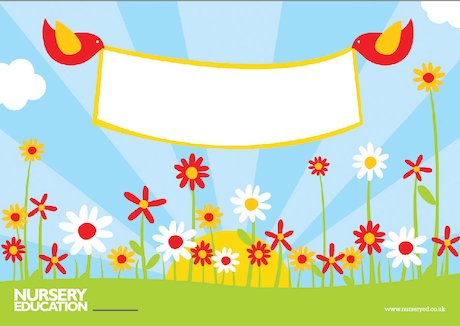 In this article:
Introduction
Gardening is a fantastic and inspiring cross-curricular theme to explore with young children. From growing plants in your setting's outdoor area or on a windowsill, to examining flowers for a creative project, it will engage your children's imaginations and creativity, while introducing them to science and numeracy activities exploring growth.
Our collection of gardening-themed resources provide you with a great starting point for your activities – with ideas for discussions, games, displays and lots of activity sheets.
Circle-time activities
A great way to introduce children to the many different types of flowers is with our colourful set of 'Flowers circle-time cards'. This set of 12 cards are ideal for inspiring discussion and finding out which flowers are less familiar to your children. They are also lovely to use in wall displays and creative collage activities.
A useful additional resource to keep alongside your circle-time cards is this set of 16 'Flower flashcards' that will help to develop children's vocabulary and recognition skills.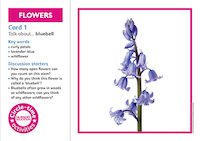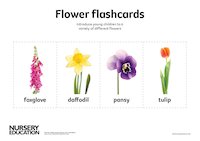 Number fun
There's lots to find, see and count in a garden, so why not invite children to explore your outdoor area in more depth; invite them to count how many petals there are on various flowers and then compare and sequence them. Our plant-themed numeracy resources will develop their skills, such as the 'Flower number line' and 'Flower sequence activity sheets'. Use these resources to improve your children's numeral recognition individually or in small groups. The sequence of number cards could be copied and enlarged to be displayed in your setting.
Creative inspiration
Gardens are full of colourful flowers and plants, as well as lots of visiting minibeasts in various shapes, sizes and hues, so there's plenty to inspire children's creativity. Use our 'My garden activity sheet' to encourage your children to create their own garden scenes, complete with fantastic imaginary plants, minibeasts and animals. Our 'My garden flowers' activity sheet is great for providing inspiration for their floral creations and the individual flowers can be copied, decorated and collaged onto their 'gardens', ready to be used in a colourful seasonal display in your setting.
Don't forget about our useful 'Garden display centrepiece, which is ideal for using in your wall displays, especially when putting up your children's 'gardens'. It is also great to use as a welcome sign in your setting, and can be printed at either A4 or A3 size, depending on your requirements.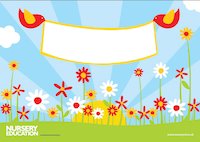 More online resources!
There are lots of garden-themed resources to discover online right now that will help with your planning on this theme. Plus, don't forget about all the minibeasts activities we have in our online resource bank, too – search online right now to find everything you need for an inspiring theme.
Garden games
There are lots of things to explore when you're gardening – new sights, scents, and lots of different equipment and tools, too! Explore the different items we use to garden and look after plants with our 'Gardening silhouettes' activity sheet. Once children have identified all the shapes why not extend the activity by inviting them to each find one of the items on the sheet in your outdoor setting. Place a hoop on the ground to place all the found items into. Continue with a memory game; remove one item and then ask children to work out which one has gone. Younger children could use the activity sheet as a reference.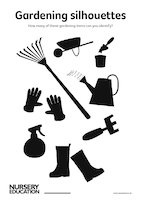 Play more flower-themed games with our set of 'Flower matching cards', which can be copied and cut out to provide a colourful set of images that are ideal for playing 'Snap!' as well as other sorting and matching games.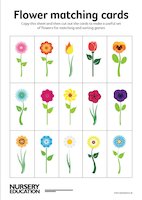 If you're growing any plants in your setting then children will be fascinated to find out how the seed grows into a plant. Our useful 'Plant growing sequence' activity sheet can be an excellent supporting resource in visually explaining the process and will help children to order the growing stages a seed goes through.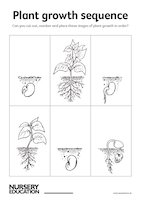 Well done!
Reward children's good work, behaviour and development with a gardening-themed certificate from our set of four. Plus, there are lots more themed certificates to download online right now.