We take a look at how the traditional role of a nanny is changing in today's society
After a hard day's work, parents want to kick back and relax. They no longer want to cook and clean and do the housework. They want to come home to a nanny who has not only kept their little ones entertained, but also made the house spick and span.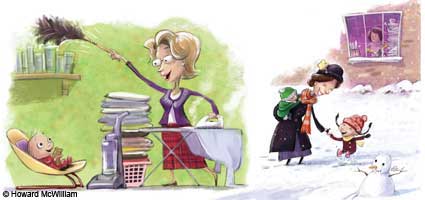 In the past, parents sought a 'Mary-Poppins' style nanny, whose job was to keep the children in line – now they are looking for more. Today, parents want someone who is not only great with children, but a domestic goddess and a whiz in the kitchen. They want a 'Mrs-Doubtfire' type, someone who can help run the family and be there for Mum or Dad at the drop of a hat.
Vanessa Cook, founder of Findababysitter.com, is receiving more requests than ever before for a 'Mrs-Doubtfire' style nanny. 'More and more people are seeking a nanny who will not just look after the children, but will also do the cooking and housework for the family. Traditionally a nanny was like Mary Poppins. Her role was solely to care for the children. This role is changing as different types of families start looking more and more for nannies that are like Mrs Doubtfire.
Mary Poppins
Traditional nanny, Charlotte Russo of Willesden in North-West London, does not agree that a nanny's job is to cook and clean for the whole family. After working in her last position for two years, the 26 year old is looking for a new job. She is finding that most families want someone who will do all the housework and cooking, as well as look after the children.
In her last role, Charlotte looked after two girls, a two-and-a-half year old and a one year old. Charlotte played with the children and cooked for the girls, but she did not do the housework, cook for the family or live with them.
She said, 'I don't want to do all the housekeeping as that's not why I am a nanny. My role is to entertain the children and if I am cleaning and tidying the house then I will not be giving them my full attention. I feel that housework takes my time away from the children.'
Mrs Doubtfire
All-rounder nanny, Rebecca Brown of Notting Hill, said she enjoys living in with the family and helping out with the housework and cooking. Rebecca, 25, looks after a four-and-a-half month old boy and lives with him and his mum.
Rebecca believes living with the family helps to create a stronger bond. She said, 'I cook for the mum and I will cook for the little boy when he is old enough. I enjoy and often choose to do various jobs around the house while caring for him, such as ironing, washing and tidying. I don't mind doing it as it breaks up the day and I like living in with the family as I feel you really get to know them. It also gives the baby some independent time too, which I believe is very important for development'.
Similar to Mrs Doubtfire, Rebecca carries out a huge range of tasks. A large part of her day is spent playing with the little boy and taking him on outings to the park or the library. As he is still very young, he sleeps a lot throughout the day, which gives Rebecca a chance to do the housework. She also baths him, changes his nappies and makes dinner for his mum.
Information from Findababysitter.com