Explore insects and minibeasts with these activity sheets and resources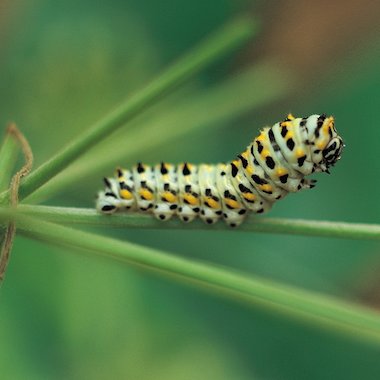 In this article:
Similarities and differences
Explore images of insects, such as the ones on the Insects and minibeasts circle-time cards. As a setting, discuss the similarities and differences of the insects – colours, shapes, patterns, wings or no wings. Provide children with colours pencils or collage materials and invite them to create a drawing/collage of a particular insect. Encourage them to consider the aspects discussed. Older children could include written captions that highlight the insect's key features, for example: bee – wings, six legs, yellow, black.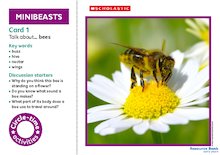 Insect movements
Share the images of insets and videos if possible. As a group, encourage the children to discuss how different insects move. Do they walk, fly, scuttle? Next, encourage the children to think of adjectives to add to their descriptions, such as 'an ant scuttles quickly' or 'a butterfly flies gracefully'. Next, ask the children to try moving about the room like a particular insect. Call out the children's descriptions in turn (graceful butterfly) and invite the children to become that insect.
Counting bees
Laminate and cut out the bees and flowers images on the 'Count the bees' activity sheets. As a setting, talk about the fact that bees love to fly around looking for flowers. In small groups, set the children numeracy tasks. For example: Natalie, please place four bees on the red flower. Lena, please put two bees on the purple flower. Each task could link to the next. Kweku, can you count how many bees are on the red and purple flowers?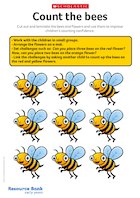 Discussing fears
Invite the children to talk about any insects and other creepy crawlies that they are afraid of. Encourage them to talk about their reasons. Dispel any misconceptions the children have about particular insects. Advise on the appropriate way to behave around insect that sting – such as bees and wasps – without creating undue alarm. Encourage the children to think about how big we appear to insects. With this in mind, who is more scared – us or the spider?
Butterfly lifecycle
Tell the children the story of the lifecycle of a butterfly. You could use the circle time card to aid your discussions. Once the children have grasped the different stages, discuss how different the butterfly is each stage. In groups, work with the children to create a short dance demonstrating each stage. This could be told as a story with your narrator for assembly performance.