Use three sample songs from 'Fit as a fiddle' (Monster Music) to inspire children about physical fitness and healthy living.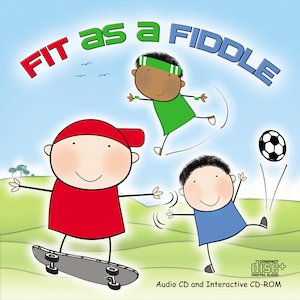 The following teacher notes are adapted from 'Fit as a fiddle' (Monster Music), which includes many more songs and activity ideas.
Fit as a fiddle
Curriculum links: English (KS1: oral activity; KS2: En1 5, 6a)
Science (KS1: Sc 2c; KS2: Sc 2c, d, e)
Discuss the title with children. What is a fiddle? How is it played? Why might we think it was fit? What do we mean by being fit?
You can also use the song to create a class performance:
Listen to the song, 'Fit as a fiddle'.
Create two phases for the song. First put the verses into action on the spot: Stand with feet astride; Hop on your right foot and so on.
During the chorus the children could choose a fitness activity (for example, jogging, jumping or dancing) and move around the space as they sing, standing still for the verses.
Don't forget to include a big finish…..fit as a fiddle!
Alternatively, in groups of six children, treat the song like a country dance, with skipping, looping arms and crossing during the chorus, working opposite a partner (shadowing) actions during the verses.
The lyric contains two similes:
Fit as a fiddle
;
bright as a button
. Ask children to complete similes from the starting points below:
As light as a ....................
As cunning as a ….................
As cold as ….................
As slippery as an ….................
As busy as a ....................
As flat as a ….................
Ask the children to make up some more similes of their own.
Healthy teeth
Curriculum links: English (KS1 En1l, m, n; KS2 En2 3a, b, c)
Science (KS1 Sc 2a, b, c, 4a, b; KS2 Sc 2a, b, 4b, c, 5b, c)
Listen to the song, 'Healthy teeth', paying attention to the sound effects.
Following discussion of the childrens own experiences at the dentist, focus on the dentist in the song. Ask the children the following questions:
Is the dentist a man or woman?
What are her favourite things?
What things does the dentist in the song do?
What does she say?
What is a cavity and why is she looking for them?
The song refers to a crocodile and its smile and teeth. This could lead to discussion about other animals and their teeth, for example, childrens pets, wild animals and how their teeth vary.
Collect and display pictures of animals showing their teeth. Lead a discussion about what the animals eat, how their teeth function and how they are adapted to their environment in this way. The terms 'carnivore', 'herbivore' and 'omnivore' could be introduced and the pictures could be grouped under these titles.
First time
Curriculum links: PSHE (KS1 1b, c, d)
The song, 'First time', is written to help children talk about their first time experiences, promoting the development of confidence and encouraging them to make the most of their opportunities and abilities.
Make a list of the things the children in the song did for the very first time.
Talk about children's first time experiences….and why it is sometimes scary.
What can we do to make first time experiences less scary?
What should we do when things don't go as expected?
How can we help each other when we are doing something for the first time?
The last track on the 'Fit as a fiddle' CD has a space for children to add their own first time experiences – why not give it a try?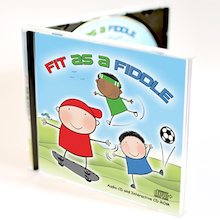 The songs on the 'Fit as a fiddle' CD cover a variety of themes and can be used in lots of different ways:
Fit as a fiddle
Invites children to take part in a lively exercise session whilst learning this fun song. It can be enjoyed freely or shaped as a circle dance and built into a whole class performance, with links to the Science and English curriculum.
Healthy teeth
The experience of visiting the dentist presented, with sound effects, in an amusing and encouraging way. This song is recommended by the National Dental Health Foundation for use during National Smile Week, but would also work well in an 'all about me' or 'my body' topic. The teacher notes contain links to the Science and English curriculum.
Walk on your legs
This is the theme song for Walk to School Week. The teacher notes help to create a sequence of activies which will enable the children to learn the song and fill it with energetic fun, and also contain curriculum links to Science, Maths and Geography.
Visit the Fit as a fiddle website for more information about the 'Fit as a fiddle' CD.