Fiona Hickinbottom reviews a selection of books ideal for young children.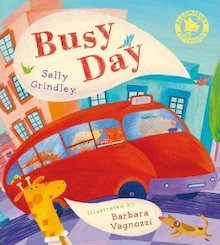 Busy Day by Sally Grindley, illustrated by Barbara Vagnozzi (Bloomsbury, £5.99 PB)
Busy Day is a delightfully illustrated picture book about five friends who go on a bus journey to the beach and is suitable for very young children.
The title page introduces the five friends and the bus driver – all different animals – with a picture and their name underneath. My children enjoyed referring back to this page when we couldn't quite remember which character was which!
The simple but lively rhyming text compliments the colourful pictures and was especially enjoyed by two year old Sophie whose response at the end of the book was 'more!'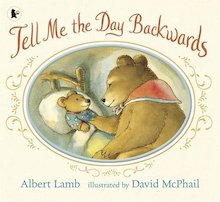 Tell Me the Day Backwards by Albert Lamb, illustrated by David McPhail (Walker, £11.99 PB)
Tell Me the Day Backwards is about little Timmy Bear and Mama Bear as they remember Timmy's rather eventful day – which includes falling into a deep pool and running away from bees! Five year old Daniel and four year old Lucy especially liked the picture of the bears eating ants for breakfast!
This book contains lovely soft illustrations and the friendly expressions on the characters' faces are particularly appealing to young children. The story is written in a warm and gentle style and the text is laid out beautifully on the page. This would be an ideal bedtime story for little ones to enjoy.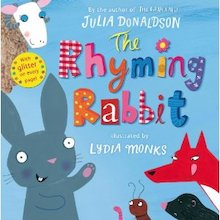 The Rhyming Rabbit by Julia Donaldson, illustrated by Lydia Monks (Macmillan, 10.99 HB)
The Rhyming Rabbit is about a rabbit who loves to make up poems. However, he doesn't feel his talent is appreciated by the other rabbits so he goes on a journey and finds the perfect companion – a rhyming sheep!
This book features a glittery and eye-catching front cover and the illustrations are bold and distinctive – the glitter on every page was especially popular!
This book contains a lot of text including lots of rhymes but five-year-old Daniel and four-year-old Lucy really enjoyed having it read to them and it held their attention well. A great book to entertain 3 to 8-year-olds.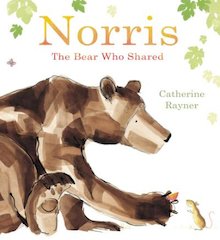 Norris, The Bear Who Shared by Catherine Rayner (Orchard, £5.99 PB)
Norris, The Bear Who Shared introduces Norris, the wise bear, as he patiently waits for a delicious fruit to fall from a tree. He is then only too happy to share with two little friends.
The beauty of this book is in its simplicity. It is a gentle and heartwarming tale which is elegantly written with illustrations which perfectly capture the characters' personalities.
My children found Norris a very appealing character and it is an ideal book to promote discussions about sharing and friendship.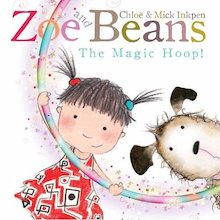 Zoe and Beans: The Magic Hoop! by Chloe and Mick Inkpen (Macmillan, £10.99 HB)
The Magic Hoop! is one of a series of books about Zoe and her pet dog Beans, and was especially popular with four-year-old Lucy, who loves anything magical!
The story is about what happens when Zoe persuades Beans (with a bribe of his favourite treat, Choccy Bears) to jump through her hoop. She is very surprised when different animals appear each time he jumps through and my children enjoyed trying to guess which animal it would be.
This is a funny and entertaining book with engaging characters and lovely expressive drawings which children are sure to enjoy.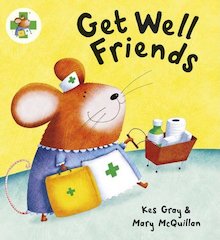 Get Well Friends by Kes Gray and Mary McQuillan (Hodder, £10.99 HB)
Get Well Friends is one of a series of books about a bunch of endearing animal characters of particular appeal to the under threes.
In this bright and colourful book, Nurse Nibbles introduces us to each animal and explains why they are poorly. Two-year-old Sophie felt especially sorry for poor Paul Python who was tied in a knot! However, they take their medicine and soon everyone is smiling again.
The book is illustrated in detail with plenty for children to look at and point to – and the book may even encourage children to take their medicine!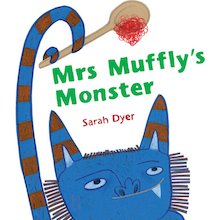 Mrs Muffly's Monster by Sarah Dyer (Frances Lincoln, £6.99 PB)
Mrs Muffly's Monster is a delightfully comic book told through the eyes of children who are convinced there is a monster living in Mrs. Muffly's house – however it turns out the vast quantities of sugar, butter, flour, eggs and jam she buys are not to keep a monster happy, but ingredients for her to make a monster-sized cake!
The illustrations are cheerful and vibrant and the children loved the big blue monster with his stripy tail and ears and giggled over him taking a bath in strawberry jam.
An enjoyable read which will appeal to a wide age range of children.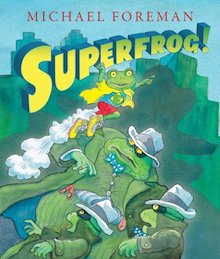 Superfrog! by Michael Foreman (Andersen Press, £10.99 HB)
Superfrog! is an action-packed tale about Frank the frog who decides to take on the slimy bug-eyed monsters of the night who are terrorising the inhabitants of pond city. He returns a superhero in this amusing and entertaining story.
Five-year-old Daniel loved this book and thought the cartoon-like drawings were great. The illustrations are detailed and the characters depicted brilliantly, especially the villains – toads wearing hats and overcoats! An essential read for all budding superheroes!