This year sees the first ever Parliament Week – a new initiative to raise awareness of and engagement with parliamentary democracy.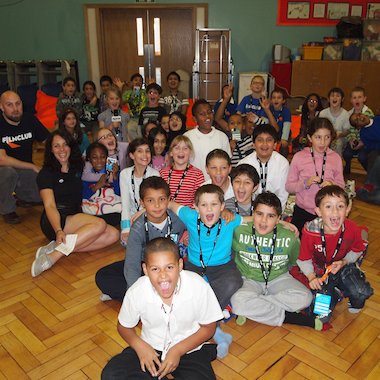 The decisions made in Parliament affect us all on a daily basis yet many people, particularly young people, are unfamiliar with its work. In the UK we take democracy for granted; our children need to learn about the importance of democracy and – crucially – how they can contribute to it.
Using film to start discussion
At Anson Primary School we are using FILMCLUB to bring the ideas behind this important initiative to life, and change the way that children think, act and make a difference. There are thousands of inspiring stories of how people have made a difference and contributed to democracy, and film is a great medium for telling these stories.
For children living in a democracy the ability to watch a film, discuss the decisions made and then think about how they could replicate those decisions in their own lives is key. For pupils at Anson Primary School it's about connecting dots, allowing seamless thinking and turning an entertaining experience into an inspiring one.
Having watched 'Danny, The Champion Of The World,' where Danny makes a difference to the lives of his family and community, the children began to question how they could make a difference. They could see, through the experiences of Danny, that children can have a voice and they can help to shape what happens in society. Whether this was recycling paper to help save the rainforests, or writing letters to help save the libraries, the children could all pinpoint one area that they could make a difference.
Parliament Week
During Parliament Week (31 October – 6 November), the children of Anson Primary School will be electing their School Council and their FILMCLUB Council in a democratic election. The FILMCLUB Council is tasked with exploring how our club can make a difference. Children have already suggested that fair trade goods be sold at screenings, that their reviews could be published in paperback and that tickets are electronic instead of paper.
Many of the children may not understand what happens in Parliament, but through watching films and exploring the characters in them, they are aware that democracy provides a platform where they have the ability to make a difference. Our film club is giving them an insight into our larger world and a sense of empowerment that could transform their lives.
For information about the education charity FILMCLUB and how to set up a free film club at your school visit www.filmclub.org.