Here are some ideas for using the nursery rhyme Sing a Song of Sixpence with your class.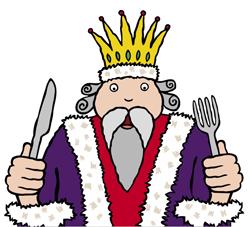 A repertoire of nursery rhymes is ideal for developing the awareness of rhythm, rhyme and alliteration, skills which underpin learning to read and write. Firmly rooted in the past, nursery rhymes also offer a valuable way into a whole range of topics for discussion. Sing a Song of Sixpence crosses many areas of knowledge and understanding, including both birds and money.
Talking points
Download the animated version of Sing a Song of Sixpence and let the children enjoy singing along to it. Use the animation as a starting point for a discussion about the King and his unusual pie. Ask the children questions such as, How would it feel to be in a pie? Do you think the King would ever want to eat pie again? What songs would you like to hear coming from the pie? How would you feel if something like this happened to you?
Use the rhyme to stimulate discussion about royalty. Do the children know any other nursery rhymes that have kings or queens as the subject matter? Suggest The Queen of Hearts and Old King Cole if they struggle to come up with answers.
A pocketful of rye
Display the nursery rhyme poster on your interactive whiteboard and read the text with the children. Focus on rhyming words and challenge the children to find as many words as they can that rhyme with 'rye' and 'pie'. How many different ways of making the long /i/ sound did they find? Move on to the nursery rhyme's use of unusual words, such as sixpence and rye. Do the children know what these words mean? What do they think a dainty dish might be?
In his counting house
Read the children the next verse of Sing a Song of Sixpence on the activity sheet. Ask the children, Why do you think the King kept his money in his 'counting house'? What do you think the King was going to do with his money when he'd counted it? Should the King keep all his money for himself?
Create a collection of coins to use for some mathematical sorting activities. Give the children plenty of time to explore the coins, and encourage them to devise ways of sorting. Provide a range of small boxes and other containers, including purses and bags, for children to use with the money.
If you are lucky enough to have obtained any old or foreign coins, talk to the children about them. Who used them? Which countries have they come from? How old are they?
Four and twenty blackbirds
Work with the children to create an environment that attracts birds. Hang up a variety of bird feeders, preferably where children can observe them from inside. Invite a bird-watching enthusiast to come and talk to the children and to spend some time with them watching the birds that visit the feeders. Can the children devise a way of recording which birds they have seen?

These ideas and activities are tasters from one of the eight nursery rhymes featured in the Come Alive Nursery Rhymes: Games and activities pack and Interactive CD-ROM by Helen Bromley. They are reproduced here by kind permission of Yellow Door. For further information visit www.yellow-door.net or call 0845 603 5309.