Tamsyn Murray reviews a selection of terrific books suitable for Key Stage 1 children.
Our reviewer
As well as writing the Afterlife series for teens (Piccadilly Press), Tamsyn Murray is PA to Britain's Best Loved Bunny, AKA Harriet Houdini. When she isn't chronicling Harriet's exploits in the Stunt Bunny series (Simon and Schuster), Tamsyn likes messing about on stage and singing. Sometimes, she auditions for TV talent shows, much to Harriet's disapproval. One day, she might make it past the first round.
Tamsyn lives with her daughter and husband in Hertfordshire. Her latest book, Stunt Bunny: Rabbit Racer (Simon and Schuster), is out now.
Tamsyn's top read!
My Uncle Foulpest – Teacher Trouble & Spooky Sleepover by Timothy Knapman (Simon & Schuster, £4.99 PB)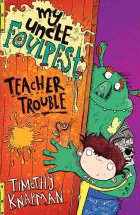 Everyone has an embarrassing relative or two but not many people have an ogre for an uncle. In the first of two stories, 'Teacher Trouble', Wally takes Uncle Foulpest to parents' evening at school, with disastrously funny consequences. And in 'Spooky Sleepover', Wally asks Foulpest to tidy the house for a sleepover with his friends but soon discovers cleanliness is over-rated.
Both stories are full of disgusting details, gloriously grim illustrations and cackle-out-loud jokes. In spite of his nose-picking habits, Foulpest is a lovable character and readers will wish he was their uncle. I almost wish he was mine.
Axel Storm – Jungle Fortress by Shoo Rayner (Orchard, £4.99 PB)
In Jungle Fortress, Axel Storm (the most famous celebrity child on the planet) joins forces with his Uncle Monty and paparazzi pest, Archie Flash, to stop an unscrupulous burger chain owner from turning the jungle into pasture for his cows.
Axel might have famous parents but he's a very down-to-earth hero, with worries children will easily understand. Each of the seven snappy chapters is jammed with thrills and there are black and white illustrations on each page. This quick read is ideal for newly independent readers.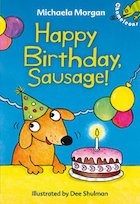 Happy Birthday, Sausage! by Michaela Morgan, illustrated by Dee Shulman (A & C Black, £4.99 PB)
It's Sausage the sausage dog's first birthday and his family are planning to celebrate in style. But nasty cats, Fitz and Spatz, have a sneaky trick up their paws to spoil things and it's up to recycling man, Dan, and Dusty the dog to save the day.
Split into very short chapters and interspersed with fun, cartoony illustrations, this book is perfect for children who are dipping a toe into reading alone and works well when read aloud. Sausage is an engaging hero and thank goodness those wicked cats get their just desserts!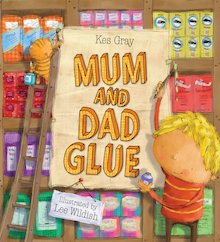 Mum and Dad Glue by Kes Gray, illustrated by Lee Wildish (Hodder , £5.99 PB)
This sometimes sad but ultimately uplifting story is about a boy whose parents are splitting up. Concerned that he might be the reason why, he goes in search of a special kind of glue to mend their relationship and learns that whether his parents are together or apart, they will always love him.
Kes Gray's bittersweet text works hard to tackle the bewildering array of feelings a child might face in a similar situation and Lee Wildish's illustrations are the perfect accompaniment. I particularly liked the way the jagged cracks in the early pages are mended as the story progresses.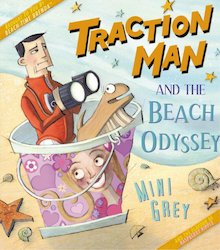 Traction Man and the Beach Odyssey by Mini Grey (Jonathan Cape, £10.99 HB)
Traction Man and Scrubbing Brush are going on holiday and are soon embroiled in all kinds of salty escapades, including a run-in with the glamorous Beach-Time Brenda and her dolly friends. But just when it seems they'll be trapped for eternity in the Dollies' sandcastle, Truffles the Puppy comes to the rescue.
Appealing to girls and boys, this story is packed with adventure and the amount of detail in the excellent, comic book-style illustrations ensures that one read definitely won't be enough. The seaside exploits of Traction Man and his friends get a big thumbs-up from me.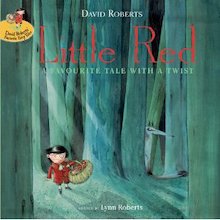 Little Red by David Roberts (Pavilion, £5.99 PB)
The story of Little Red Riding Hood might be familiar but the delicious twists in this classy cover version freshen things up. Little Red in this case is a boy, who leads the wolf to Grandma's house. The greedy creature gulps down not only the old lady but an entire keg of her favourite ginger beer, with comic consequences guaranteed to get kids giggling.
My favourite aspect of this sumptuous retelling is the quality of the drool-worthy eighteenth century-style illustrations, with enormous wigs and flouncy frocks galore. Little Red is a delightful visual treat with an unusually happy ending for all.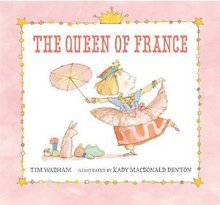 The Queen of France by Tim Wadham, illustrated by Kady Macdonald Denton (Walker, £11.99 HB)
Rose wakes up one morning feeling royal and decides that she is actually the Queen of France. After spending the day with commoners (Rose's parents), the queen decides she would like to swap places with Rose permanently, until Rose's mother tells her how much she will miss her daughter.
This is a sweet and gentle story of a little girl who loves dressing up and is never sure who she will become next. The text has a slightly old-fashioned feel to it, which Kady Macdonald Denton's pastel-tinted illustrations capture perfectly. Overall, this book delivers a timeless slice of cosy family life.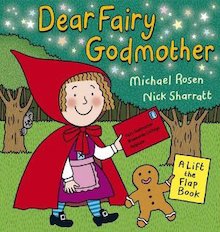 Dear Fairy Godmother by Michael Rosen, illustrated by Nick Sharatt (Walker, £10.99 HB)
Dear Fairy Godmother is an engaging lift-the-flap book, in which a Fairy Godmother becomes an agony aunt and solves the problems of her fairytale friends in a variety of unconventional ways. The recipients of her pearls of wisdom thank her by throwing a party, complete with a sing-along.
The advice of the Fairy Godmother is always fun and Nick Sharatt's trademark illustrations raise a giggle, too, although I felt a bit sorry for Goldilocks. There are plenty of nods to familiar characters and stories, with an interesting twist on each. A winning combination from two master story-tellers.