Find out about the Big Book Babble, a new online TV show featuring popular children's authors.

On 24 January 2012, every primary school in the UK will have free access to a brand new TV show developed by Red House and Scholastic.
The new show will be hosted by children's comedian James Campbell and will feature guest authors, illustrators and poets. It will be aired fortnightly, starting on the 24th January, during term time. The show will be streamed live into primary schools and aimed at children aged 7-11.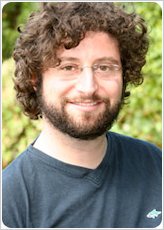 The opening show features Andy Stanton, the brain behind the massive Mr Gum series, with the legendary Jacqueline Wilson and Britain's favourite Michael Morpurgo appearing in forthcoming episodes. The first show also features Liz Pichon, author of The Brilliant World of Tom Gates (Scholastic), winner of the Roald Dahl Funny Prize 2011.
Andy Stanton says: 'Red House are so crafty. Fooling kids into thinking they're watching TV, when in actual fact they're getting them into books. Genius!'
Each episode will see presenter James interview the special guests, show examples of children's work and then host a Q&A for both live and virtual audiences.
You can download teaching resources from the Big Book Babble website. These can be used in conjunction with the programme and each episode will then be archived for teachers to use at any time.