Jill Marshall turned her back on a successful career in human resources to follow her dream of becoming an author. She tells us why she's never looked back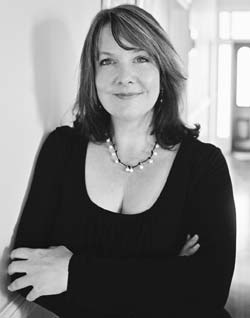 When you were little did you always want to be an author or something else?
I've always wanted to be an author, for as long as I remember, but I'm sure I wanted to be a vet at some stage too. And an actress. Oh, and a singer in a band. But mainly an author.
How or when did you start writing?
I've written loads of story from being about eight years old, then carried on right through to about 15 when someone suggested I should have a go at journalism, and I went off the whole idea. I only wanted to make things up! Then in 2000, after I'd done lots of other boring stuff for many, many years, I decided to start again. I took a degree in Writing for Children, met lots of other lovely writers, and haven't stopped since.
Where do you get your ideas?
This may sound very weird, but I get lots of ideas from the Jonathan Cainer horoscope website, (not like 'Libra' – which is me – 'you're going to meet a mysterious stranger today' but bits of info such as 'another planet has been discovered recently with forty two suns and a moon made of aluminium'). Also from the Discovery Channel and any programme that's about the strange behaviour of animals. Or people. Or both. I just like strange things and odd behaviour, basically.
All my books are based on real life experience. I am actually a spy
How did you think of your character(s)?
I work out some of my characters from scratch, but others just walk into my head and tell me what they're going to be like. G-Mamma, for instance, is spectacularly bossy, Lots of the characters are me in some form or other. Spooky, huh?!
Are any of your books based on real life experience?
All my books are based on real life experience. I am actually a spy. But don't tell anyone.
Who is your favourite character in your books? OR Which of the characters in your book(s) would you like to be?
Ooooo, so many. I love Jane/Janey, and G-Mamma, but I'm pretty fond of Alfie too as he's so sarcastic and I do find that very funny. Not necessarily nice, but definitely funny. I think my favourite would have to be G-Mamma though, because she's mad.
Do you plan to write more stories in this series or introduce new characters?
Yes, yes and double yes!
What was your favourite book as a child and why?
I had several favourite books as a child. One, funnily enough, was sort of spy-ish, about Harriet the Spy (though she's more of a detective/journalist than a spy). I think I liked it because I kept diaries and what have you, so I could imagine I was Harriet. I loved all the C S Lewis stories (and was in LURRRV with Prince Caspian) and then there was this series that I absolutely adored but can't remember the title of – if anyone knows it, please tell me. It was about these two brothers who had little blue dots on their fingers, and when they touched them together they got whisked away on adventures, often to do with pirates, as I recall. Must be why I LURRRV Johnny Depp these days …
The reason I loved all these books, and I believe the reason we all love books, is because I could imagine that the person having that adventure was me. It's all about me. Me me me me me.
What would you do if you weren't an author?
Well, I've already done something else before I was an author, which I did actually love, strange though it may sound. I worked in human resources and training, or 'hiring and firing' as your parents might know it. I still do lots of training, but now it's in writing books instead of 'how to win an argument with your boss/get to work on time/ tell your employee they no longer have a job'.
One thing I'd love to do though, and I've no idea how you get into it … I'd like to train actors how to get their accents and dialects right. I love accents. I could be Professor Higgins in My Fair Lady. I often play a little game in my head, trying to guess exactly where people are from just by their accent. I'm happy as long as I get the right country. Or COUNTY, in the UK.
Where do you live?
I live in Auckland, New Zealand. Yay!! I can look out of my bedroom/office window to the Sky Tower in central Auckland, and if I could see over the roof tops the other way I'd see the harbour. It's gorgeous.
If it's a unique building or location, please explain why you chose to live there.
I wanted to live somewhere with nice weather, nice schools and very very nice people. This has all three, and then some.
What is your favourite sweet?
Hm. Very strange, I know, but I don't really like sweets. I'm not that mad about chocolate either, but if I had to pick something it would be a Fry's Peppermint Crème. With dark chocolate.
Do you believe in magic?
A million, billion percent.