Janey Louise Jones is best known for her Princess Poppy series. She talks about her passion for writing, why truth it stranger than fiction, and her love of Belgian chocolates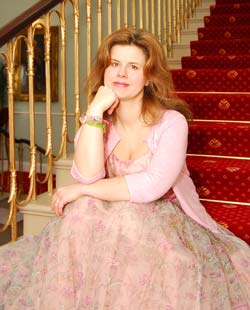 When you were little did you always want to be an author or something else?
Yes, I always wanted to write and I have many little story books I wrote as a child.
How or when did you start writing?
It has always been a passion or compulsion. As for commercial writing, it was a slow journey of building confidence. A self publishing project led me to mainstream contracts.
Where do you get your ideas?
From my life and my imagination combined.
I like my characters to be believable, but truth is stranger than fiction
How did you think of your character(s)?
Sometimes they are based on people I know, or composites of several people. I like my characters to be believable, but truth is stranger than fiction and some people need to be diluted down in fiction to make them convincing. Others need to be embellished to make them more interesting.
Are any of your books based on real life experience?
Yes, the seed of a real event will trigger a fictional narrative. Such as an event in my childhood or that of my own children.
Who is your favourite character in your books? OR Which of the characters in your book(s) would you like to be?
I like my heroine Princess Poppy. She is an idealised version of me as a child.
Do you plan to write more stories in this series or introduce new characters?
Yes, I am working on new stories. The core cast of characters is established, but new fringe characters are great fun and some of those are planned.
What was your favourite book as a child and why?
I loved The Secret Garden and Children of the New Forest equally. Both stories made me feel I was living in the world.
What would you do if you weren't an author?
Interior design with a homespun feel.
Where do you live?
By the sea in Edinburgh
If it's a unique building or location, please explain why you chose to live there.
I love the sea and all its moods. It inspires me.
What is your favourite sweet?
Belgian chocolate
Do you believe in magic?
Yes. There has to be more than the mundane. I am constantly intrigued by the power of the imagination to transform the ordinary into the extraordinary. That's what I call magic.